Another exciting Game 7 is on the docket today in the NBA Playoffs. The #4 Houston Rockets and the #5 Oklahoma City Thunder are tied 3-3 in their first-round series. Chris Paul and OKC's three-guard attack will battle James Harden, Russell Westbrook, and Mike D'Antoni's small-ball offense.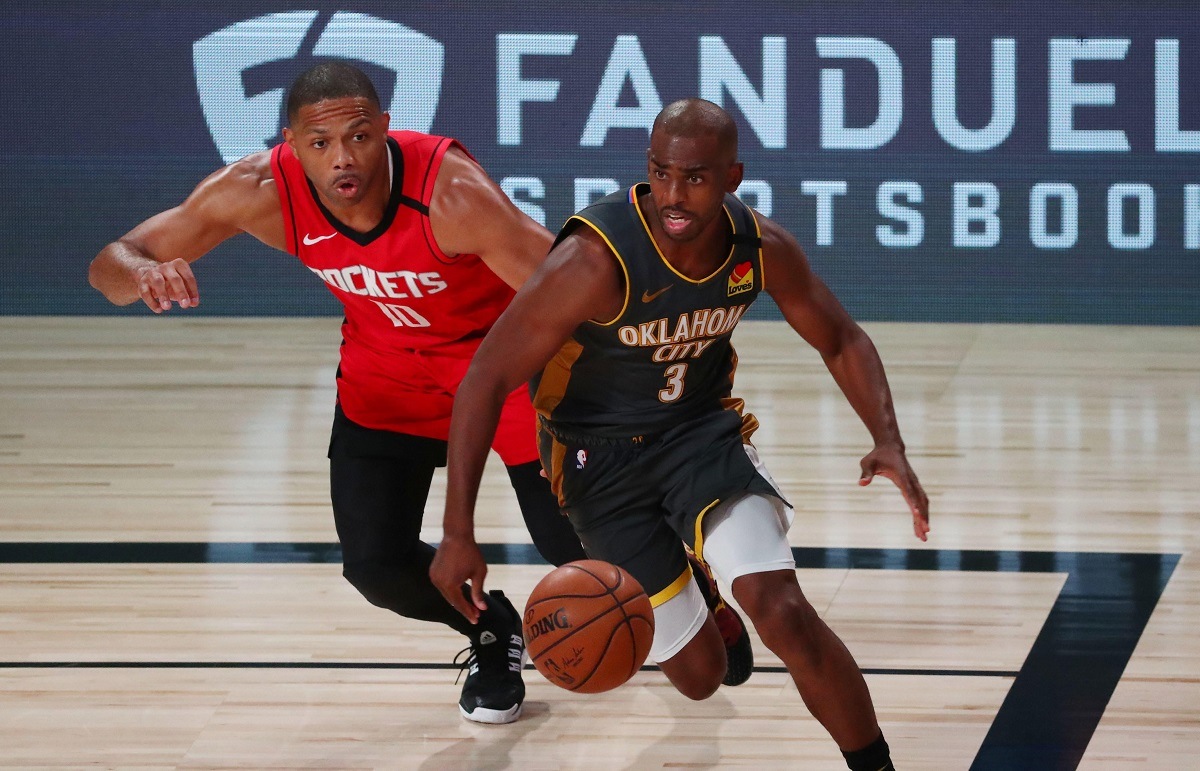 The winner will play the top-seeded Los Angeles Lakers in the Western Conference semifinals.
In this series against the Thunder, the Rockets have been winning by large margins or losing close games. Houston's average win margin has been 17.3 points in the first round. OKC's average margin of victory is just 6.3 points with two victories decided by four points or less.
In NBA postseason history, the Thunder are 6-4 in Game 7, while the Rockets are 6-5.
---
#4 Houston Rockets (3-3) vs. #5 Oklahoma City Thunder (3-3)

Tip-off: 6:00pm PT
Point Spread: HOU -5.5
Total: 217.5 O/U
Money Line: OKC +180 / HOU -205
---
DraftKings updated its NBA playoffs series lines. The OKC Thunder are +180 odds to pull off the Game 7 victory and win the series. The Rockets are -225 odds to win and advance to the Western semifinals.
The Rockets are 16/1 odds to win the NBA championship, while the Thunder are long shots at 60/1, according to the last update by the Westgate SuperBook in Las Vegas.
CP3 Clutch for OKC
In our Game 6 preview, we hinted that Danilo Gallinari will be a big factor if the Thunder expect to extend the series to seven games. Gallinari scored 25 points in just 28 minutes of action, including four treys. He also hit a pair of free throws in crunch time to seal the victory for the Thunder.
Gallinari picked up the scoring slack from Dennis Schroder and Shia Gilgeous-Alexander. The two combined for only 22 points, or roughly less than half of their season average. They missed 18 shots from the floor, going a cringe-worthy 2-for-11 from 3-point land.
Lu Dort, the Thunder's primary lockdown defender, chipped in 13 points despite early foul trouble and only 20 minutes of floor time.
Chris Paul led the Thunder with 28 points. Mr. Clutch drilled a huge 3-pointer down the stretch to help his team even the series.
"We expect him to make those shots, especially at the end of the game," said Gallinari.
"I ain't trying to go home," deadpanned Paul.
"They got some great players," said Houston coach Mike D'Antoni. "When it comes down to the last five minutes, they're the best team at it."
While the Greek Freak faded in Game 1 of the Milwaukee Bucks and Miami Heat series, Paul never shies away from taking big shots when they matter the most.
Heading into Game 7, the Thunder are one win away from a date with the Lakers in the Western semis.
"We're built for stuff like this," said Paul. "We stick together and fight."
Houston … We Have a Problem
Turnovers killed Houston in a loss to OKC in Game 6. The Rockets committed 22 turnovers due to sloppy and careless ball handling.
"You can't have 22, we try to get less than 10, and 22 just sealed our fate," said D'Antoni.
"That's my fault," said Russell Westbrook. "Last game I had zero, tonight I had seven. Simple as that."
"Lots of careless turnovers, including myself," admitted Harden. "Too many turnovers in a closeout playoff game. We shot ourselves in the foot by turning the basketball over and giving us less opportunities to score."
Harden led all scorers with 32 points in Game 6. He went 8-for-11 inside the 3-point line, but struggled from downtown with a 3-for-11 clip.
Westbrook looked much better in his second game back from a quad injury. He scored 17 points on 8-for-15 shooting, but he coughed up the ball seven times.
Houston doesn't rely on its bench to generate offense. They squeezed out 12 points from their reserves in Game 6.