The veterans got the best of their prospect opponents on Saturday night, as both Urijah Faber and Germaine de Randamie scored quick knockouts at UFC Fight Night 155 in Sacramento.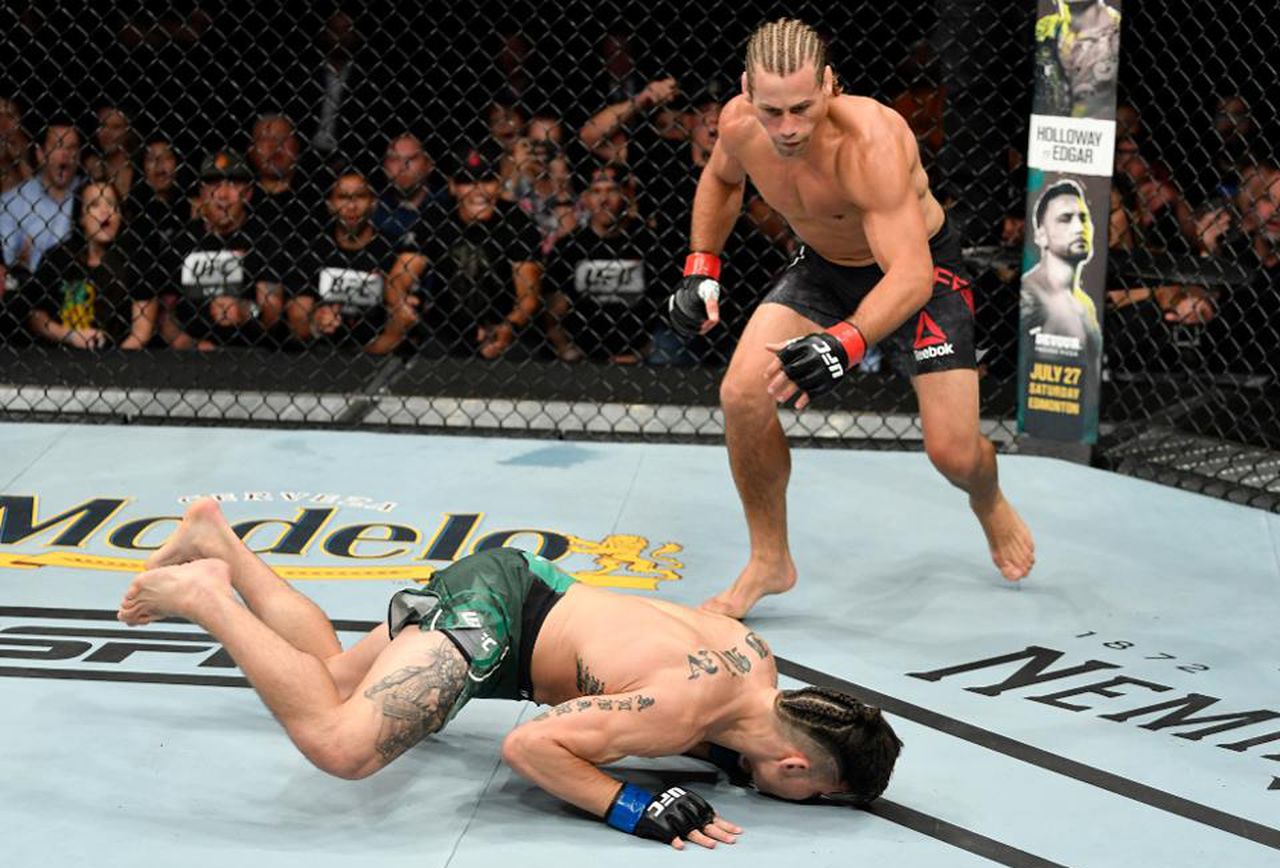 The fast finishes began in the co-main event, when Faber had his way with No. 15 bantamweight contender Ricky Simon.
Faber Impresses After Coming Out of Retirement
The 40-year-old Faber (35-10) came out of retirement for the fight. Faber had never actually scored a knockout in his UFC career, but took just 46 seconds to finish Simon (15-2), who took his first loss in four fights since joining the UFC.
Simon looked to be the more dangerous fighter in the early going, but one sharp counter from Faber sent the 26-year-old to the mat, after which Faber was able to pounce and land blows until the fight was stopped.
FABER TOOK SECONDS!!!#UFCSacramento pic.twitter.com/6B0oWQNS85

— UFC (@ufc) July 14, 2019
The win already had Faber looking ahead to the potential for bigger fights, perhaps including a meeting with two-division champion Henry Cejudo.
"Henry, I remember ten years ago when you challenged me as a friendly gesture. I'm down to get in there and mix it up," Faber said after the win. "I do this to test myself against the best in the world. I want to take fights that make sense. I took this fight because if I didn't beat him, I'd know I don't need to go for super fights."
If Faber does get a title fight, some will complain that the former legend probably hasn't done enough yet to have truly earn that opportunity. On the other hand, nobody will be able to say that about de Randamie after her performance on Saturday.
Ladd Unhappy with Main Event Stoppage
The No. 1 contender in the women's bantamweight division, de Randamie (9-3) took just 16 seconds to finish off the previously undefeated Aspen Ladd (8-1) in the main event. That makes the second-fasted finish in the history of the division, just two seconds longer than Ronda Rousey's 14-second victory over Cat Zingano in 2015.
The stoppage wasn't without controversy. Just over 10 seconds into the fight, de Randamie landed a straight right to the face of Ladd, dropping her to the mat. De Randamie then looked to finish her off with additional strikes, but referee Herb Dean stepped in to end the bout – leaving Ladd in disbelief that the fight had been stopped.
GERMAINE DE RANDAMIE
VS
ASPEN LADD#ufc# https://t.co/fOCv5KbDME pic.twitter.com/2AFOBjMX4U

— sportneed (@sportneed2) July 14, 2019
"I hit her on the button, Herb Dean called it," de Randamie said after the fight. "I rocked her with the second shot…If you look at the shot, I dropped her. She didn't know where she was at that moment. It was a good shot. I think it was a good stoppage."
The win almost certainly positions de Randamie as the next opponent for Amanda Nunes. The two fought once before in 2013, with Nunes winning that fight by first-round knockout.