Could we possibly see Evander Holyfield-Mike Tyson III? A week after Tyson put up a video of himself training at 53-years-old, Holyfield posted a video of himself working out for a similar comeback.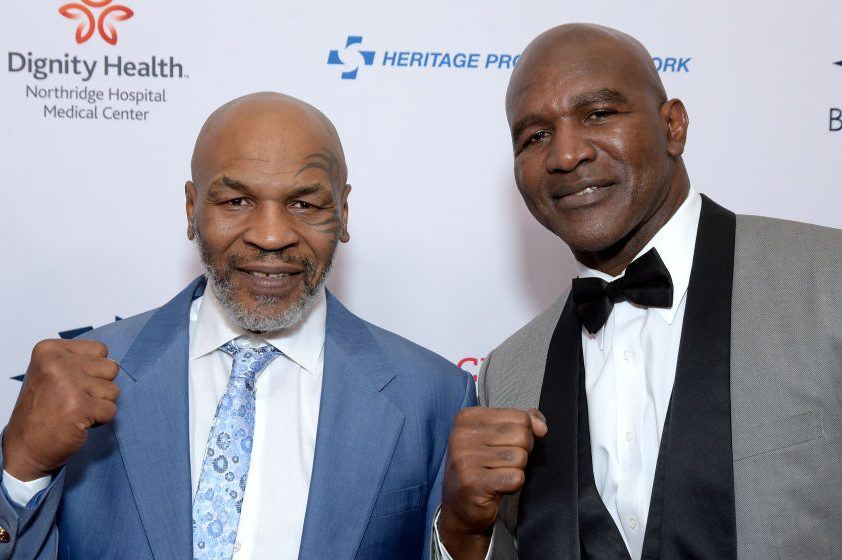 The 57-year-old, one-time heavyweight champion hasn't been in a ring since 2011 when he knocked out Brian Nielsen. He officially retired three years later.
Are you ready? The moment you've all been waiting for…
The Champ is back! 🥊 I'd like to announce that I will be making a comeback to the ring. I will be fighting in exhibition matches for a great cause: #Unite4OurFight. Learn more: https://t.co/dfSo0HvV2O pic.twitter.com/8PfrzalHty

— Evander Holyfield (@holyfield) May 6, 2020
Last week, however, Holyfield posted on Twitter that he's making a comeback. He added on his website that, like Tyson, he wants to participate in a charity boxing match.
My 1st week back in the gym and I feel great I'm looking forward to stepping up my training sessions and intensity as I prepare for my fight.

I told you I had something for you🥊@ReneeYoungWWE @BookerT5x@TheMarkHenry @WWEonFOX@FOXSports pic.twitter.com/ncgeJMTkmE

— Evander Holyfield (@holyfield) May 13, 2020
"I'm training to promote a charity that's very close to me," Holyfield said. "Our #Unite4OurFight campaign aims to fill the void the pandemic has created on access to resources our youth needs for emotional development and education."
Tyson Not Holyfield's First Choice
Holyfield told TMZ Sports that he's eager to the return to the ring. A third fight with Tyson, however, isn't his first choice.
"My manager, they've been talking and all that," Holyfield said. "But the fact is that with me, personally, I think for me to ask, the only person that I would actually really ask is Riddick Bowe."
Holyfield and Bowe met three times, with Holyfield winning the second bout, but losing the first (1992) and third (1995). The second fight in 1993 was the infamous "Fan Man" fight when James Miller piloted a motorized hang glider into the side of the ring at Caesars Palace in Las Vegas.
Holyfield previously talked about a return to the ring with Bowe in November 2019. He told World Boxing News he was ready for an exhibition fight.
"I had something set up in Japan that they were talking about doing, but now nobody is saying anything," Holyfield said six months ago. "Hopefully it will happen, but I had nobody talk to me lately about it. If we do it then fine, if we don't, I'm good. I wanted to do it with Riddick Bowe. We're friends. And the kind of money they're talking about would be pretty good for three rounds."
The Westgate's SuperBook USA put out a line on a possible Tyson-Holyfield fight. Tyson is favored at -300, while Holyfield is at +250.
Some Advise Against Comebacks
The interest is there for a third Tyson-Holyfield fight. The first two, held in 1996 and 1997, were won by Holyfield. In the first bout, Holyfield was a heavy 25-1 underdog and won on a TKO in the 11th round.
The second match featured one of the most infamous incidents in boxing. Tyson was a 2-1 favorite to win the rematch, but couldn't solve Holyfield's style. Frustrated, Tyson bit Holyfield in his right ear, taking a chunk of it and spitting it on the mat. He then bit Holyfield in the ear a second time and was disqualified.
The two have made up since that incident, and there's nothing stopping the two from fighting each other in a potential three or four-round exhibition.
A few people have come out against the idea, however, most notably UFC president Dana White who is friends with Tyson. White told a sports podcast that he's not in favor of the match.
"I love Mike Tyson," White said. "I'm begging him not to go fight. I said 'you look awesome, you're still explosive, you're obviously still powerful, you're one of the all-time greats. Mike, you're 53, please don't do it, please.'"