Last week, Endeavor lowered its bid for OpenBet to $800 million, down from its previous offer of $1.2 billion. The 33% price reduction comes in the midst of a stock market correction, which has pummeled sports betting securities.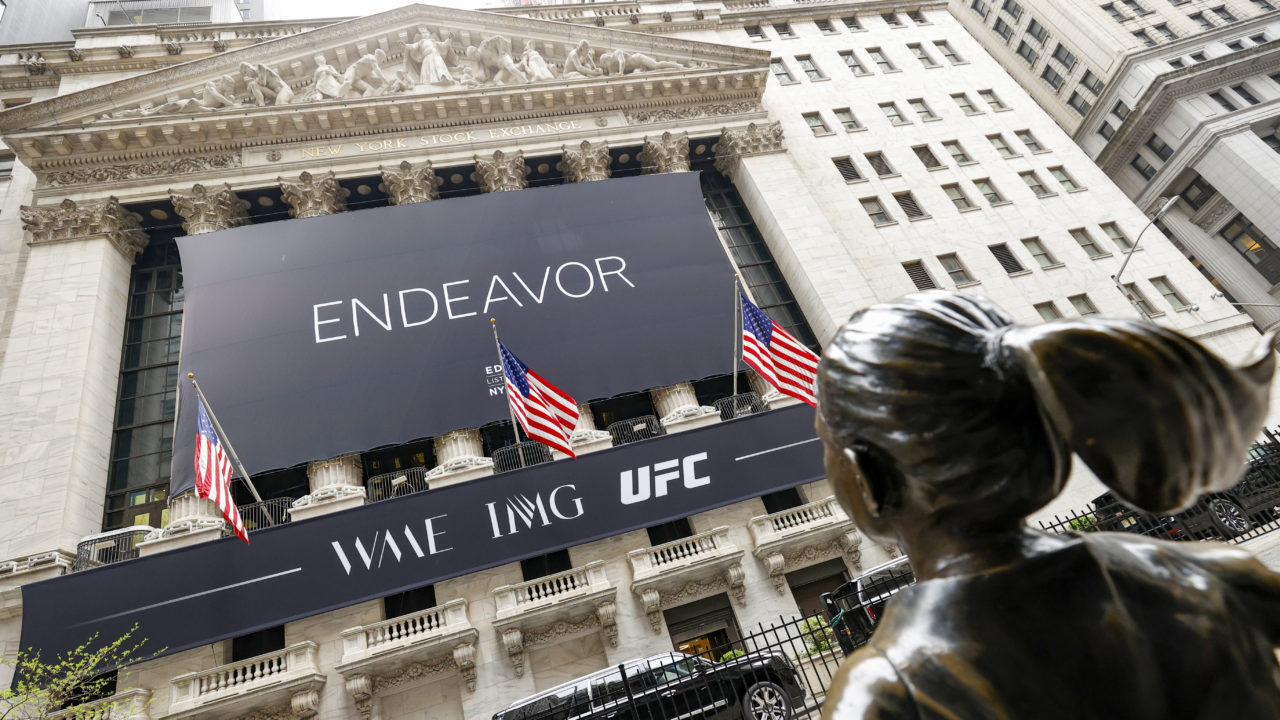 Last September, Endeavor agreed to buy OpenBet from Light & Wonder (formerly Scientific Games) for $1 billion in cash and $200 million worth of Endeavor's stock. At the time, valuations for sports betting companies were near their peak. Since then, however, Endeavor's stock price — along with sports betting stalwarts like DraftKings and Flutter Entertainment — cratered.
Market downdraft cuts sports betting stocks by half
The parent company of UFC and the WME talent agency was flying high last year. After failing to go public in 2019, Endeavor was able to raise $511.2 million in its April 2021 stock market debut. It wasted no time putting that money to use.
Endeavor shareholders loved the news that it had agreed to buy OpenBet in September. Meanwhile, Endeavor picked up 10 MiLB teams in December. But this year, the tide has turned in the gambling sector, and the valuation of companies — especially those associated with sports betting — dropped.
---
| | | | |
| --- | --- | --- | --- |
| Company | 12 Month High | 12 Month Low | Percentage Off High |
| DraftKings | $64.58 | $9.77 | -84.9% |
| Entain PLC | £2,500.00 | £1,118.50 | -55.3% |
| Flutter Ent. | £16,275.00 | £7,600.00 | -53.3% |
| Endeavor | $35.28 | $17.42 | -50.6% |
---
DraftKings, once a stock market darling, fell more than 80% off its highs. Entain, the joint-owner of BetMGM, lost more than 50% of its value during the rout. Likewise, Flutter Entertainment, the parent company of FanDuel, fared poorly during the market selloff.
While the sector has bounced off its 12-month lows, it remains fragile. As a result, Endeavor has more leverage to renegotiate its acquisition of OpenBet.
Endeavor wants OpenBet to complement IMG Arena
With Endeavor and Light & Wonder, there was a willing buyer and a willing seller, even at a discount. Endeavor is anxious to pair its sports data and streaming enterprise, IMG Arena, with OpenBet's sportsbook technology.
Meanwhile, Light & Wonder is in the middle of a major restructuring. It recently sold off its lottery business for $5.8 billion to Brookfield Business Partners, a private equity group. And OpenBet is no longer a great fit for the company going forward, as Light & Wonder's CEO Barry Cottle recently admitted.
"Endeavor is the right partner for OpenBet," Cottle said. "The amended agreement increases speed and certainty by creating a simplified path to closing the transaction, while unlocking substantial benefits for OpenBet and Light & Wonder."
So, while the new deal will net Light & Wonder substantially less, it will allow the company to move forward. The deal should officially close next quarter.