During a victory against the San Francisco 49ers, the New Orleans Saints lost quarterback Drew Brees to an injury when he broke ribs on both sides of his chest and suffered a punctured lung. Optimistically, he's expected to miss two to three weeks. Backup QB Jameis Winston came off the bench and played the rest of the game leading the Saints to a 27-13 win over the Niners.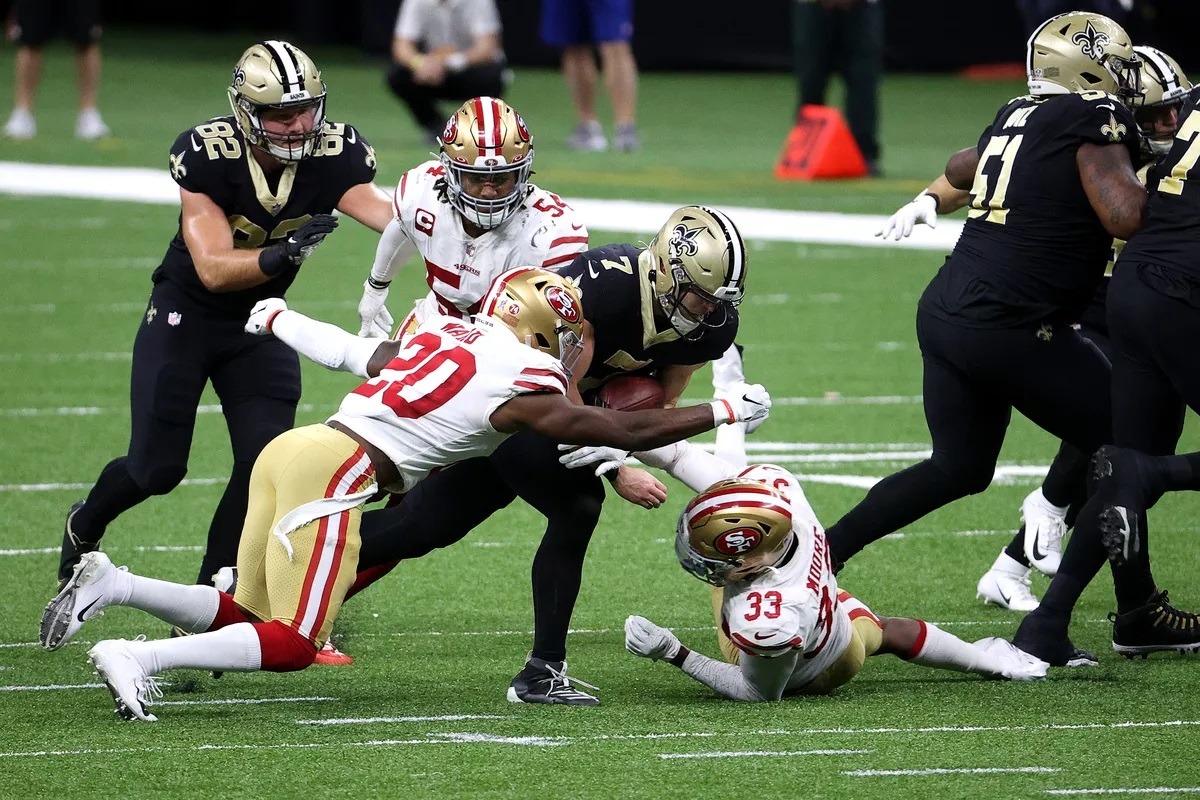 Head coach Sean Payton hasn't yet named a starter for Week 11's game against the Atlanta Falcons. Winston is expected to get the nod and, if that's the case, Payton can continue to utilize Taysom Hill in the red zone and as the Saints' Swiss Army knife.
"We'll see how this week unfolds." said Payton.
Brees initially incurred an injury against the Tampa Bay Bucs in Week 9. After a sack, he cracked three ribs on his left side. During the Niners game, Brees went down hard and cracked ribs on his right side. The fractured ribs punctured his lung, creating a pneumothorax.
Brees, 41, didn't indicate if this would be his final season before retirement. However, he admitted that any time a quarterback heads north of 40, their current season could be their final season.
Brees might not be able to throw the deep ball anymore, but he's thrived in the short passing game thanks to Alvin Kamara. Against the Niners, Kamara rushed for two touchdowns and caught one touchdown reception.
Brees tossed 18 touchdowns this season, which ranks him #9 overall in the league. In addition, Brees ranks third with the fewest interceptions from a starting quarterback with only three picks.
Winston, Next Man Up
Who Dat Nation won't freak out because they lost Brees last season. Brees missed five games in 2019 with a thumb injury. Backup QB Teddy Bridgewater stepped in and went 5-0 as a starter.
Bridgewater signed a free-agent deal with the Carolina Panthers in the offseason. After Tom Brady signed with the Tampa Bay Buccaneers, Winston headed to the Big Easy. The Saints signed Winston for a situation like this.
"Proud of him," said Payton. "He led us to an important scoring drive. He led us to another field goal drive. Jameis is extremely bright. Functioning and understanding what we are doing, he is someone that picks it up quickly."
"When Drew went down, Jameis just came in and did what he does all week," said Kamara. "He studies the same game plan, and knows what we want to do, and that's win. It is what it is. We still had to play a game. The game does not stop for one person. We were able to get a victory."
"To come in and be able to execute that offense is very, very difficult, especially if you're just kind of coming in midstream and haven't had a big chance to really get all the reps and that kind of thing," added Brees.
3 TDs for Alvin Kamara ⚜️ ⚜️ ⚜️#Saints | 📺: FOX pic.twitter.com/J100y6lJ1g

— New Orleans Saints (@Saints) November 16, 2020
On Deck: Atlanta Plus 3 Road Games
News of Brees' injury didn't have a heavy impact on the futures market. The New Orleans Saints (7-2) are +650 odds to win the Super Bowl, according to a recent update by DraftKings.
For Week 11's divisional matchup against the Atlanta Falcons, the Saints opened as favorites by a touchdown. When the Saints confirmed Brees suffered a ribs injury, the line dropped to -4.5 points.
After this Sunday's home game against the Falcons, the Saints hit the road for three away games. They play the Broncos in Denver in Week 12, face a rematch against the Falcons in Atlanta in Week 13, and then fly to Philadelphia for a showdown with the Eagles in Week 14.
The Saints will be happy to return to New Orleans in Week 15, but the defending champion Kansas City Chiefs come to town. The Saints hope to have Brees back from his injury in time for a showdown against Patrick Mahomes.
In Week 16, the Saints play the Minnesota Vikings on Christmas day. It's a rare Friday afternoon football game, which will replace Thursday Night Football that week.