The quarterback shuffle continues in the NFL. The Carolina Panthers signed Teddy Bridgewater to a three-year deal worth $63 million. Now it's up to the Panthers to trade Cam Newton, but where will the former MVP end up?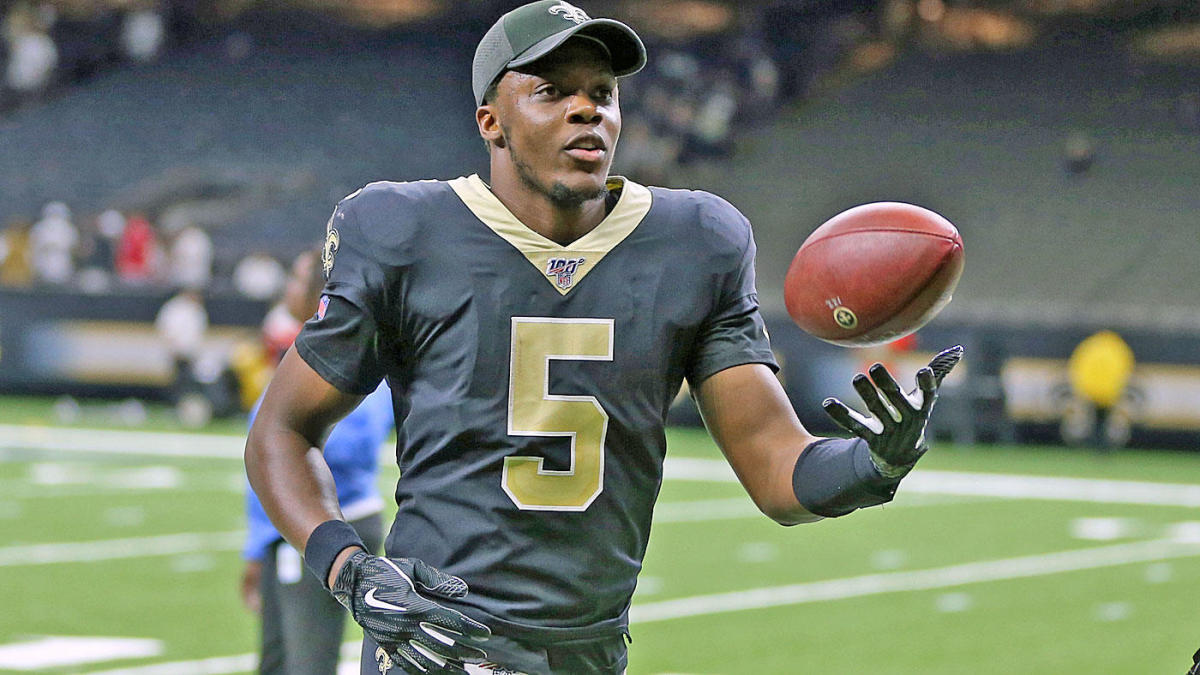 At least $40 million of Bridgewater's new contract is guaranteed money.
Bridgewater earned himself a huge payday with Carolina after holding the line for Drew Brees and the New Orleans Saints last year. When Brees went down with a thumb injury in Week 1, Bridgewater stepped up with a 5-0 record as a starter. Under Bridgewater, the Saints maintained their lead near the top of the NFC without their Hall of Famer.
Bridgewater waited for a perfect opportunity to shine. He is 22-10 as a starter. He had an excellent career ahead of him with the Minnesota Vikings before he blew out his knee. He missed most of 2016 and 2017 due to the injury.
In 2018, the New York Jets gave Bridgewater a shot at competing for the starting QB job. Bridgewater went into camp against veteran Josh McCown and rookie Sam Darnold. Darnold impressed everyone and earned the starting job. The Jets traded Bridgewater to the Saints, who needed a backup for Brees.
Bridgewater didn't see any action in his first season in the Big Easy. It gave him an opportunity to learn by watching one of the greatest quarterbacks in history, while giving his surgically repaired knee another year to strengthen. Bridgewater didn't squander his opportunity when head coach Sean Payton called his number when Brees went down in Week 2.
Hello Bridgewater, Goodbye Newton
Newton, 31, still wants to play with the Panthers, but his body is the issue. Newton's body took a pounding during his first few seasons in the NFL. In the last two seasons, all those hits and dings added up. He missed the final two games of the 2018 season and underwent shoulder surgery.
Newton missed 14 games in 2019 with a Lisfranc foot injury. He had surgery in December and is expected to recover by May.
Newton led the Panthers to the Super Bowl during his MVP season in 2015. But that was a half-decade ago. Now that "Riverboat Ron" Rivera is no longer at the helm, it's time for a complete regime change. That includes a new head coach and a new quarterback.
"Stop with the word play," responded Newton. "I never asked for it. There is no dodging this one. I love the Panthers to death and will always love you guys. Please do not try and play me or manipulate the narrative and act like I wanted this. You forced me into this."
Rookie Kyle Allen started in place of Newton last season, and the Panthers also have Will Grier, a former Heisman Trophy candidate with West Virginia, as the third-stringer. Toss in a banged-up Newton and Carolina didn't have any sexy options at QB, so they brought in Bridgewater.
If they release or trade Newton, the Panthers open up $19.1 million in cap space.
LA or DC Next for Cam?
The Panthers burned their bridge with the guy who took them to the Super Bowl, but who will be willing to take the fragile Newton? How much will a team be willing to pay to take on Newton's hefty contract?
The Chicago Bears decided that Nick Foles was worthy of a fourth-round comp pick when they acquired him in a trade with the Jacksonville Jaguars.
The Bears were the obvious choice for Newton. They weren't pleased with Mitch Trubisky and were shopping for a QB. However, the Bears opted for Foles instead.
The Washington Redskins already have Dwyane Haskins. The rookie held his own last season, despite undergoing a baptism by fire. However, owner Dan Snyder is foolish enough to overpay for an overvalued player. He'd be willing to cough up draft picks if he thought Newton could sell more tickets.
"Of course, Cam Newton is a huge draw," said Pat McAfee. "It all comes down to health."
The Los Angeles Chargers need a quarterback after Philip Rivers bailed for the Indianapolis Colts. Head coach Anthony Lynn loves Tyrod Taylor. However, a fashion-forward guy like Newton would be perfect for the glitz and glamor of Hollywood.
Oh, and the New England Patriots need a quarterback after Tom Brady signed with the Tampa Bay Bucs. But the Pats are stingy when it comes to signing veterans on the back nine of their careers.