The Carolina Panthers and Cam Newton made the difficult decision to pull the plug on this season after his left foot injury failed to respond to medical treatments. The Panthers put Newton on the IL for the remainder of the season with a Lisfranc foot injury.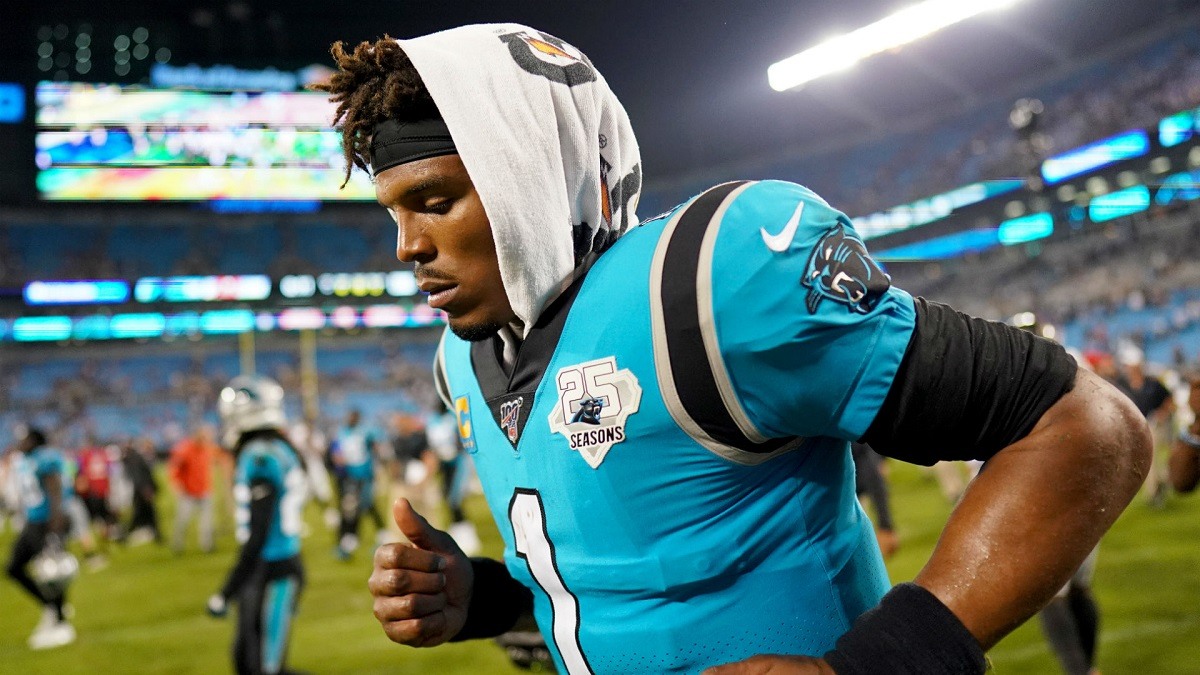 Kyle Allen is 5-1 as a starter for the 5-3 Panthers since taking over for Newton in Week 3. Under a banged-up Newton, the Panthers lost the first two games of the season. Newton threw zero touchdowns and one interception in two games before he went down with his foot injury.
In the bottom-line era of pro football, it looks like Newton played his last game with the Carolina Panthers in Week 2. Newton, the former MVP, has been a shell of himself due to multiple injuries and big hits piled up over his nine-year career with the Panthers.
If his foot can heal up, then he could extend his career. But, how much longer does he have before the next injury derails his comeback?
That's the conundrum that Andrew Luck found himself in this preseason. Luck took a glimpse into the abyss called retirement and made a wise decision to step away from the game. Athletes like Luck and Newton reach the pinnacle of success because of their relentless drive and willingness to go balls-to-the-wall on every play. However, toughness and determination can't always overcome what science and medicine can't cure. The human body can only absorb so much damage before it breaks down.
Last Game with Panthers?
"Every time I call it a business, you call it a game! And every time I call it a game, you call it a business!"
That's a paraphrased line from the Nick Nolte cult football film, "North Dallas Forty", which has more to do about American greed and the exploitation of labor than it has to do with modern-day pro football.
The NFL is a multibillion-dollar business. The simple bottom line is that Cam Newton is too old and too banged up to incur a $19.1 million salary cap hit. The cold-hearted choice is to get rid of Newton. The Panthers could cut him outright, but the logical choice is to find a team that will trade for him in hope they can get any kind of compensation in the draft.
Running back Christian McCaffrey has quickly become the new face of the franchise, with fans already chanting "MVP! MVP!" during home games. McCaffrey is due for a big pay raise, so it seems natural the Panthers would rather pay their up-and-coming superstar and cut their losses with a fading star that dimly flickers in the night sky.
Let the Cam Newton and Carolina Panthers obituaries begin.
Year of the Backup
2019 is becoming known as the Year of the Backup QB. At least one third of the teams in the NFL lost their starters to injuries, and another half-dozen were benched for poor performances.
The Panthers, and frankly most of the gambling public, didn't think Kyle Allen could thrive and win five out of six games.
Unlike Teddy Bridgewater filling in for Drew Brees when he went down, the New Orleans Saints acquired Bridgewater knowing that he was a former starter a couple of years removed from knee surgery. Then again, the Saints were thrilled with Bridgewater delivering a 5-0 record in relief of Brees.
Allen, 23, has excelled in a situation where he came in with low expectations. He's more than acclimated to the team and the offense. But, after a 5-1 record, expectations are beginning to rise. The newfound responsibility hasn't fazed Allen much. At least, not yet.
"Nothing has changed," said Allen. "You guys don't like to believe me, but I prepare the same way each week. I was never looking over my shoulder. Honestly. Before Cam went on IR, my job was to get ready to play every week, and then when somebody told me it was not my turn to play anymore, I would stop playing. It's still the same thing."
Allen, who played his collegiate ball in Houston, won his first five starts without throwing an interception, which had never been done before in the NFL. Overall, Allen tossed 11 touchdowns and four interceptions in seven games. Then again, all he has to do is get the ball to Christian McCaffrey, and let him do the rest.
In case you were wondering, Allen earns the league-minimum of $495,000 per season.
Future in Chicago, Denver, or Tampa
The word in Chicago is that the team wants to move on from Mitch Trubisky at the end of the season. That would put them in the market for a new quarterback.
Joey Flacco was always just a band-aid on a gaping wound in Denver. Now that Flacco is out indefinitely with a neck injury, they're down to a kid off the streets that they signed off a practice squad. The Broncos and John Elway can't seem to find a viable QB option, but they could take a flier on Newton. Perhaps Elway can squeeze a couple good seasons out of Newton before he rides off into the sunset like Peyton Manning.
The Tampa Bay Buccaneers have a volatile situation with Jameis Winston. His inconsistency week-to-week is what causes fans and coaches' huge headaches. The Bucs have a couple of top-end wideouts with Mike Evans and Chris Goodwin. It's just that they're boom or bust with Winston, who can throw three touchdown or three interceptions in a flash. If the Bucs move on from Winston, Bruce Arias could help build a scheme around Cam so he can thrive on the last couple of holes on the back nine of his career.