Rafael dos Anjos had little trouble dominating Paul Felder in the main event of Saturday's UFC Fight Night card from Las Vegas, despite the fact that one judge saw the fight a little differently than the others.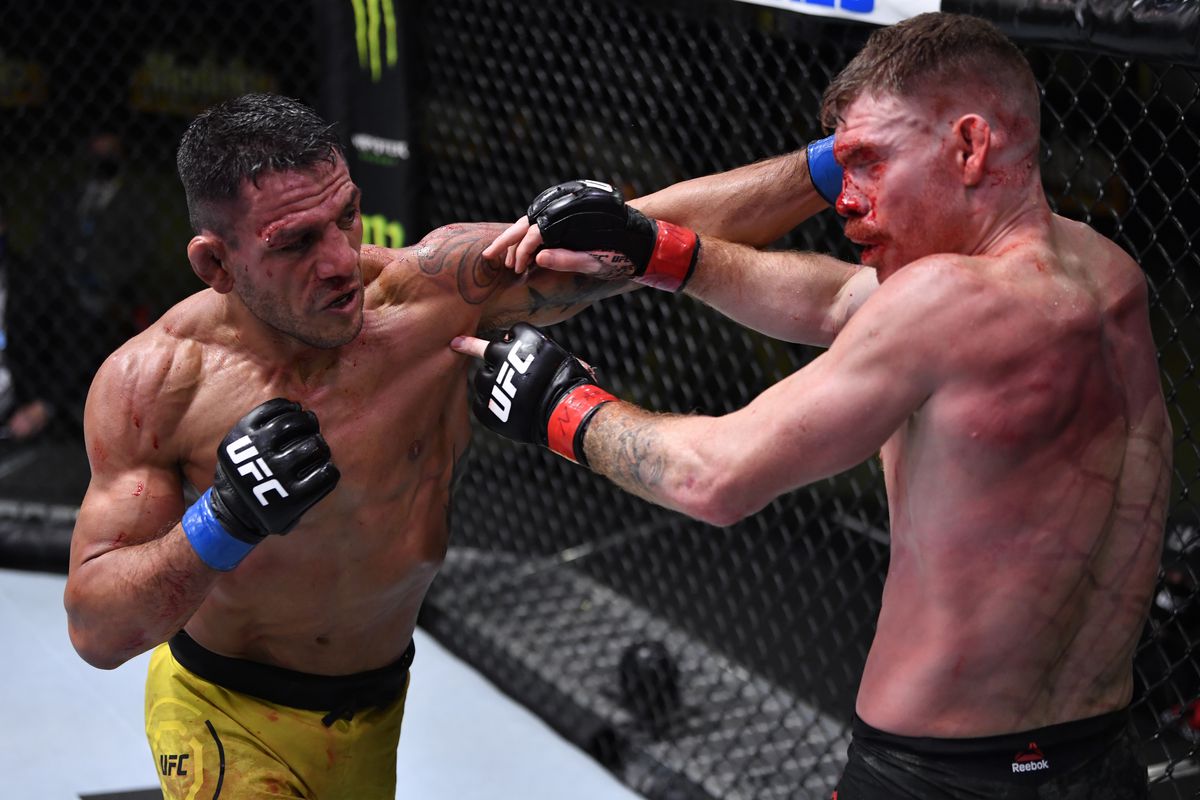 Dos Anjos (30-13) earned a win by split decision, winning 50-45 on two cards but losing 48-47 on the third.
Dos Anjos Too Much for Late Replacement Felder
Felder (17-6) made a last-minute move from commentator to opponent, cutting weight over the course of just five days to replace Islam Makhachev in the bout. Even that was only possible because Felder was already in training for an upcoming triathlon.
That left Felder with little time to prepare for a fight with the former lightweight champion. While Felder showed he could compete with dos Anjos in the striking game, he was no match for him on the mat, where the Brazilian controlled the action for minutes at a time.
That's not to say it was an easy fight for dos Anjos. While Felder had little chance to prepare for dos Anjos, the same was also true in reverse.
"I was training for a wrestler, a southpaw wrestler," dos Anjos said after the match. "And Paul Felder is an orthodox striker. Very technical. Strong guy. But we had to make the show happen."
The fight left Felder bloodied and beaten. Though he had his moments throughout the fight, most observers had dos Anjos winning comfortably. According to information collected by MMADecisions.com, no media member scored the fight closer than 49-46 in dos Anjos' favor.
Lightweights, watch out!

🇧🇷 @RdosAnjosMMA is back and ready to make a run. #UFCVegas14 pic.twitter.com/PC9tKyqM74

— UFC (@ufc) November 15, 2020
That's why it came as a shock to everyone – including Felder – when judge Chris Lee scored the fight 48-47 for the challenger. Lee gave Felder the second, third, and fourth rounds, the last of which was the only one that a significant number of observers believed could have gone either way.
Poirier vs. McGregor Moving Closer to Reality
UFC president Dana White told ESPN last week that Dustin Poirier has signed on to fight a rematch with Conor McGregor on Jan. 23 in the main event of UFC 257.
McGregor has yet to officially sign onto the fight, but has verbally agreed to the bout and is expected to participate, according to sources cited by ESPN.
"Jan. 23 on Fight Island, if everything goes according to plans," White told ESPN's Brett Okamoto. "There are a ton of if's right now. I have to see where the world is at in the next couple of months."
McGregor knocked out Poirier in under two minutes in their previous meeting, which came back in 2014.
Hype Building for Khaos Williams
Welterweight Khaos Williams (11-1) scored a 27-second knockout over Abdul Razak Alhassan in Saturday's co-main event. Williams won his first two UFC fights in a total of less than a minute, finishing both fights in spectacular fashion.
"I feel like I can knock anybody out," Williams said after the fight. "I mean, it's a fight. If you hit someone hard enough, they might be able to knock me out. Who knows? But at the end of the day, we're all human beings, and like I said before, metaphorically speaking, nobody is bulletproof. You hit me the hard way, I hit you the hard way, you go down."