As he watched his biggest meal ticket work out Saturday, Rich Strike trainer Eric Reed cast a figurative eye East toward Pimlico Race Course. Then, he answered the question of many fans wondering why he wasn't there, running the second jewel of the Triple Crown — the Preakness Stakes.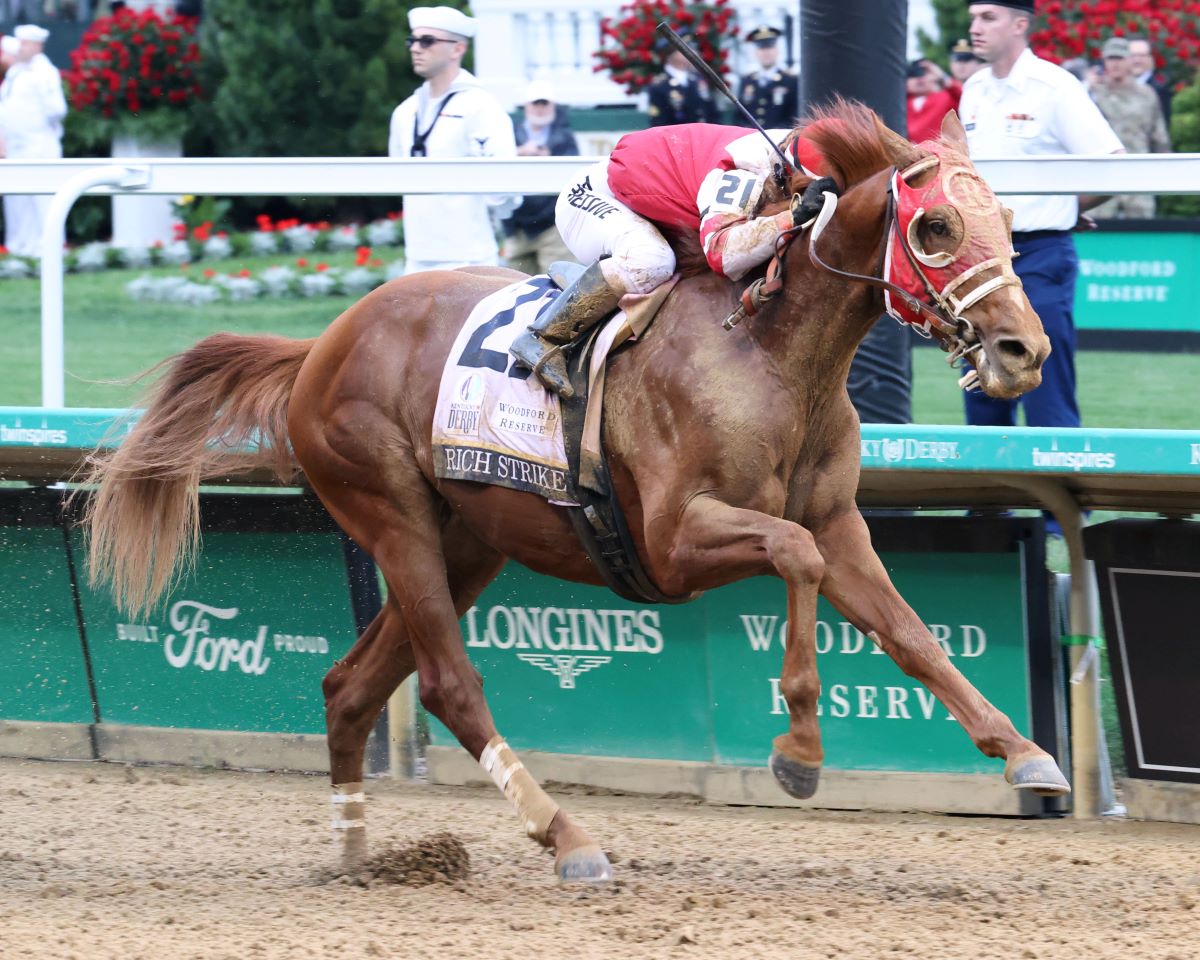 "Skipping the Preakness was still one of the toughest decisions I had to make as a trainer," Reed told Churchill Downs Saturday morning. "I just don't think he would've been mentally ready to run against those horses again."
Instead, the Kentucky Derby champion returned to the work tab, two weeks after his improbable Derby shocker at 80/1. With Reed and owner Rick Dawson watching, Rich Strike clocked a solid half-mile in 47.20 seconds. That was the seventh-best of 138 running that distance.
Exercise rider Gabe Lagunes put Rich Strike through a 22.80-second opening quarter-mile breeze. He galloped the Derby winner out five furlongs in 1:00.60.
Reed delays Rich Strike's departure date
That helped convince Reed to keep Rich Strike in his Barn 17 at Churchill Downs until May 31. He originally planned on vanning the colt to Belmont Park this week, but Reed liked what he saw Saturday, planning another work for Memorial Day, May 30.
"He does so well here, I just didn't want to change anything yet," Reed said. "He'll get eight or nine days at Belmont to gallop and get used to the surface."
The Belmont Stakes was originally Reed's Triple Crown target for Rich Strike. That was until D. Wayne Lukas scratched Ethereal Road five minutes before the Friday, May 6 deadline for finalizing the field. Reed put Rich Strike in the race, then watched the colt snatch and grab the win in the second-biggest upset in Derby history.
Sonny Leon, who piloted Rich Strike to that Derby win with a riding clinic over the last quarter-mile, will take the reins again for the June 11 Belmont Stakes. Leon recently served a four-day suspension imposed by Thistledown Racecourse stewards for careless riding in an April 27 race.
In that race, stewards determined Leon "deliberately and aggressively" moved One Glamorous Gal toward the rail. That interfered with another horse, disqualifying One Glamorous Gal from third to sixth.