Damian Lillard unleashed a career-high 60 points for the Portland Trail Blazers in a 119-115 loss against the Brooklyn Nets.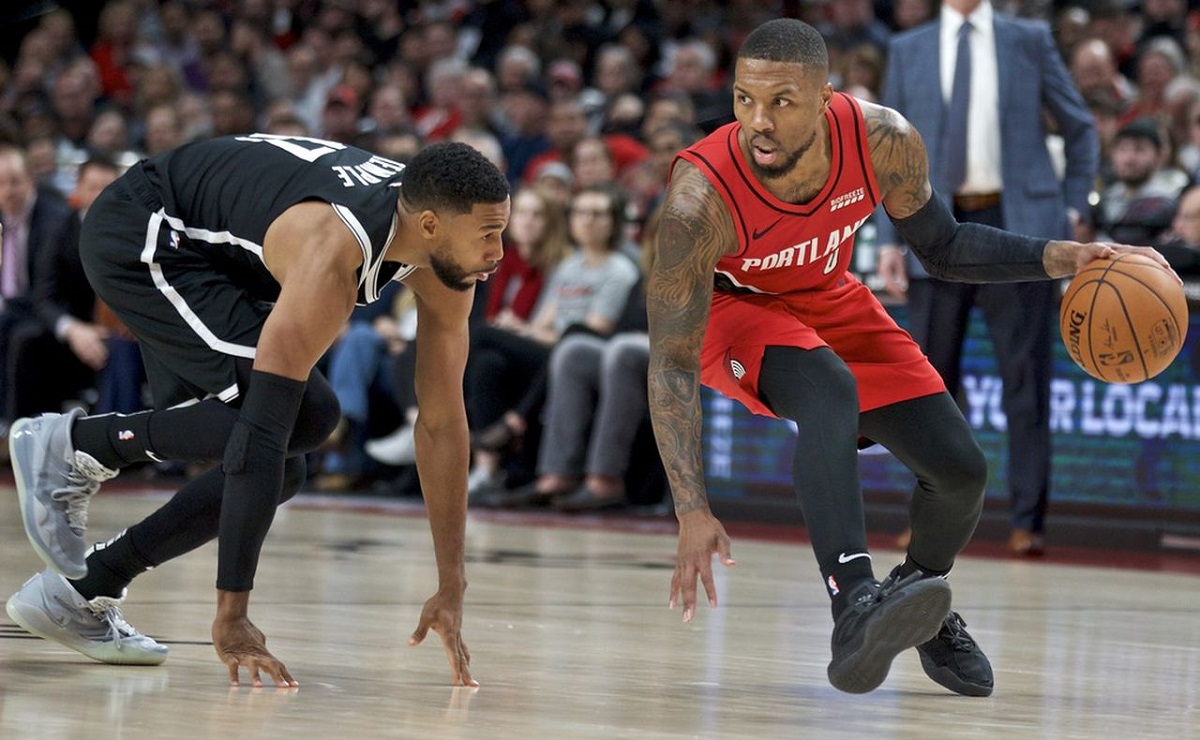 Despite the scoring explosion from Lillard, the Nets held on for the victory to improve to 4-4 on the season. The banged-up Blazers (3-6), who went to the Western Conference Finals last season, lost their fourth game in a row, and sunk to last place in the difficult Northwest Division.
The Blazers lost Rodney Hood (back spasms) and Skal Labissiere (sprained ankle) during the Nets game. They've been playing without key big men Zach Collins (labrum surgery), Jusuf Nurkic (fractured leg), and Pau Gasol (old).
Damian Lillard vs. BKLN
Minutes: 40
Points: 60
FG: 19-33
3-PT: 7-16
FT: 15-15
"Anytime you set records it's obviously good," said Lillard. "I guess it's not as fun losing."
"Dame got 60," said Brooklyn Nets' guard Spencer Dinwiddie. "Luckily for us, he would've needed 65."
Kyrie Irving, one of the huge free agent acquisitions for the Nets, scored 33 points in the victory. Spencer Dinwiddie added 34 points off the bench, with six, three-pointers.
"The game could have gone either way, as well as Dame was playing," said Irving. "Anytime someone has a big performance like that, it can go either way when he can really take over the game like he did."
"It's disappointing losing any game," said Blazers coach Terry Stotts. "We're 0-3 at home, and on a four-game losing streak. Dame was exceptional tonight and carried us, put us in a position to win the game."
Big Game Dame 60
They don't call him "Big Games Dame" for nothing. Lillard scored a career-high and franchise-high 60 points, which almost came as a surprise to many fans because everyone presumed he's dropped 60 numerous times before. His previous high occurred last season when he unleashed 59 points against the Utah Jazz. Lillard also set a Blazers record with 10, three-pointers last season.
Lillard's backcourt mate, CJ McCollum, had an awful night against the Nets. McCollum averages 19.4 points per game this season, but only scored 8 points. McCollum shot 4-19 from the floor, and missed 14 out of his first 16 shots.
Lillard made up for McCollum's off night with seven treys. He also went a perfect 15-for-15 from the charity stripe.
"We tried zone, box-and-one, we tried blitz, we threw the kitchen sink at him," said Brooklyn coach Kenny Atkinson. "He just kept making incredible shots."
On Monday night, Lillard torched the Golden State Warriors for 39 points in a loss. After scoring 60 points against the Nets, Lillard now averages 33.3 points per game, which is second-best in the NBA. In the off-season, Lillard signed a super-max contract extension worth $196 million.
The Blazers are 33/1 odds to win the 2020 NBA Championship, according to the Mirage Casino in Las Vegas.
We told you to keep an eye on this Nets/Blazers game in our weekly NBA Weekend round up. Find out about other fun matchups this weekend.