Damian Lillard, the All-Star guard with the Portland Trail Blazers, will miss an upcoming six-game road trip while he meets with specialists to determine a course of action to deal with his abdominal tendinopathy injury.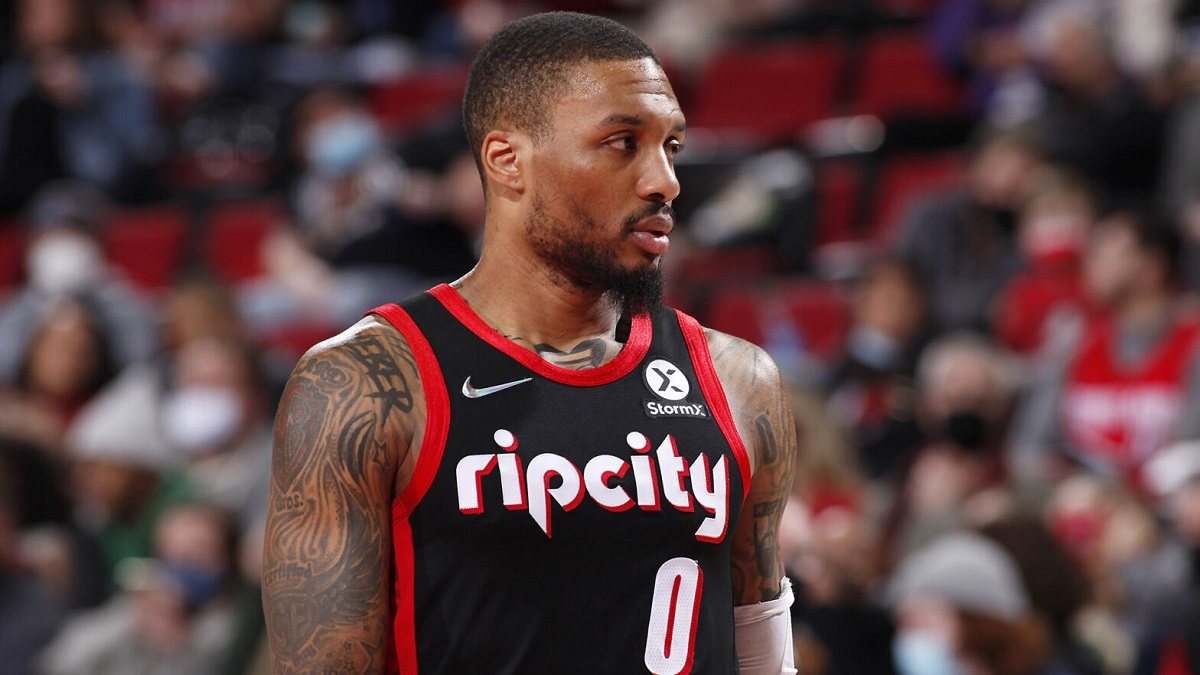 Lillard developed an ab injury last summer during the lead-up to the Tokyo Olympics. He hasn't played since a New Year's Eve tilt against the Los Angeles Lakers. Lillard missed two weeks of action in early December when he was initially diagnosed with abdominal tendinopathy.
"He's trying to get this situation squared away," said head coach Chauncey Billups. "At least learn some more about it."
While Lillard meets with specialists, the Blazers hit the road for six away games against the Denver Nuggets, Washington Wizards, Orlando Magic, Miami Heat, and Toronto Raptors. The Trail Blazers have to wait until the last week of January to play their next game at home at the Moda Center. They'll have just a quick back-to-back stand in Portland before they leave town for four more road games.
The Blazers are in a tough spot with 10 road games in their next dozen games to close out the month. It's even more problematic without their top two leading scorers.
The Blazers (16-24) are four games out of the #8 seed in the Western Conference and currently occupy the #10 slot. It looks like they're destined for a play-in tournament. The banged-up Blazers are a long shot to win the 2022 NBA Championship at +45000 odds.
No Dame or CJ
The short-handed Blazers have been playing without their starting backcourt. CJ McCollum suffered a punctured lung in early December and he's been listed out with a pneumothorax.
In 29 games with the Trail Blazers this season, Lillard averages 24 points, 7.3 assists, and 4.1 rebounds per game. His current average is almost five points off last season's scoring total, and six points off his career-best of 30 ppg in 2019-20.
Lillard also isn't as sharp from beyond the arc this season. He's struggling with a 32% success rate, which is way below his clip of 39.1% last season and 40.1% two seasons ago. It's obvious that his ab injury has affected his long-range shooting, which is why he's seeking out specialists.
Anfernee Simons stepped into a starting role to replace Lillard. He's averaging 27.8 ppg in January, including 43 points against the Atlanta Hawks.
Rip City trade rumors
The LA Lakers are thirsty to acquire Lillard in a trade, but they'll have to persuade the Trail Blazers to take Russell Westbrook off their hands in a swap for Dame.
Lillard insists he wants to remain in Portland and finish out his career with the Trail Blazers. The Lakers have struggled since they added Westbrook in a trade with the Washington Wizards who, in an odd turn of events, have thrived without Westbrook in the lineup.
Meanwhile, the Philadelphia 76ers have been trying to trade Ben Simmons, who hasn't appeared in a single game this season. McCollum has been mentioned in trade rumors for Simmons since the offseason, but the 76ers have been slow to deal.
If the Trail Blazers stand pat and don't trade their top stars away, there are whispers that they could shut down Lillard indefinitely while they tank the rest of the season and hope to strike it rich in the NBA Draft Lottery.