After a disappointing postseason, especially during the Eastern Conference Semifinals, the Philadelphia 76ers are exploring trade options for their point guard Ben Simmons, which includes the Portland Trail Blazers, Chicago Bulls, and Golden State Warriors. Simmons became a liability in the fourth quarter for his atrocious free-throw shooting and unwillingness to shoot the ball in crunch time to avoid an embarrassing moment at the free-throw line.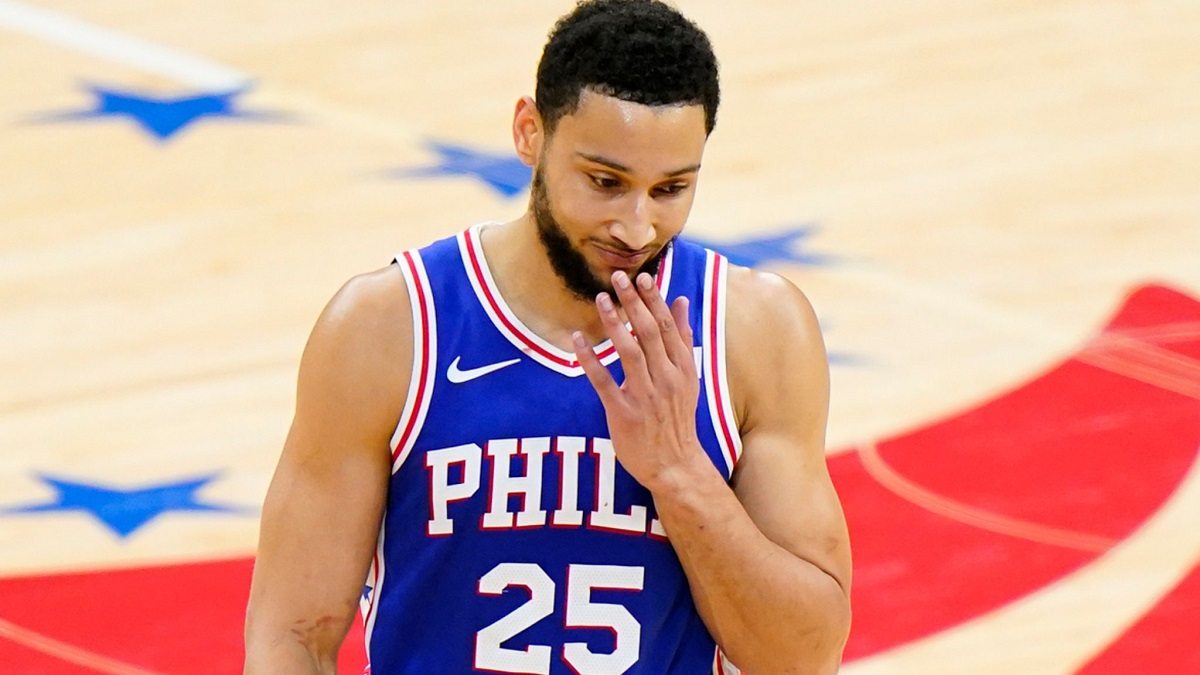 The 76ers were knocked out of the playoffs by the #5 Atlanta Hawks after securing the #1 seed after a sensational regular season.
The 76ers stood pat at the trade deadline, despite numerous rumors about Kyle Lowry returning to his hometown. The Toronto Raptors decided not to trade Lowry, and the 76ers passed on Victor Oladipo.
BEN SIMMONS NEXT TEAM TRADE ODDS
Philadelphia 76ers -125
Portland Trail Blazers +300
Washington Wizards +650
LA Lakers +1000
Oklahoma City Thunder +1000
Chicago Bulls +1200
Golden State Warriors +2000
Indiana Pacers +2000
Boston Celtics +2500
---
DraftKings posted a prop bet for potential teams where the 76ers will trade Simmons, which included the Portland Trail Blazers, Washington Wizards, LA Lakers, OKC Thunder, and Chicago Bulls. The 76ers are the favorites to keep Simmons at -125 odds, but the Blazers are the other top favorite to snatch Simmons in a trade.
Options: Lefty/Righty Switch?
The 76ers already had previous discussions about forcing Simmons to learn how to shoot properly with is right hand. He has a janky left-handed shot, despite being a right-handed person in everyday life. His father taught him to shoot lefty when he was a kid, which is weird even for Australians.
Even if he doesn't drastically change his shooting motion or switch hands, Simmons will be doing a ton of practicing in the offseason. He'll need to develop a decent jump shot and vastly improve his free-throw shooting. Simmons set an NBA record for worst free-throw shooting in the postseason with a 34% clip. He quickly became meme fodder and the internet roasted the 24-year old All-Star. Even the Onion took a pot shot at Simmons and grizzled Philly sports fans.
"Philly fans have long memories," said Reggie Miller, ex-player and current announcer. "And if you bring him back and he goes through a stretch of two, three, four games, Philly fans are gonna let you know. That's just how they are. Mentally, that's the hardest thing to prepare an athlete for."
Simmons and his future in Philadelphia depends on improving his overall shot, especially with three more years remaining on his max contract worth $177 million.
Simmons: Stay or Trade?
Rich Paul from Clutch Sports met with the 76ers front office to discuss the future of his client. Paul insisted that the 76ers trade Simmons sooner than later with the NBA Draft less than a month away. The 76ers intend to keep the Embiid-Simmons dynamic duo, at least that's what they said publicly.
"We have a very strong group we believe in," said Philadelphia general manager Daryl Morey. "None of us can predict the future of what's going to happen in any, in any place. In terms of what's next, we're going to do what's best for the 76ers to give us the best chance to win the championship with every single player on the roster."
In reality, there's very few viable trade options aside from a bunch of alkies coming up with wacky trade scenarios while sitting on a ratty stool in a Philly dive bar.
Where to Trade Simmons?
On paper, the Portland Trail Blazers seem like the most obvious trade partner for Simmons and the 76ers. Simmons could help boost Portland's defense, but it would force Lillard to become the sole offensive weapon. CJ McCollum has been a beta to Damian Lillard's alpha during his tenure in Portland.
A shakeup might be brewing in Portland. The Trail Blazers parted ways with long-time head coach Terry Stotts. If the Blazers decide it's time for a CTRL-ALT-DELETE on the franchise, then they would not hesitate to trade McCollum to the 76ers. In that extreme rebuild scenario, the Blazers gut the entire team by trading McCollum and Lillard. Lillard said the only other team he'd consider playing for is the New York Knicks, because he loves Madison Square Garden.
The Chicago Bulls have the cap space to absorb Simmons' contract, plus they could use a point guard if they do not want to go all-in on Coby White. The Bulls have a solid one-two punch with Zach LaVine and Nikola Vucevic, but they would probably have to give up LaVine to make the Simmons trade worth while for the 76ers. The Bulls sounds good on paper as a trade partner with the 76ers, but it's a long shot.
The Golden State Warriors have a pair of first-round draft picks and they're in the market for a defensively-minded point guard, but they're also long shots to land Simmons in a trade.