When it comes to cardboard cutouts, Pedro Martinez gets around. Yes, that was a cardboard likeness of the Hall of Fame pitcher at Dodger Stadium. And yes, it was a cardboard cutout Martinez at Citi Field.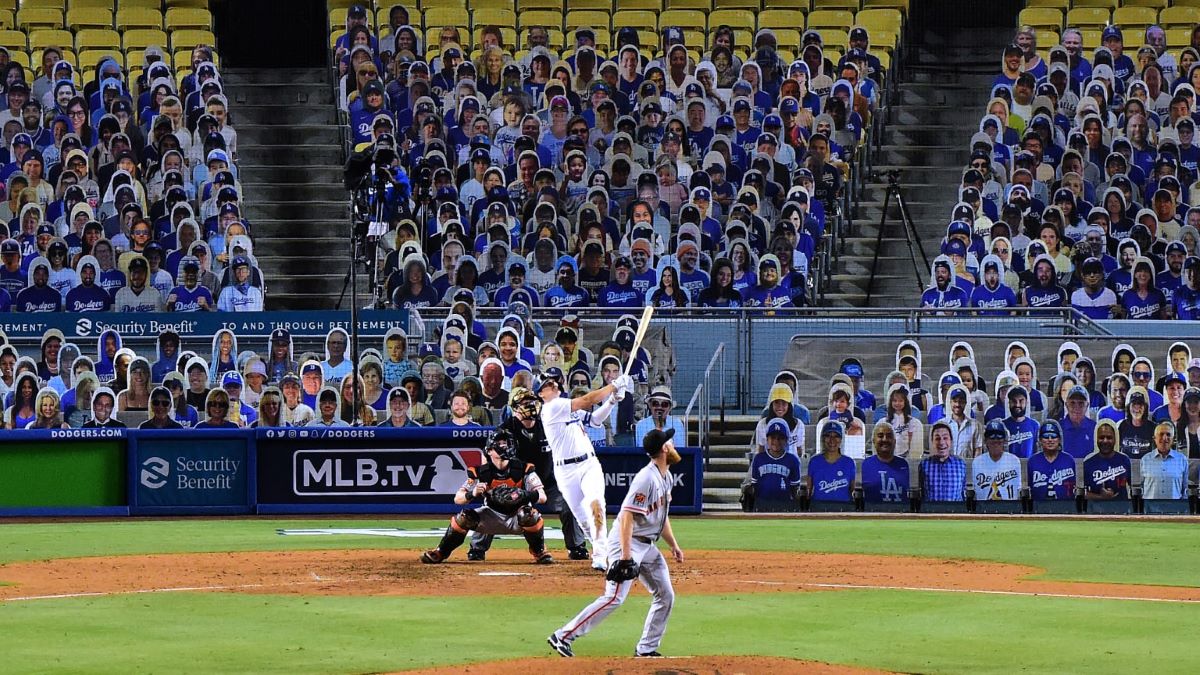 Baseball teams across the country are allowing fans inside the ballpark – the two-dimensional cardboard fans. With "Take Me Out to the Ball Game" an impossibility due to the coronavirus, many teams are offering fans the opportunity to "buy" seats for their cardboard likenesses. For as low as $40 in Kansas City to as much as $500 for a seat atop Fenway Park's Green Monster, baseball fans can virtually attend games this season.
Well, their cardboard doppelgangers can. Of course, this means celebrities used to seeing and being seen at ballparks aren't ignoring the opportunity either.
OG took a random trip around the country's ballparks to see who we could see.
Mary Hart, Mike Brito, Rob Lowe et-al/Los Angeles Dodgers
There's Mary Hart's endless legs, legendary scout Mike Brito's Panama hat and radar gun, Rob Lowe's smile, and, what did you expect from Hollywood's backyard team? How about Bryan Cranston, Brad Paisley, Mario Lopez, Orel Hershiser, Nomar Garciaparra, and – of course – Tommy Lasorda and Magic Johnson? It's never been this easy to stargaze at Dodger Stadium. Getting autographs may be a bit more problematic, however.
The Mary Hart and Mike Brito (legendary scout/radar gun) cutouts at the @Dodgers game is brilliant. pic.twitter.com/0Pcv7ZNsda

— Dave Furst (@DaveFurst) July 24, 2020
Geddy Lee/Toronto Blue Jays
The bassist and frontman for the Hall of Fame Canadian progressive rock band Rush is a huge baseball fan and Blue Jays season-ticket holder with an autographed ball collection that wouldn't be out of place in Cooperstown. So its natural his cardboard likeness found the "Limelight" in Buffalo, where the Blue Jays play their 2020 home games. It's a shame there aren't "2112" other likenesses of him and his former bandmates Alex Lifeson and the late Neil Peart sprinkled about stadium "Subdivisions". Alas, Lee didn't bring "Tom Sawyer" along with him.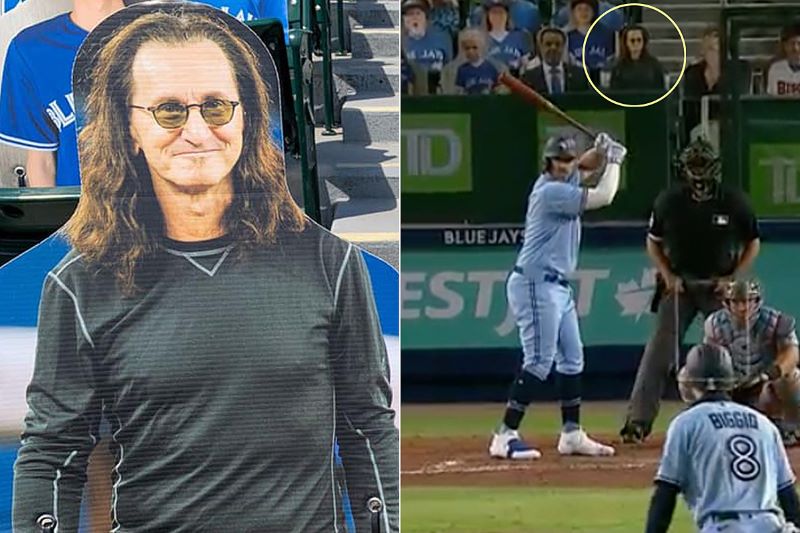 Bernie Lomax/Kansas City Royals
Who said baseball is dead? Well, perhaps some of its cardboard fans are, as witnessed in Kansas City. There, some enterprising fan took the dead insurance CEO from the 1989 comedy "Weekend at Bernie's" and reincarnated him as a Royals fan. Not to pick nits, but as hilarious as this is – and make no mistake, this is one of the best cutouts we've seen – wouldn't Bernie be more natural in Yankee Stadium? And who's pulling Bernie's strings here? Inquiring minds want to know.
Whoever put a Bernie Lomax cutout in the stands is my hero. 💀 pic.twitter.com/bPggTeeCj5

— Daryl Ruiter (@RuiterWrongFAN) August 7, 2020
The Bushes/Texas Rangers and Houston Astros
Call it the Presidential Texas Two-Step. First, former President George W. Bush and former First Lady Laura Bush "take in" Opening Day at Globe Life Field in Arlington, Texas. Then, three weeks later, Bush's parents – former President George H.W. Bush and former First Lady Barbara Bush – make an appearance behind home plate at Minute Maid Field. Bush the Younger once owned a piece of the Rangers, Bush the Elder was a longtime Astros fan. Call it a Presidential Push.
"Houstonians have taken great pride [knowing] President & Mrs. Bush called our great city home. They were longtime Astros fans & it's wonderful to place them 'back home' behind home plate – a great way to honor their legacy. They were, & will always be, a fan favorite." – @Astros pic.twitter.com/I6oVIJrpAH

— George & Barbara Bush Foundation (@BushFdn) August 14, 2020
Chipper Jones/New York Mets
The Hall of Fame third baseman retired in 2012, but when it comes to trolling his favorite punching bag, it's as if Jones never left. He bought two Citi Field cutouts: one of him and one of his son, Shea, who Jones named after the Mets' former digs. And why not? Jones hit his first career home run at Shea and trolled the Mets throughout his career. In 245 career games against the Mets, Jones bashed 49 homers, drove in 159 runs, and slashed .311/.408/.548 in 848 at-bats.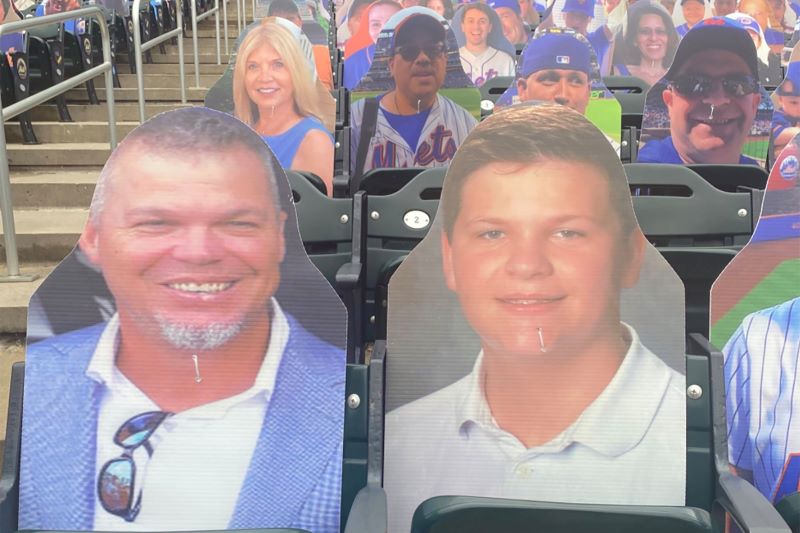 Jimmy Garoppolo, George Kittle/San Francisco Giants
With no preseason games and only a token training camp, San Francisco 49ers quarterback Jimmy Garoppolo and his prime target, tight end George Kittle, needed something to fill the time. Judging by who's sitting in the row above them, we presume they sent Rob Schneider to fetch the beers.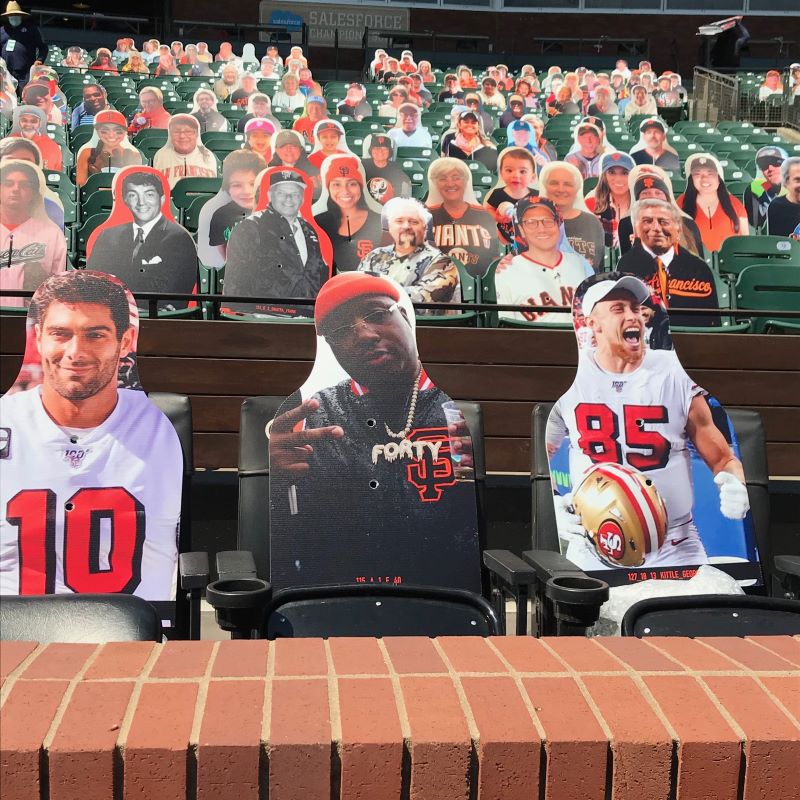 Guy Fieri and Tony Bennett/San Francisco Giants
Look a bit harder in the above picture. You'll see Oracle Park padded its culinary resume with a cardboard trip to Flavor Town. Actually, given Fieri's bent toward comfort foods of all types – see any episode of "Diners, Drive-Ins, and Dives" – perhaps the 3D, live Fieri could spin this off into "Fields, Foods, and Flavor." Meanwhile, Tony Bennett left his heart in San Francisco — and his cardboard likeness with Garoppolo, Kittle, Fieri, Schneider et-al at Oracle.
The closest I can get to @JimmyG_10 talking to me in the offseason … @E40 knows what's good tho! Good luck tonight @SFGiants 🔥🔥🔥 pic.twitter.com/6Xs5kQ5ONv

— George Kittle (@gkittle46) July 24, 2020
Tom Hanks/Oakland Athletics
Life is like a basket of hot dogs. Well, at the Oakland Coliseum, it is, courtesy of a cardboard Tom Hanks hot dog vendor. Before he got his acting break, becoming one of the greatest actors of his generation, Hanks hawked hot dogs at the Coliseum. This made for a symbiotic gimme for the Athletics, who needed someone to feed hungry cardboard fans. Oh, and the voice of Forrest Gump, "Toy Story's" Woody, Capt. John Miller from "Saving Private Ryan" and – of course – Jimmy Dugan from "A League of Their Own" – lent his voice to the piped-in crowd noise.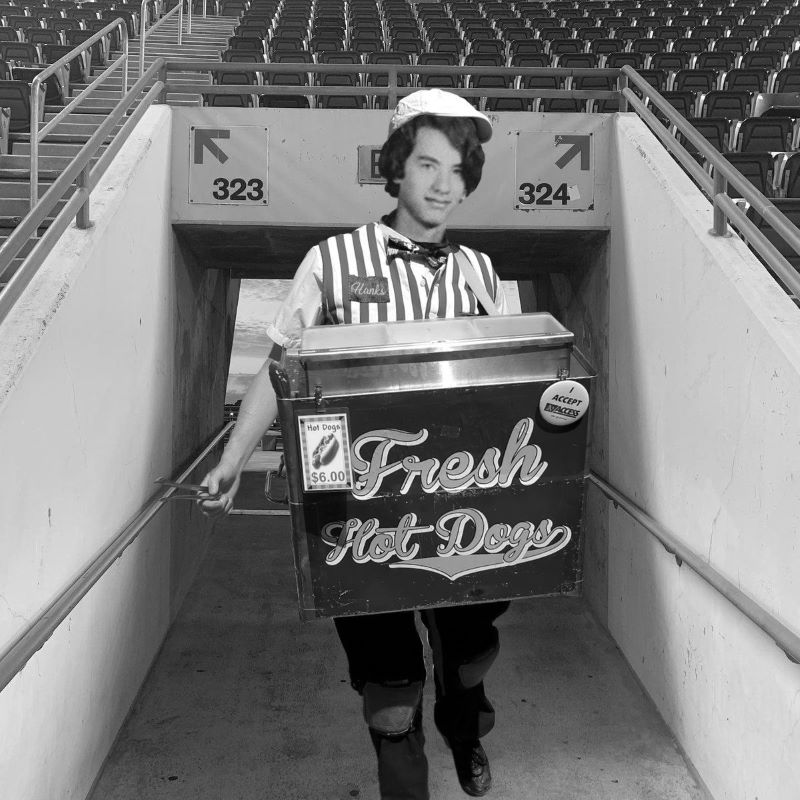 Marriage Proposal/Cleveland Indians
The man seems a bit stiff here. Come to think of it, so does his potential bride. Well, wouldn't you be a bit nervous proposing to the love of your life in such a public setting? There are always several marriage proposals sprinkled around major-league ballparks each year. In this case, Cleveland's Progressive Field provided the setting for this proposal – which ended with the proverbial "Yes."