When curling receives its quadrennial popularity boost during each Winter Olympics, millions of Americans tune in to watch the sport. More than a few come away with the impression that, with a little practice, they might be able to become an Olympic curler. Those who end up trying curling at a local club usually dissuade themselves of those dreams: the combination of skill, technique, and athleticism required to compete at the world-class level makes it all but impossible for anyone who didn't start early in life to dream of winning world championships or gold medals.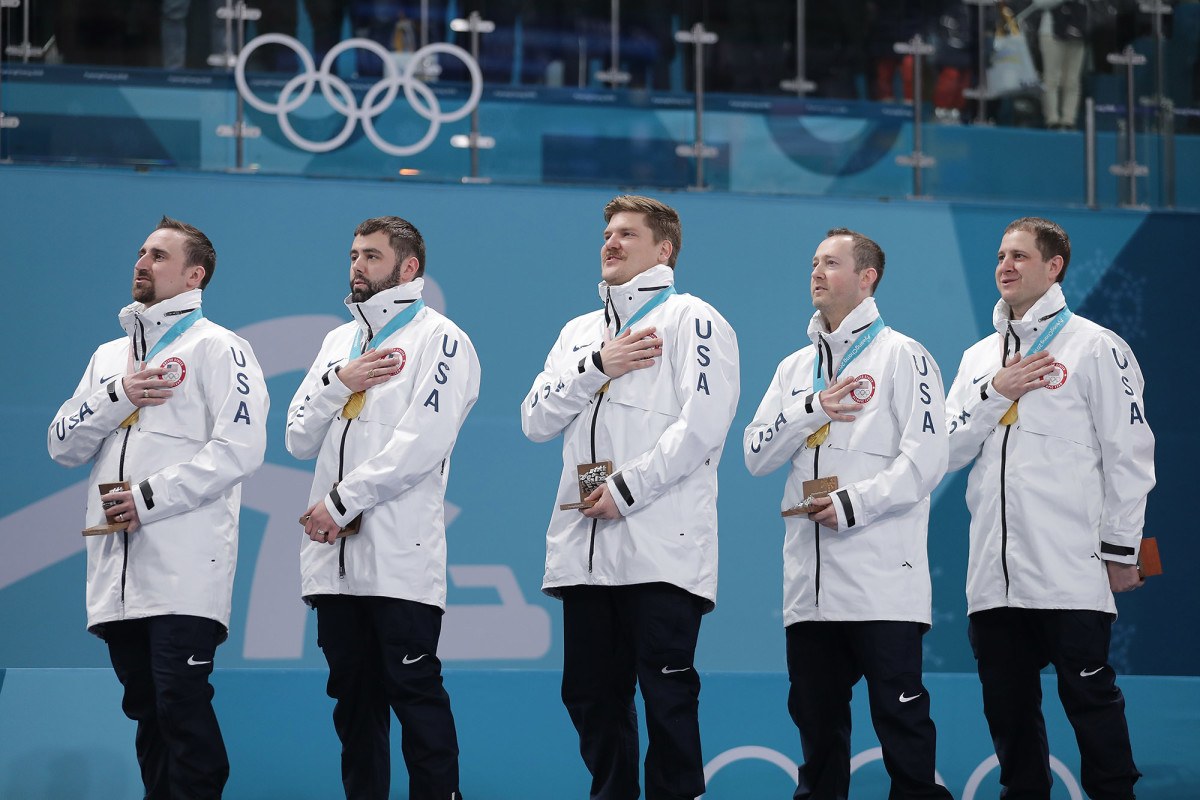 But that doesn't mean you can't try. And once you hit a high enough level of competition, you'll start running into the teams that really are trying to be the best in the world. That's how, on a Thursday morning in January, my team ended up playing against the defending Olympic gold medalists.
Once Obscure, USA Curling Benefits from Golden Moment
Curling remains a niche sport in the United States, though there has been significant growth in the last decade. The United States Curling Association says there are more than 25,000 registered curlers in the country today, with clubs in virtually every state.
If curling had a watershed moment in the US, it came at the 2018 Winter Olympics. After a 2-4 start, John Shuster's team won three straight games to sneak into the medal round with a 5-4 record. Wins over curling powerhouses Canada and Sweden earned the Americans a gold medal, legendary status in the US curling community, and even mainstream press coverage.
Today, curling can be found on American cable television on a fairly regular basis each winter. NBC Sports broadcasts the made-for-TV "Curling Night in America," while the Olympic Channel shows coverage of the World Championships along with the European and Pacific-Asia Curling Championships each season. ESPN even puts TSN coverage of major tournaments from Canada – where curling is a major spectator sport – on its streaming platforms.
Elite Curling in the Arizona Desert
My curling team isn't competing for a spot in the Olympics. But when some compared our trip to Coyotes Curling Club in Tempe, Arizona to play in the Golden Wrench Classic – perhaps the strongest World Curling Tour event held annually in the United States – to a fantasy curling camp for us, that didn't ring true either. We are reasonably competitive: we came one shot away from reaching the Club National Championships last season, and our results in other events placed us inside the top 300 in the world rankings this year.
That's still a far cry from some of the elite teams we'd be playing in Arizona. Our opening game was against Team Shuster, with plenty of other illustrious names waiting after them.
The 24-team event was split into four pools of six, which meant we'd play five round-robin games. Finishing in the top two in a pool meant advancing to the quarterfinals. Winning against rinks like Team Shuster or Team Tardi – the two-time defending men's junior world champions – would be an almost unbelievable achievement, and we were underdogs to our other round-robin opponents as well.
Just how big was the gap? I spoke with Andrew Mannino, a Sports Content Manager for PointsBet, to get an idea of what kind of hypothetical line the sportsbook might set for a matchup between our team of amateurs and the defending Olympic gold medalists.
Oddsmaker: 'A Pretty Good Chance You Get Shut Out'
As it turned out, the question had some relevance. Mannino told me that in New Jersey, regulations only require that the majority of competitors in a given event are over the age of 18 in order for wagering to take place, meaning it was likely that PointsBet and others would be able to offer odds on most Olympic events, including curling.
That doesn't mean it's easy to set lines on these sports. After all, sportsbooks rarely set odds for curling, let alone even more obscure events like the biathlon or race walking. The key, Mannino said, is being quick to respond to what the market is saying about each contest.
"We're going to do as much research as we can, and then we're going to react," Mannino said. "If we set a line on a water polo game and everyone's taking the same team, that tells us our line is wrong, and we need to move in the direction that the market is pushing us."
What would that mean for our upcoming matchup against Team Shuster? I was surprised to find that Mannino had done a few minutes of research. "It's obviously not my strong suit," he said, noting that they would lean on individuals with particular knowledge of each sport to set initial lines during the Olympics.
Still, Mannino came up with a hypothetical line. "Just by my research, I think there's a pretty good chance you get shut out," Mannino told me. "You're probably not as good as the Swiss national team –"
"Not so much," I interjected.
"So, if we're building a spread on this, I'm thinking we'd go off at amateurs +7.5," he continued. "It's basically a bet on whether or not you get shut out. Then we'll move off action and let the market tell us how accurate that line is. We'll let the market really shape it over time."
For a quick estimate, Mannino's line felt accurate. Last season, my team finished 1-3 in the Golden Wrench. The top team in our pool was Team McEwen, a Canadian squad of roughly the same strength as the Shuster team. We lost 9-2 – right around the mark he had set for the upcoming game.
Game On
For the uninitiated, curling involves two teams of four players sliding rocks down a sheet of ice at a circular target known as a house. Each player throws two rocks – eight total per team – alternating between the teams. After everyone has thrown, the "end" – like an inning in baseball – is over. Scoring is similar to bocce: the team closest to the center of the house scores one point for each of their rocks that is closer than the best rock of the opposing team.
Our opponents started with the "hammer," or the advantage of throwing the last rock. After we threw our first rock into the house, Team Shuster's John Landsteiner – one of the finest leads (or first players) in the sport – aimed to hit it out.
He missed the rock completely.
That might seem like a stunning error. But for the first shot of the first game of a tournament on which neither team knew the ice well – let alone at 8 am, after both teams had flown in late the night before – mistakes were almost inevitable.
We would go on to play a relatively clean end, making just one error that left Shuster with a draw for two points. Needing only to land his rock in the house, he threw heavy, giving us an opportunity to sweep it out of play. But the rock held on by about an inch, giving Team Shuster a 2-0 lead.
Fast Ice Leads to a Quick Finish
The upside was that we received the hammer for the second end. Our hopes of a close match quickly faded, however, as misses mounted and left me looking at four rocks on my last shot. Trying only to get close enough to give up one or two points, I instead threw my last rock heavy, leaving it about a foot beyond the house and making the score 6-0 in favor of the Olympians.
Shuster told me that this might be the fastest ice he had ever played on – a strong statement from someone who has played on four Olympic teams, as well as in numerous World Championships and Grand Slam events. It explained why nearly everyone on the ice had thrown at least one rock through the house, but it didn't make looking at what was an all but insurmountable deficit any easier.
We managed to score a point in the third end, but that was fine by our opponents, who were happy to retake control of the hammer with a big lead. Shuster made a difficult shot to get two in the fourth to extend the lead to 8-1, all but putting the game away.
The match was scheduled for eight ends, but curlers regularly concede games early: much like resigning a game in chess, it is considered polite to admit defeat when it's no longer feasible to win. While that time was quickly approaching, we played on, just in case the opportunity for a big end presented itself in the fifth.
Shuster's team comfortably played themselves into a dominant position in the end. But the skip's final shot – intended to guard their best rock – went a bit long, presenting me with an opportunity to make a triple: a single shot that would knock out three of the other team's stones.
If successful, we would score two. While we would almost certainly lose even if we cut the lead to five, it occurred to me that this shot would determine whether or not we'd cover the hypothetical spread Mannino had provided to me.
I threw the rock. It had the weight, and the line was close. But it over-curled by a couple inches, ultimately removing only one of the three Shuster rocks. They scored two, and we shook, losing 10-1 in five ends.
Team Shuster Once Again Team USA
Even at the competitive level, curling remains a highly social sport. Our opponents invited us out to breakfast at a local spot owned by relatives of Shuster's wife. We talked curling, playoff football, and Star Wars over coffee and eggs.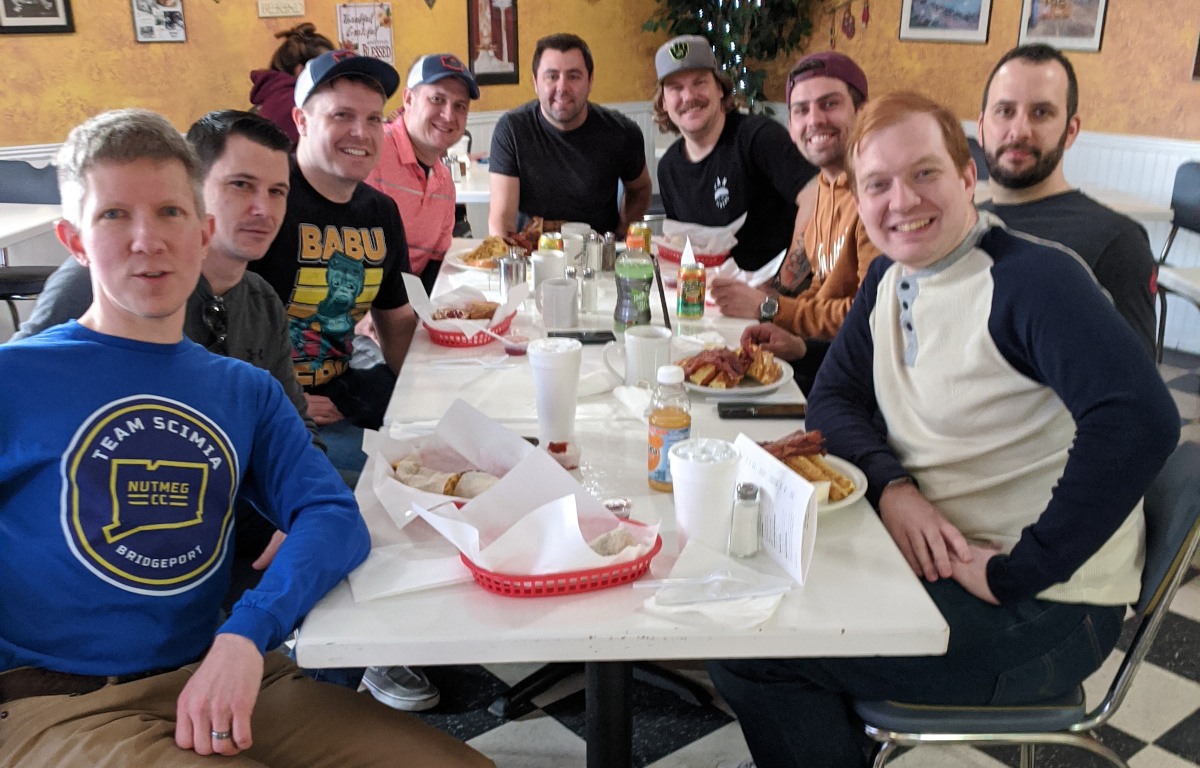 I mentioned to Shuster that I was writing a story about our match, and that a sportsbook had even created a hypothetical line for the game. When I informed him that his team had covered, Shuster laughed.
"Not usually our style," he said.
The Golden Wrench didn't go well for us. Against such a strong field, we needed to play our A-game to be competitive. Unfortunately, we played poorly, struggling to a disappointing 0-5 finish.
Team Shuster, meanwhile, made it to the semifinals before bowing out to eventual champion Jason Gunnlaugson, whose team will represent Manitoba at the 2020 Tim Hortons Brier – the men's Canadian curling championship. Shuster went on to win the US Men's National Championships last weekend, and will represent the United States at the 2020 World Championships in Glasgow, Scotland at the end of March.
For Team Scimia, the competitive season is over. We're already planning for next year, however, when our scheduled events will include the Challenge Round – the qualification event for Men's Nationals.
---
OG news sports writer Ed Scimia coaches curling at Yale University. You can follow him on Twitter.