In one of the most inevitable finales at the Beijing Winter Olympics, the United States and Canada will take to the ice on Thursday for the gold medal in women's hockey.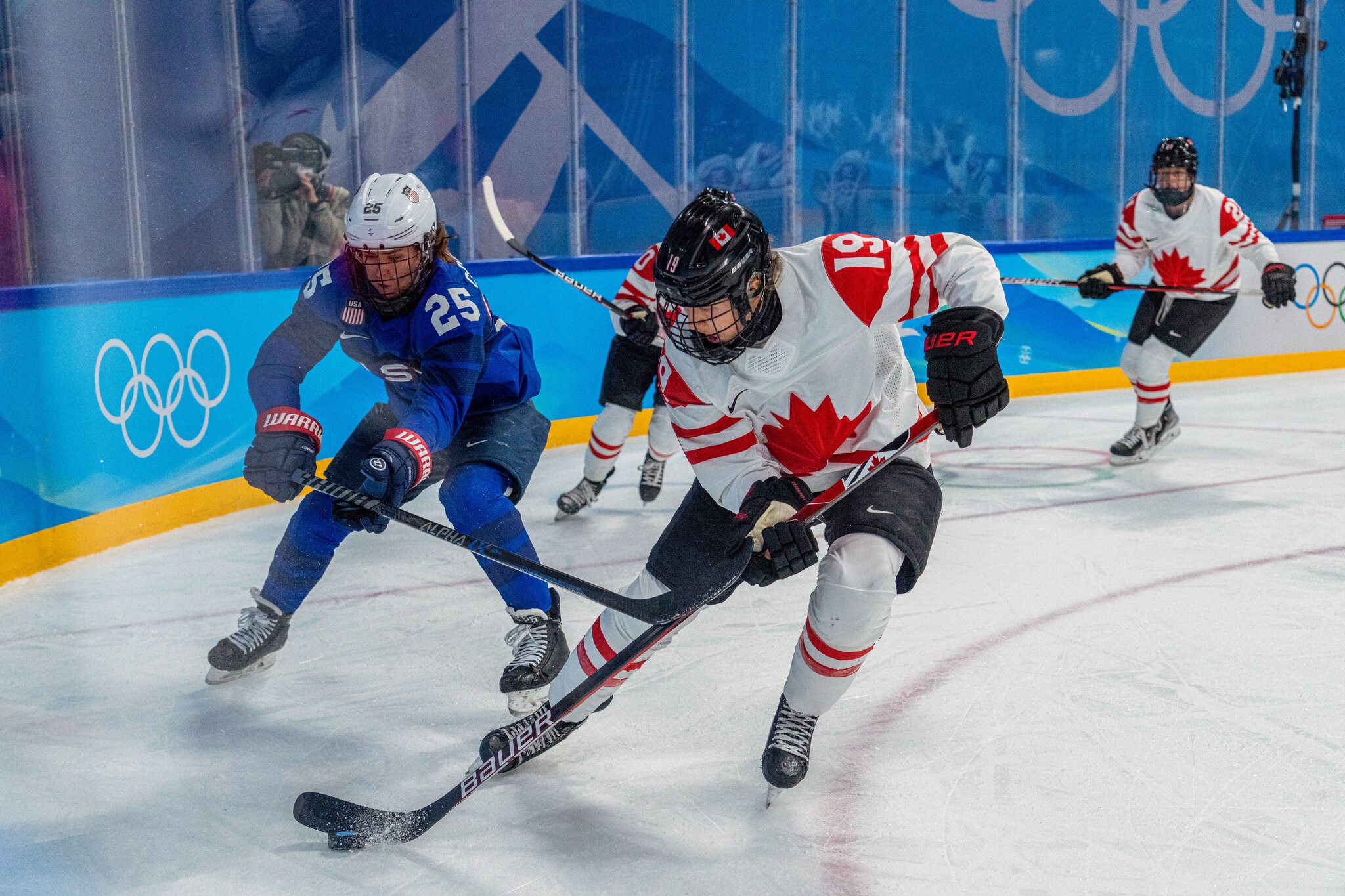 This marks the sixth time the two women's hockey powerhouses have faced off in the gold medal game in seven Olympic tournaments since the sport joined the Winter Games program in 1998.
Canada favored after round-robin triumph
Canada has won three of the previous six gold medal encounters. However, the United States prevailed 3-2 in a shootout to win gold in PyeongChang in 2018.
Still, Canada comes into this matchup as a -215 favorite over Team USA (+172) at FanDuel Sportsbook. The Canadians established themselves as the favorites after beating the United States 4-2 during the round-robin portion of the tournament.
"These are the games that we live for," USA captain Kendall Coyne Schofield told reporters after the United States beat Finland 4-1 in their semifinal. "Everyone's been so resilient through the pandemic with the ups and downs, the cancellations, postponements and finding ways to train, and it's for this moment. We're going to empty the takes, and this is what we came here to do."
Canada has faced little opposition in the tournament so far. It outscored the opposition 33-5 in four round-robin games before blasting Sweden 11-0 in the quarterfinals and handling Switzerland 10-3 in the semis.
"I think we're taking the game to new heights now," Canadian forward Sarah Nurse told reporters. "We're playing a style of hockey that's never been seen in our tournament before. And so, in five to 10 years, other countries are going to be playing our style of play, and we're going to keep pushing the envelope and keep making our sport better."
Players look forward to biggest rivalry in women's hockey
The United States hasn't exactly had a rough time in Beijing either. Other than that loss to Canada, the Americans are unbeaten, and defeated their other three round-robin opponents by an 18-2 margin. Team USA has faced a bit more resistance in the knockout rounds: the Czech Republic managed to keep the game tied at 1-1 after two periods before the United States pulled away for a 4-1 quarterfinal win.
This is the rivalry. This is what it's all about.@TeamUSA vs. Canada.

Wednesday night. 11PM ET. @NBC and @PeacockTV. #WinterOlympics pic.twitter.com/tnx1sgBVQ7

— NBC Olympics (@NBCOlympics) February 16, 2022
That set up an always tricky matchup with Finland. The Americans handled their business against the eventual bronze medal winners to set up another rematch with Canada. And while some may bemoan the two-team North American dominance over women's hockey, the players on both sides can't wait to suit up against their biggest rivals one more time.
"I think it's wonderful hockey. It's the most beautiful rivalry in sports," American forward Hilary Knight said of the gold medal matchup. "It gets the best and the worst out of both of us at the same time. And it's just a wonderful game."