Jared Allen may have retired from the NFL, but he's hardly done with competitive sports. Allen and three other former Pro Bowl-level NFL players have teamed up to try and excel at an Olympic sport that typically only gets attention in the United States once every four years: curling.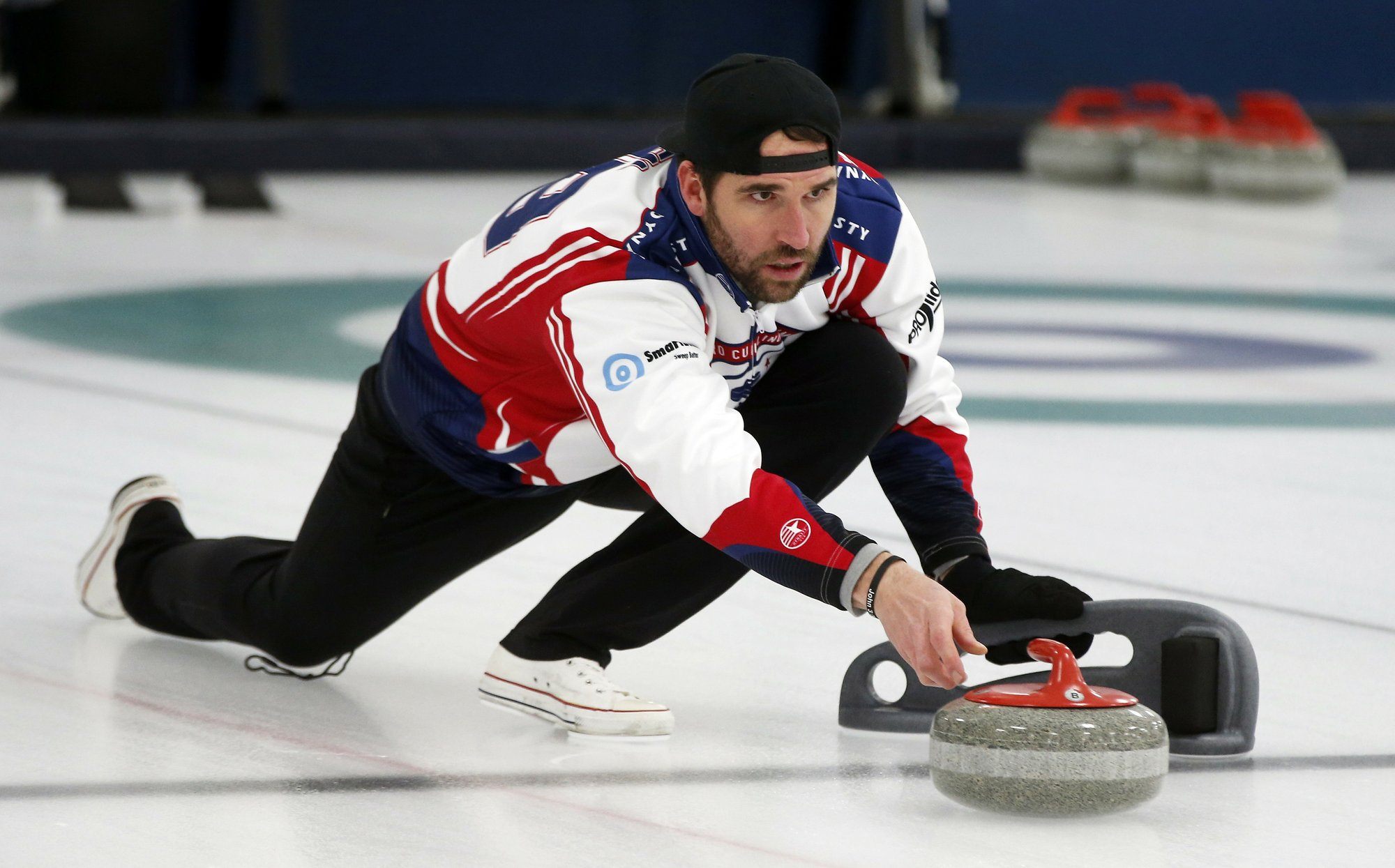 Allen, along with Michael Roos, Keith Bulluck, and Marc Bulger took to the ice for their first competitive event this weekend, participating in the Men's Challenge Round in an attempt to qualify for the 2019 USA Curling National Championships.
Practice, Coaching Show Allen is Serious
It might sound like a bad joke when you hear that Allen – a four-time All-Pro defensive end who played the majority of his career for the Minnesota Vikings – thinks he can become an Olympic-caliber athlete in a second sport in his mid-thirties, even in a less physical game like curling.
But Allen has made it clear in many interviews that this is a serious endeavor for him and his teammates. The foursome has been training with former Olympian John Benton, and they have every intention of achieving as much as possible on the ice.
"We wanted the reaction when we got on the ice to be 'Oh, how long have you guys been doing this?'" Allen told the Associated Press in a telephone interview. "We were serious. We didn't want it to seem like it was just some media hype, or just trying to stay relevant."
Allen and Bulger – best known for playing quarterback for the Rams – played in one World Curling Tour event earlier this season in Minnesota, alongside Benton and Hunter Clawson, a 21-year-old American who had a distinguished junior curling career and played in the 2018 US Olympic Trials. The group went 0-4 in pool play, starting with a loss to Team John Shuster – the defending Olympic gold medalists.
But the four former NFL players, who call themselves the All-Pro Curling Team, hadn't played together as a team in a high-level competitive event until this weekend, when former Tennessee Titans players Keith Bulluck and Michael Roos joined Allen and Bulger to complete the squad.
Challenge Round Proves Challenging for All-Pros
A total of 16 men's teams entered the Challenge Round, which would qualify four teams for the National Championships (five other teams qualified based on their World Curling Tour results, while a final spot will go to a top junior team). The event uses a triple-knockout format: lose three times, and you're out; be one of the final four teams standing, and you're heading to Kalamazoo for the big show.
"I think we have a chance if we throw consistent shots," Allen told KSTP TV in Minnesota. "We have a chance to win some games and make some noise. It's fun, we're excited, but we're here to compete."
Few in the curling world expected Allen's squad to be competitive in a high-level event on their first try, especially with less than a year of experience in the sport. Sure enough, the All-Pro Curling Team went 0-3, losing to their opponents by a combined score of 27-2.
But the performance was far from embarrassing considering that the team only started learning the sport in March 2018, and it isn't going to dissuade them from continuing to punch above their weight. Later this month, the four men will be competing together in their first WCT event – the Ed Werenich Golden Wrench Classic at the Coyotes Curling Club in Scottsdale, Arizona – where they will face a range of competitive teams, including some world-class opponents.
According to Allen, these opportunities to play top-level teams will provide his squad with valuable experience towards their ultimate goal: playing for the United States in the Winter Olympics.
"I try to reach goals that are barely attainable," Allen told KSTP. "That's what gives me the drive to keep chasing."
The Olympic Path
Allen took up curling because of a bet with a friend that he would try to become an Olympian, settling on curling as his sport of choice. But what would it actually take for Allen and his NFL teammates to make it to that point?
While the exact qualification format for the 2022 Winter Olympics hasn't been announced yet, we can look at the last Olympic cycle for some guidance. In late 2017, five of the top men's teams in the United States were invited to participate in the Olympic Trials. While there were ways to qualify directly – either by being ranked among the top teams on the WCT, or by performance at the World Curling Championship – most teams were discretionary selections, with USA Curling being allowed to invite anywhere from three to five teams in total to the trials. After a double round-robin, the top two teams competed in a best-of-three series for the right to go to the Olympics.
More broadly, the All-Pro Curling Team will have to prove that they can compete with high level teams before they could have a chance to compete for the right to represent the USA. Realistically, the team would probably have to rank well within the top 100 teams in the world to be invited to the Olympic Trials.
That would mean collecting points by winning games and making the playoffs at WCT events. That could require some travel: while there are some tournaments in the United States (with Minnesota being a particular hotbed for competitive play), most WCT events take place in Canada, with a growing number also being hosted in European and Asian countries.