UFC 272 will be one of the rare pay-per-view shows for the promotion that doesn't feature at least one title fight. But there's still plenty of heat at the top of the card, as top welterweights Colby Covington and Jorge Masvidal face off in a grudge match between former teammates and friends on Saturday in Las Vegas.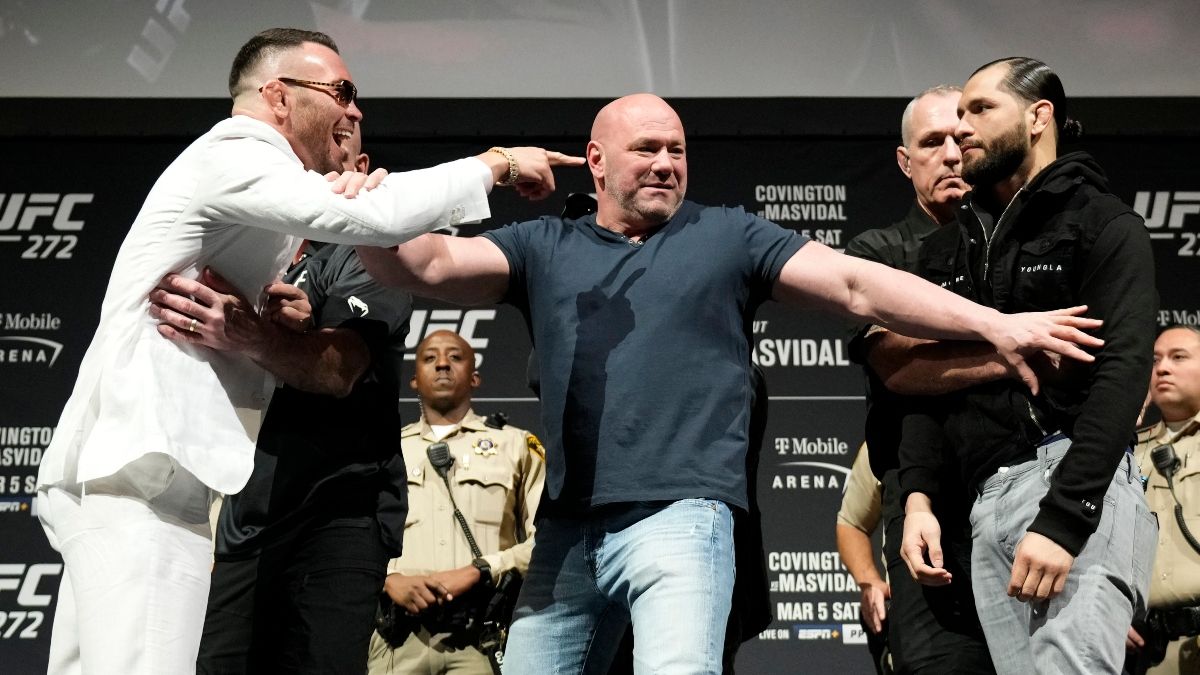 Masvidal (35-15) and Covington (16-3) met for a fiery press conference on Thursday, with UFC president Dana White doing all he could just to keep the peace ahead of the fight.
Former teammates had falling out
The two were once friends while both on American Top Team. A financial dispute between Covington and Masvidal's striking coach, Paulino Hernandez, fractured their relationship.
"I let him stay with me for about nine months," Masvidal told reporters. "He lived under my roof, but the second he had the chance to stab me in the back over a couple pieces of silver, he did."
Masvidal has also blasted Covington for his brash, trash-talking persona, one that has only gotten more outrageous as Covington has risen in the ranks.
"You don't have to be a piece of shit scumbag to sell pay-per-views," Masvidal said. "You don't need to insult wives or religions or kids. That's not how you sell pay-per-views, and I want the next generation to see this. Nothing about him sits well with me. I'm putting an end to this."
Masvidal faces a tall task. Covington comes in as a -335 favorite according to DraftKings Sportsbook, with Masvidal pulling +260 odds as the underdog. The American has made it clear to anyone who listens that he knows he deserves to be the favorite, too.
"You're such a f***ing bum," Covington said at the press conference. "This is going to be easy work."
Covington doubles down on controversial comments
Covington rose up the UFC welterweight ranks thanks to a seven-fight winning streak from 2016 through 2019. But he has lost two of his last three fights, with both defeats coming to current welterweight champion Kamaru Usman.
While a win isn't likely to earn Covington a third shot at Usman, at least not right away, it would allow him to definitively hold on to his No. 1 contender ranking. That alone provides high stakes for Covington on Saturday night.
But in his style, Covington isn't letting the fight speak for itself. Instead, he has gone back to one of his oldest controversial statements. In 2017, Covington called Brazil "a dump" after beating Demian Maia at UFC Fight Night 119 in Sao Paolo. Asked about those comments against, Covington chose to double down.
"Absolutely, Brazil's a f***ing dump," Covington told reporters. "All the filthy animals there, they treated me like shit. I walked out to the Octagon, they're saying 'you will die.' They grab my American flag, trying to burn it. What's respectable about that?"
As with everything Covington says, it's hard to separate his genuine thoughts with his propensity for heightened antics. And as Masvidal himself pointed out, there's reason to believe that Covington isn't entirely anti-Brazil.
"And he has Brazilian coaches in his corner!" Masvidal said in the middle of Covington's statement.