Conor McGregor showed Thursday he is better at dodging jail time than Floyd Mayweather punches. McGregor escaped felony charges stemming from the April 5 incident in which he threw a metal dolly at a tour bus carrying rival UFC fighters at the Barclays Center in Brooklyn, New York.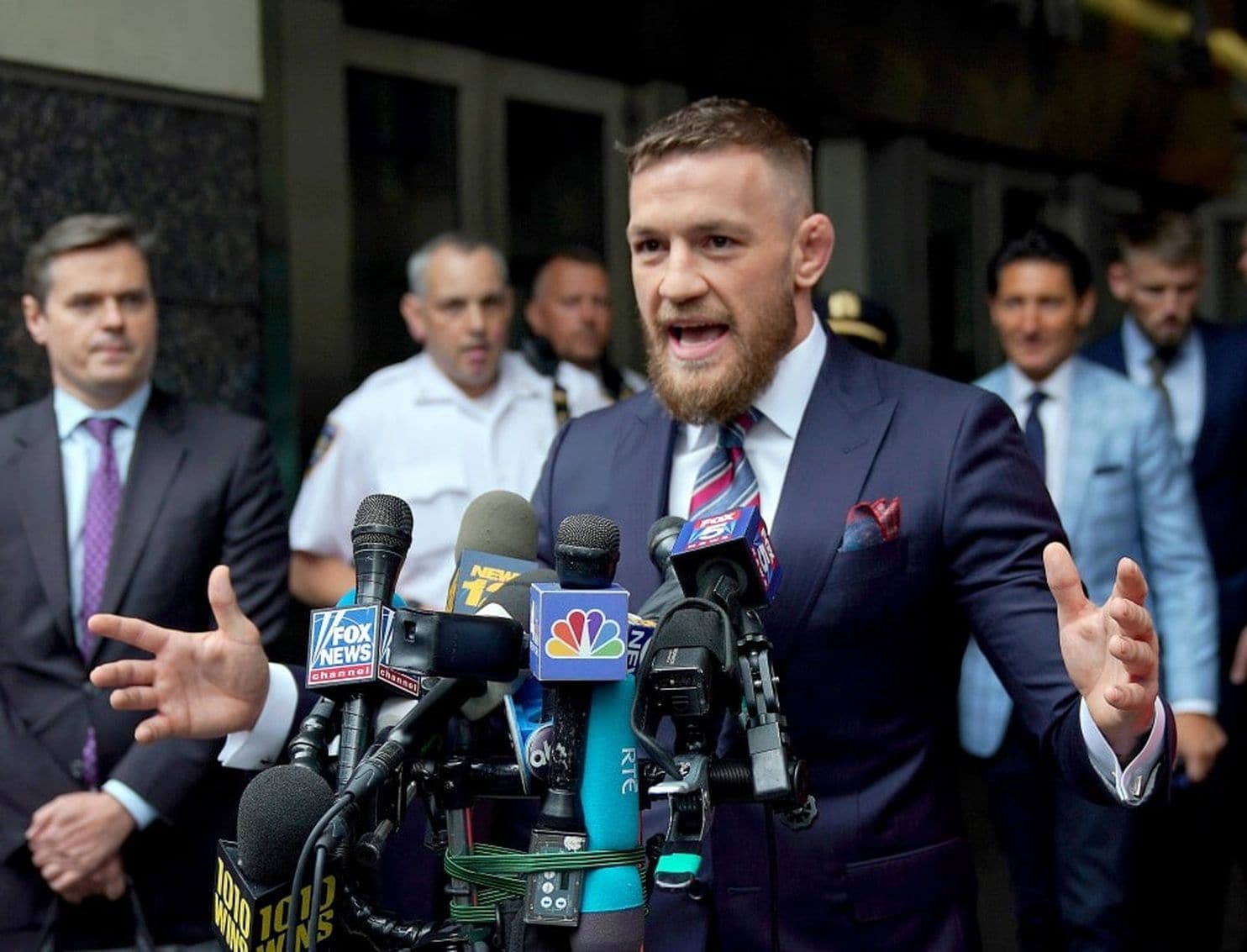 The Irishman's lawyers worked out a plea deal with the Brooklyn district attorney's office, where he pleaded guilty to a misdemeanor charge of disorderly conduct. His agreement states he will have to complete five days of community service, attend anger management classes, and pay restitution to the bus company. He will not have a criminal record and his travel visa will not be affected.
"I just want to say I'm thankful to the DA and the judge for allowing me to move forward," McGregor said in a brief statement outside the courthouse. "I want to say to my friends, my family, my fans – thank you for your support."
Bobbing and Weaving toward Resolution
Had McGregor been brought to trial, he faced a possible 12 charges, including two for felony criminal mischief — charges that carried a maximum seven-year prison sentence.
The district attorney's office said in a statement that they were satisfied with the plea deal.
"This is a fair resolution that holds the defendant accountable, ensures restitution for the victims and requires the defendant to perform community service where he can reflect on his conduct and give back to society," the statement read.
Return to Ring around the Corner?
Now that his legal troubles are behind him, McGregor can focus on fighting again. McGregor's manager, Audie Attar, said outside the courthouse that McGregor was free to now "get back to business."
"Now that this is passed us, we can focus on things that have been on hold for some time," Attar said. "Conor's been training. He's in shape. He's ready to go. Now it's just about getting back to business and we hope to have some news to announce very soon."
It has been almost two years since he entered the octagon. His last UFC bout was Nov. 12, 2016 when he defeated Eddie Alvarez.
He then took a reported $100 million payday to step into a boxing ring and take on Mayweather on Aug. 26, 2017. He lost by TKO in the 10th round to the undefeated, 50-0, Mayweather.
He might have just as much difficulty against his expected future opponent, lightweight champion, Khabib Nurmagomedov. Nurmagomedov is 26-0, and the favorite to win at -230. McGregor, who is 21-3, is at +180.
Nurmagomedov's manager, Ali Abdelaziz, has already started the pre-fight hype process. After the court proceedings he lashed out at McGregor's chances against his client.
"There's no more talking," Abdelaziz said. "This is the Khabib show now. To be honest, the way I feel about it, Conor would be much safer in jail. If this fight happens the person who would execute the community service is Khabib by giving this ass whooping for the people."