The Belmont Stakes already has Bob Baffert's powerful unbeaten duo of Charlatan and Nadal. It has Kentucky Derby favorite Tiz the Law. But it won't have King Guillermo.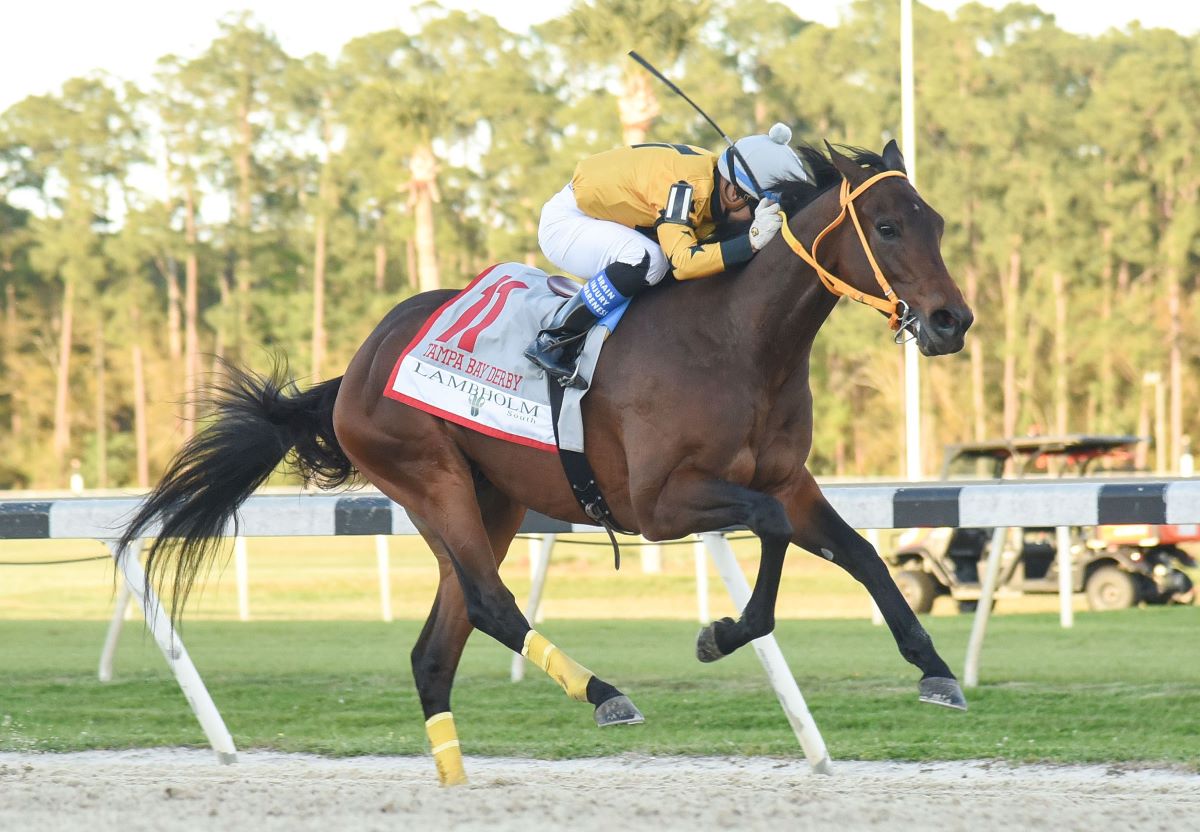 Juan Carlos Avila, King Guillermo's trainer, tweeted the Tampa Bay Derby winner won't run the June 20, 1 1/8-mile Belmont Stakes. Instead, King Guillermo heads back to Gulfstream Park for training until shipping to Churchill Downs in July.
#19May King Guillermo will not run the Belmont Stakes. We will go straight to the Kentucky Derby. The Horse will return to Gulfstream Park on May 27 and will depart for Kentucky on July 27 #KyDerby #BelmontStakes pic.twitter.com/IcbaE1SoCX

— J.C.AVILA (@JCAvila63) May 19, 2020
This falls in line with what Avila planned for the son of Uncle Mo, albeit on an extended timeframe. He originally planned on bypassing all other prep races after King Guillermo's 4 ¾-length Tampa Bay Derby victory romp on March 7 at 49/1. But when the COVID-19 pandemic crumpled up and threw out racing schedules, Avila sent King Guillermo to Oaklawn Park for the Arkansas Derby on the first Saturday in May.
There, King Guillermo finished a strong runner-up – albeit by three lengths — to Nadal in the deeper second division.
What About Other Races?
As of now, Avila doesn't plan running King Guillermo until the Sept. 5 Kentucky Derby. Former major league All-Star Victor Martinez, who owns the colt, told Bloodhorse he didn't rule out running King Guillermo in one race before the Derby.
By not running King Guillermo in at least one pre-Derby race, Avila is taking a calculated gamble on two fronts. The first is based on King Guillermo's 90 Derby qualifying points. He's currently fifth on the Derby points standings and probably safe. But with the Derby Trail extending deep into summer, more active horses could outpoint him. The Derby field is limited to the 20 horses with the greatest point totals in the qualifying races.
Can King Guillermo Stay Fresh with Four-Plus Months Off?
The second gamble is on how well King Guillermo will perform following an extended layoff. If King Guillermo doesn't run until the Derby, he's looking at an 18-week break from competition. King Guillermo, being a horse who rebounds quickly, balances that. His Tampa Bay Derby victory came after he took more than three months off between races.
Right now, King Guillermo is enjoying extended R&R at Martinez's Florida ranch. He's shipping to Gulfstream at the end of the month to resume training with Avila.
King Guillermo owns two victories, a second, and a third in his five starts. He's earned $340,350, more than double his $150,000 purchase price in April 2019.