The Ole Miss Rebels just keep winning, and will now battle the Oklahoma Sooners in a best-of-three series to determine the champion of the 2022 College World Series.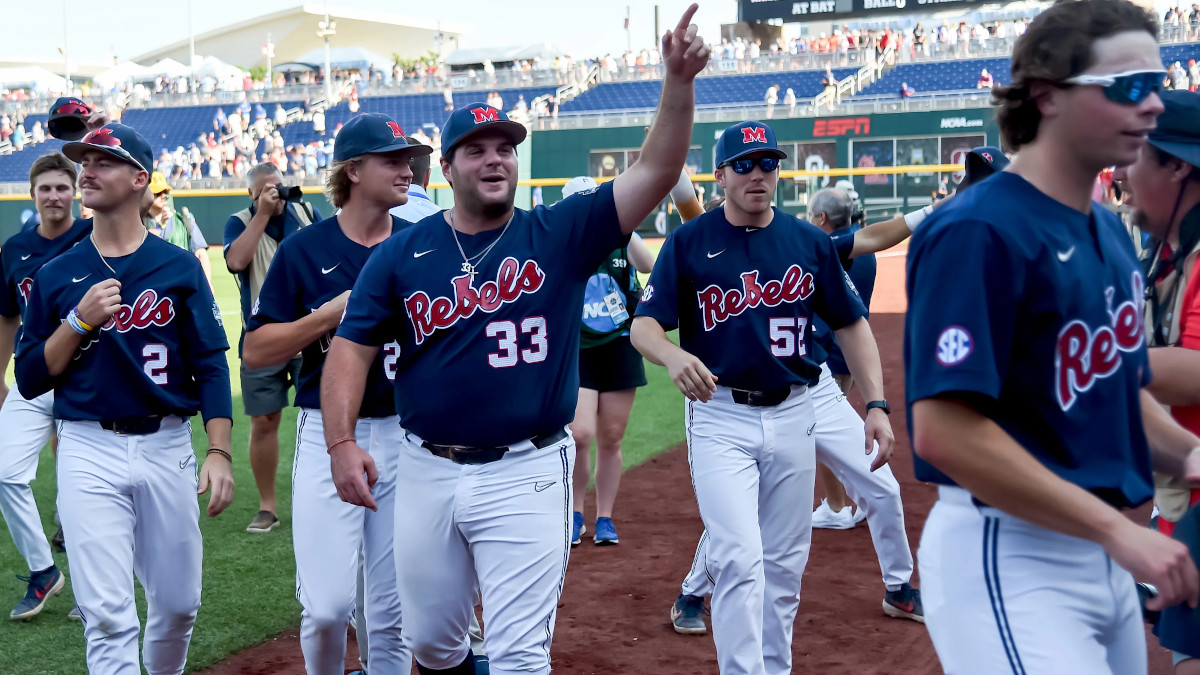 Ole Miss will start the finals series as the slight favorite, with DraftKings Sportsbook rating the Rebels as a -125 favorite over Oklahoma (+105).
College World Series longshots meet in finals
Mississippi started the College World Series as anything but a favorite. In fact, Ole Miss and Oklahoma shared the longest odds in the field when the final eight started playing in Omaha. Now, these two unlikely finalists will face off for a national championship.
Ole Miss only managed a 7-14 record in the SEC this year. That left the Rebels squarely on the bubble for the 64-team NCAA tournament bracket. Yet the committee chose Mississippi as one of the last four teams in the field. Since then, they've gone 8-1 to put together one of the most unlikely College World Series runs ever.
"We're excited to get to play in the national championship series," Ole Miss fifth-year senior first baseman Tim Elko told reporters. "We knew this team had potential and, obviously, we had a rough patch in the middle [of the season]. But we definitely knew we could be right there."
Ole Miss reached the final by beating SEC rival Arkansas 2-0 on Thursday. Dylan DeLucia threw a complete-game shutout, surrendering only four hits to the Razorbacks to lead the Rebels to victory.
Oklahoma earned its bid into the College World Series finals on Wednesday with a 5-1 victory over Texas A&M. The Sooners now have the opportunity to complete a historic sweep, as its women's softball team already won its national championship earlier this month.
David Sandlin struck out 12 batters over seven innings of work to lead Oklahoma to victory.
"I just trusted my preparation," Sandlin said after the game. "I feel like today was more muscle memory than anything else. Just going out there and executing, don't think about things too much."
Pitching matchup favors Oklahoma
The College World Series final starts on Saturday, and Oklahoma may have a slight edge in that game. While it's unclear who the Rebels will start for Game 1, ace Jake Bennett will take the mound for the Sooners. DraftKings sees Oklahoma as a -120 favorite in Game 1, with Ole Miss at +100 as the even money underdog.
Regardless of the pitching matchups, however, both teams see similarities in their opponents heading into the College World Series final.
"In a lot of ways they're similar to us," Oklahoma outfielder Tanner Treadway told reporters. "They do a lot of small things well. They've got power in the lineup. They're a really good ballclub. They've been playing with a chip on their shoulder just like we have. They were in question for a regional, and they're here to make a statement just like we are. They're going to be tough."
Oklahoma has two College World Series titles, last winning the national championship in 1994. Ole Miss Is making its first appearance in the final.