The Tennessee Volunteers have never won the College World Series and only reached the final once in 1951. But unless something changes dramatically in the next month, they'll head into Omaha as the clear favorites to win a national championship in college baseball this year.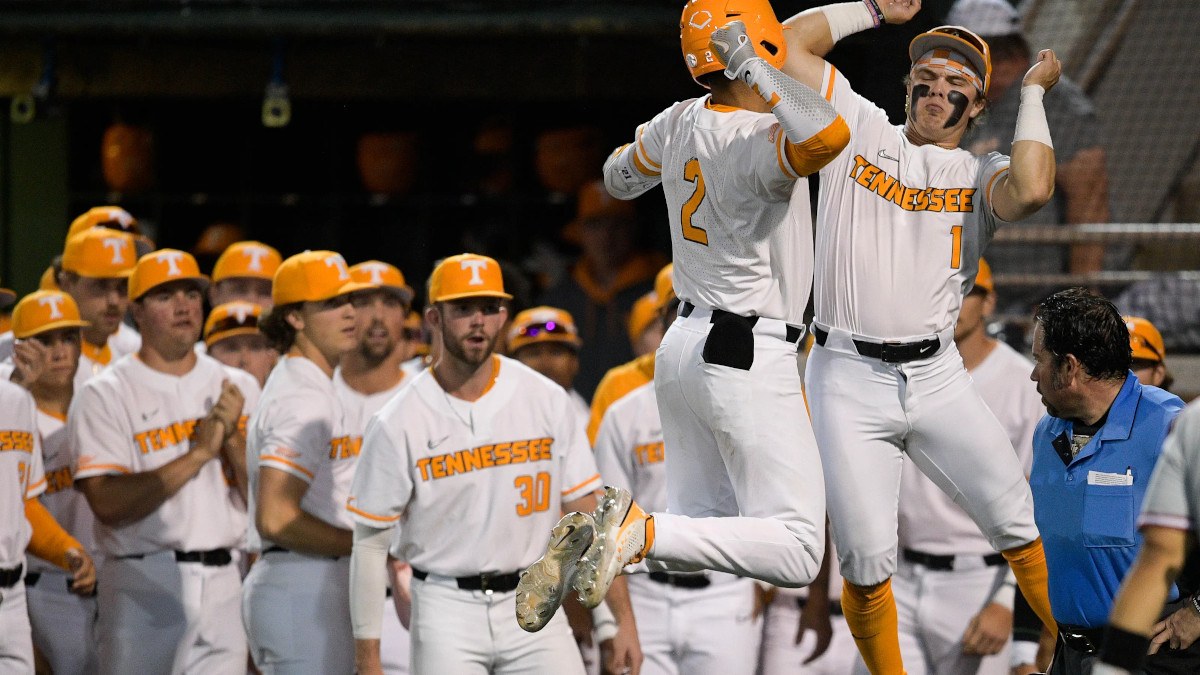 Tennessee currently rates as the +400 favorite to win the College World Series at both FanDuel and DraftKings, far ahead of any other contenders.
Tennessee setting records on mound, at the plate
The Volunteers have compiled an unbelievable 41-4 record on the season. They are the consensus No. 1 team in the country, with the voters in the USA Today Coaches Poll selecting them unanimously as the top squad in college baseball.
Tennessee has dominated opponents on both sides of the ball. Already, the Volunteers have set a new school record by hitting 108 home runs on the season. Five players have already hit at least 10 homers each for the team this year.
"One of these days, when they're around their grandkids or whoever, they'll see that records are made to be broken," Tennessee coach Tony Vitello told reporters. "I think it's good feedback for our guys, something they can hang their hat on down the road."
Tennessee has plenty to hang its hat on this season. While the Volunteers have lit up scoreboards, the team generated its first real mainstream buzz this past weekend when pitcher Ben Joyce threw a 105.5 mph fastball. It ranks as the fastest recorded pitch in college baseball history and second-fastest all-time at any level of baseball, behind only a 105.8 mph pitch from Aroldis Chapman in 2010.
Auburn hands Vols rare loss
Joyce regularly throws at 103 mph or higher and has put up a 0.86 ERA in 21 innings of work this year.
Ben Joyce's 105.5 MPH Fastball. pic.twitter.com/4a2R8iMw1A

— Rob Friedman (@PitchingNinja) May 1, 2022
"I am in the outfield just in awe," Tennessee outfielder Jordan Beck told reporters. "He is sitting up there throwing 103 on the normal. I don't know how many people on the planet can do that and I am glad he is on our team and I am not facing him."
The Volunteers aren't invincible. The Auburn Tigers proved that on Saturday night, beating Tennessee 8-6 to hand the Vols only their fourth loss of the year and their second in 19 games of SEC play. Many college baseball fans reveled in the defeat, as they're already tiring of Tennessee's dominance — and the brash arrogance some Vols fans are showing at home.
Tennessee came back to win the series with a 5-3 victory on Sunday, reminding everyone that they're still the clear team to beat as the College World Series approaches.
"All you can do and ask for after a loss is to wake up the next day and play the same game," Volunteers relief pitcher Camden Sewell said after Saturday's loss. "We are looking to come out tomorrow with the W."