The developing rivalry between World Chess Champion Magnus Carlsen and Polish grandmaster Jan-Krzysztof Duda will take center stage again on Friday as they battle in the finals of the online Charity Cup chess tournament.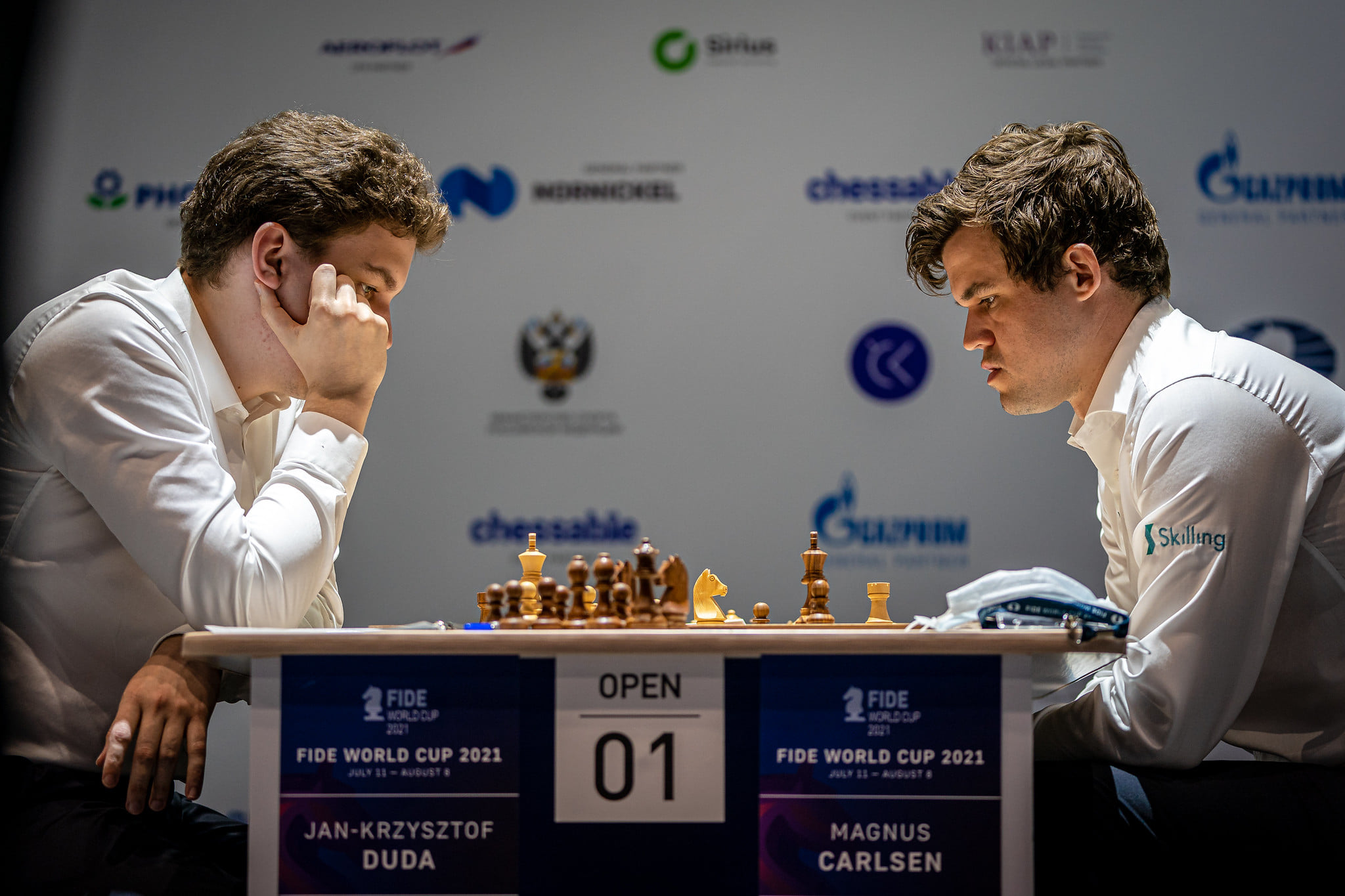 The Charity Cup is the second event of the 2022 Champions Chess Tour, and is supporting UNICEF.
Carlsen, Duda turn back semifinal challengers
So far, organizers say they have raised more than $100,000 for the international charity through the tournament.
Carlsen started his semifinal match against Ding Liren by playing the unorthodox 1. e3 as White. That didn't bear fruit for the champion, who settled for a draw in each of the first two games.
Carlsen finally broke through in Game 3. Ding found himself in time trouble in a complicated endgame, blundering in what should have been a drawn position. Now needing a win, Ding saw history repeat itself in Game 4, as he blundered again in the late stages of the action. That left the final score 3-1 in Carlsen's favor.
"It was really tough," Carlsen said of the match. "All the games were really, really tense. I felt that this was my best day so far."
In the other Charity Cup semifinal, Duda took on Vietnamese grandmaster Liem Quang Le. Duda broke through in the first game of the match, then held on under immense pressure as Liem tried to level the match. Ultimately, Duda was able to hold three draws and advance by a 2.5-1.5 score.
Duda said he's excited to play Carlsen in the final.
Is there something better then two days practice with world champion and get paid for that? #CharityCup #ChessChamps @PKN_ORLEN @LenovoPolska @Zinzinoofficial pic.twitter.com/T37u3yMdSO

— Jan-Krzysztof Duda (@GM_JKDuda) March 24, 2022
"Considering that I'm not playing my usual openings, because I'm hiding them [for the Candidates Tournament], it's even more special," Duda said. "I've struggled so much the last year that it's a nice feeling to reach the final."
Carlsen favored for Charity Cup title
Carlsen will come into the Charity Cup final as a -400 favorite over Duda (+270), according to online sportsbook Bwin. However, bettors shouldn't discount Duda's chances. He has proven to be a thorn in Carlsen's side, famously ending his record 125-game undefeated streak and eliminating him from the 2021 World Cup.
The World Champion is well aware of the threat his opponent poses.
"He beat me in the World Cup, and I've beaten him in a couple matches on the tour," Carlsen said of Duda. "He's a very strong player, of course, and he's deserving of being here."
Duda and Carlsen will now complete for the Charity Cup title in a two-day contest. They will play a four-game match each day. If each player wins a match, or they draw both, the finalists will play tiebreakers to determine the winner.
The winner will take $25,000 in additional prize money, with the runner-up earning $15,000. Carlsen has already won the first event of the tour season, earning the victory at last month's Airthings Masters.