Magnus Carlsen would come into the Champions Chess Tour Final as the favorite no matter what the format was. But the World Champion also enjoys a huge advantage on the scoreboard before the tournament even begins, making it hard to see how most of the field could possibly catch the Norwegian grandmaster.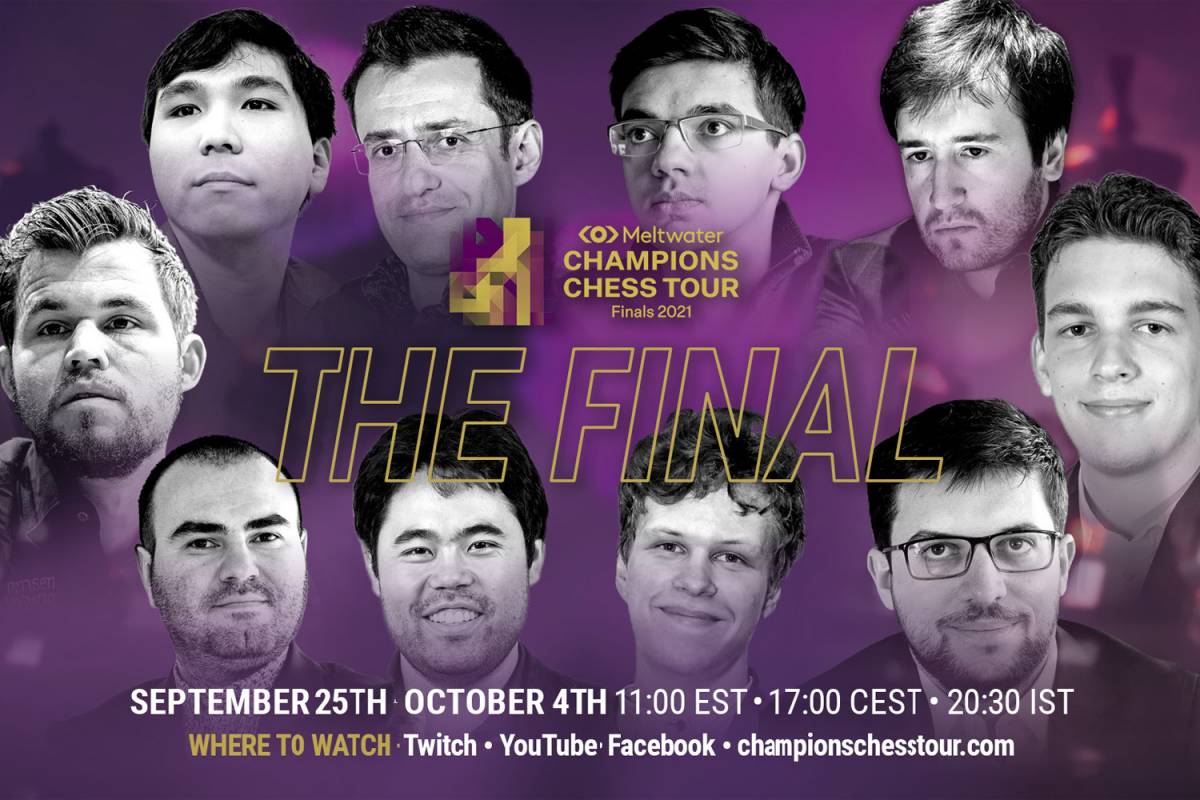 The Champions Chess Tour Final utilizes a handicapping system similar to the FedEx Cup's Tour Championship in golf.
Carlsen way in front before play begins
However, golf's Tour Championship uses a fixed system based on a player's ranking. That meant that this year, leader Patrick Cantlay started the tournament at 10-under-par, but Tony Finau was just two shots back at 8-under, and all 30 players started no worse than even.
Carlsen's advantage in the Champions Chess Tour Final looms much larger. Each player starts with a half-point for every 10 Tour points they have more than the player who accumulated the fewer points during the regular season. In this case, that was Jan-Krzysztof Duda, who earned just eight points this year. Shakhriyar Mamedyarov, for example, starts the Tour Final with 0.5 bonus points, as he earned 26 points during the season.
But Carlsen didn't earn just a few extra points. With three titles and five finals appearances, the World Champion accumulated 339 Tour points on the season. That translates to a 16.5 point starting bonus in the Tour Final. Only Wesley So (12.5 points) starts anywhere near striking distance of Carlsen, with Levon Aronian ranking third with eight starting points.
The format does give everyone a chance to catch up. The competitors will play a full round-robin of four-game rapid matches over nine days. A clean win earns three points; a win after tiebreakers is worth two, while a loss in the tiebreak awards one point.
Tour Final format unkind to field
But when you stake one of the greatest players of all time to such a big lead, it becomes difficult to imagine anyone else making up that ground. Even if So were to beat Carlsen outright in their match – a difficult enough task to begin with – he'd still have to outplay the World Champion over the remainder of the round-robin to catch him.
---
Champions Chess Tour Final Starting Points
Magnus Carlsen
16.5
Wesley So
12.5
Levon Aronian
8
Teimour Radjabov
6
Anish Giri
5.5
Hikaru Nakamura
4
Vladislav Artemiev
3.5
Maxime Vachier-Lagrave
2.5
Shakhriyar Mamedyarov
0.5
Jan-Krzysztof Duda
0
---
Even Aronian would have to finish the equivalent of three full wins ahead of Carlsen to make up enough ground to win the Tour Final. The situation is so grim for most of the field that online sportsbook Bwin isn't even posting individual odds for players other than Carlsen. The site rates the Norwegian as a -400 pick to win the title, with the field at +270.
Even if most of the field holds little home of winning the Tour Final title, there's plenty of prize money at stake. While the winner will take home $100,000, the other prizes range from $60,000 for the runner up down to $5,000 for 10th. That means everyone will have something to play for – even if the format means Carlsen may clinch the title with several rounds to spare.