Magnus Carlsen nearly blew a seemingly safe lead on Wednesday, but held on to get past American rival Wesley So and reach the semifinals of the Goldmoney Asian Rapid online chess tournament.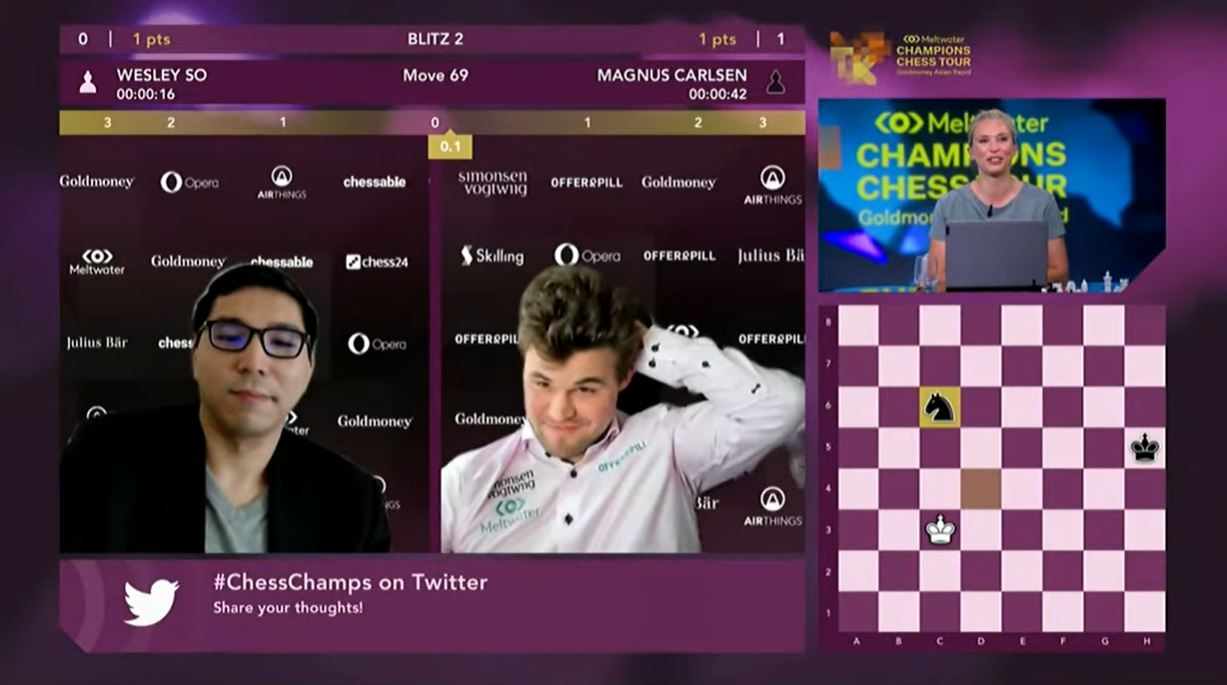 Carlsen will now move on to face Levon Aronian in the semifinals of the Champions Chess Tour event.
Carlsen can't close out So in second set
On Tuesday, Carlsen won both of his White games on his way to picking up a first-set victory over So. While the American fought back with his own win in Game 2, Carlsen held a draw in Game 4 to take the first day by a 2.5-1.5 score.
That meant that the World Champion needed only a draw in the second set to go through to the semifinals. Victory seemed all but assured after Carlsen broke through with Black in Game 1 to take a 1-0 lead. He then held a safe draw in the second game to stay ahead 1.5-0.5.
Carlsen now needed just a draw in one of the final two games to advance. But So once again proved his resiliency by fighting back with two straight wins, booking his own 2.5-1.5 win, and sending the match to tiebreakers.
"I thought after the first two games today, this may be the one time today that I will ahve a very clean performance. But it wasn't to be. Overall I am happy to go through. I am not that upset with my losses. It wasn't good, but happy to have pulled myself together" #ChessChamps pic.twitter.com/H8pBgjamBn

— Champions Chess Tour (@ChampChessTour) June 30, 2021
While Carlsen had already allowed leads to slip against So earlier on the tour, he recovered in style at the Goldmoney Asian Rapid. The Norwegian grandmaster converted an English Opening into a 49-move win in Game 1, then held on with Black in Game 2 to take the tiebreakers by a 1.5-0.5 score and eliminate So.
"I wasn't happy, but at least I had some confidence know that I had beaten him in the last tiebreak we played," Carlsen said afterward, speaking of his near collapse. "I felt that even though it was a massive blow for me of course to lose the last two games, I still felt like I had a good chance."
Ding finds his form at Goldmoney Asian Rapid
Carlsen wasn't the only player who needed a tiebreaker to advance at the Goldmoney Asian Rapid. Levon Aronian needed blitz games to dispatch Arjun Erigaisi after the two played to two consecutive 2-2 draws in their rapid sets. The 17-year-old Indian grandmaster gave Aronian everything he could handle, earning praise from the Armenian legend afterward.
It was a great learning experience for me at the @Goldmoney Asian Rapid. Thanks to @Chess24 for the opportunity. Thanks to @vishy64theking for his very valuable help, @nsrinath69 who has been around always, and @ProChessT. Look forward to more such opportunities.

— Arjun Erigaisi (@ArjunErigaisi) June 30, 2021
"I didn't know him well and he turned out to be a very difficult opponent," Aronian said after the match.
Carlsen comes into the semifinals as a -350 favorite over Aronian (+230), according to Bwin.
In the other Goldmoney Asian Rapid semifinal, Chinese grandmaster Ding Liren will take on Russia's Vladislav Artemiev. Ding found his form in this tournament, finally reaching the knockout rounds in his fourth appearance on the Champions Chess Tour. He defeated Jan-Krzysztof Duda 3-1 in the second set on Wednesday to win the match after the two fought to a draw on Tuesday.
---
Goldmoney Asian Rapid Odds – To Win Tournament (via Bwin)
Magnus Carlsen: -200
Ding Liren: +350
Vladislav Artemiev: +500
Levon Aronian: +700
---
Meanwhile, Artemiev crushed Anish Giri 3-0 on Tuesday, then took a 2-1 lead on Wednesday to clinch his advancement. Ding enters the semifinal as a slight -135 favorite over Artemiev (+100) in their match.
Overall, Carlsen stands as a -200 pick to win the Goldmoney Asian Rapid. The eventual champion will take home a prize of $30,000.