She is one of the hottest horses in the country and she's running Sunday in the Grade 2 Santa Maria Stakes at Santa Anita Park. But alas, if this is your first time seeing Ce Ce, the value betting bandwagon left you behind.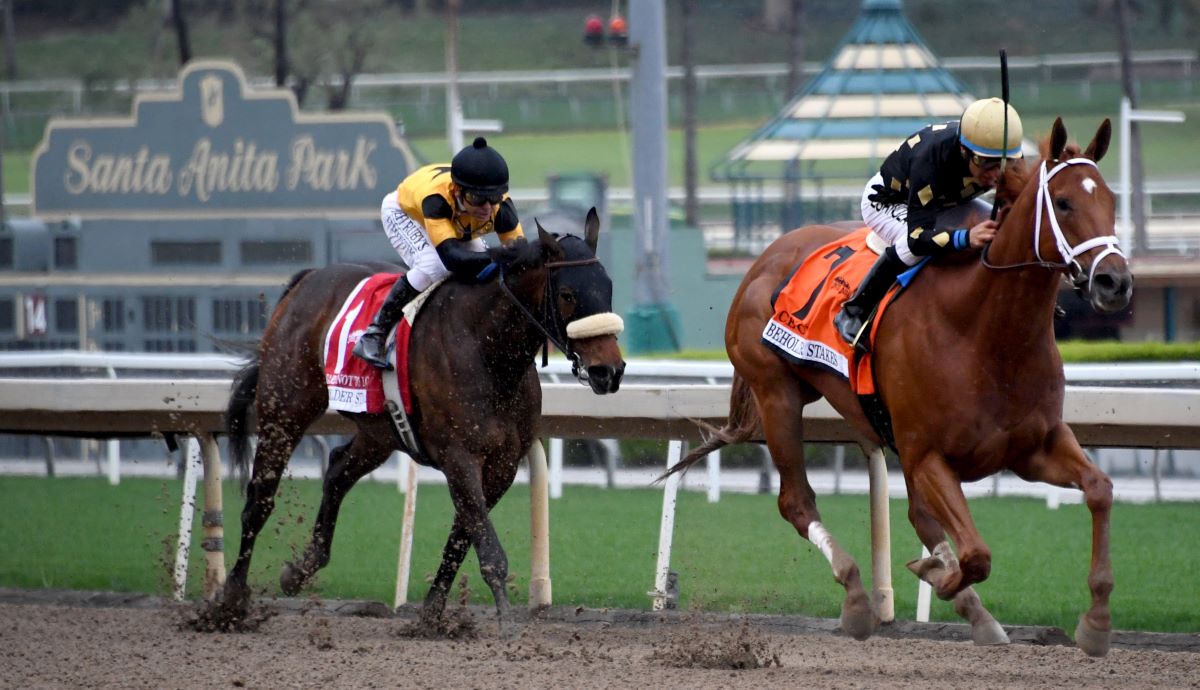 The 4-year-old filly goes for her fourth consecutive win as the 3/5 favorite in Sunday's Santa Maria Stakes. This comes seven weeks after she held off favored Ollie's Candy in the Grade 1 Apple Blossom Handicap at Oaklawn Park. There, Ce Ce was yours for the value taking at 7/2.
Had you discovered her earlier, at the Grade 1 Beholder Mile in March, Ce Ce went off at 4/1. There, you got a good view of Ce Ce's stalking style that makes her one of the top 4-year-old fillies in the country. She stalked 3/5 favorite Hard Not to Love early, then went by her at the quarter-mile pole en route to a 3 ¼-length victory.
That denied Hard Not to Love her fourth consecutive victory in her first trip around two turns. Despite losing her left eye in a paddock accident, Hard Not to Love owns two graded stakes victories: the Grade 1 La Brea and the Grade 2 Santa Monica. At 9/5 and with the skilled Mike Smith in the irons, she remains a formidable threat to turn the tables on her rival's quest for four consecutive wins.
Hall of Fame Jockeys Duel on Multiple Stakes Winners
It won't be easy. Ce Ce has her own Hall of Fame jockey in the talented Victor Espinoza, who piloted Ce Ce to four victories and a second in six career races. His Apple Blossom trip was a primer in guiding a horse through various running styles en route to victory. Not only did Espinoza beat nine other graded stakes winners – including four Grade 1 winners — but he did so while overcoming his outside post 14.
First, Espinoza let pace-setters Cookie Dough and favorite Serengeti Empress blaze off to early leads. Then, he guided Ce Ce to a comfortable fifth as Ollie's Candy took command on the backstretch. Entering the second turn, Espinoza put Ce Ce into the three-path, and went by the tiring pace-setters.
Ollie's Candy held off Ce Ce for most of the stretch until Espinoza turned her loose in deep stretch to prevail by a head. In so doing, Espinoza and Ce Ce displayed every tool in the filly's developed arsenal: overcoming a bad post, stalking, pace-chasing, and closing.
The Perfect Trip is a Jockey's Fondest Wish
"I hit the first turn and it was perfect," Espinoza told Oaklawn's Jennifer Hoyt after the race. "I was smiling because it was exactly what I wanted. Down the backside, I had to put her in the race because I didn't want the speed to get away from me. At the three-eighths, I put her behind the speed and just waited. Turning for home, I was just loaded.
"I knew if she was good enough, she'd win the race so I encouraged her out of the gate and put her in a good position."
The product of Elusive Quality, Ce Ce banked $634,200 of her career $726,600 this year. She came off an eight-month layoff, winning a February allowance at Santa Anita by 4 ¼ lengths. That provided a nice rebound from Ce Ce's fourth in the Grade 1 Acorn Stakes at Churchill Downs last June — the only time Ce Ce missed the board in her career.
"It's always fun to ride horses like Ce Ce. She's an amazing filly," Espinoza said.