She looms over the Apple Blossom Handicap field as a first-among-equals favorite. But royal resume, career victories and pedigree aside, Serengeti Empress wears the uneasy crown of a favorite with more to prove, and a desire to exit the roller coaster marking her career to date.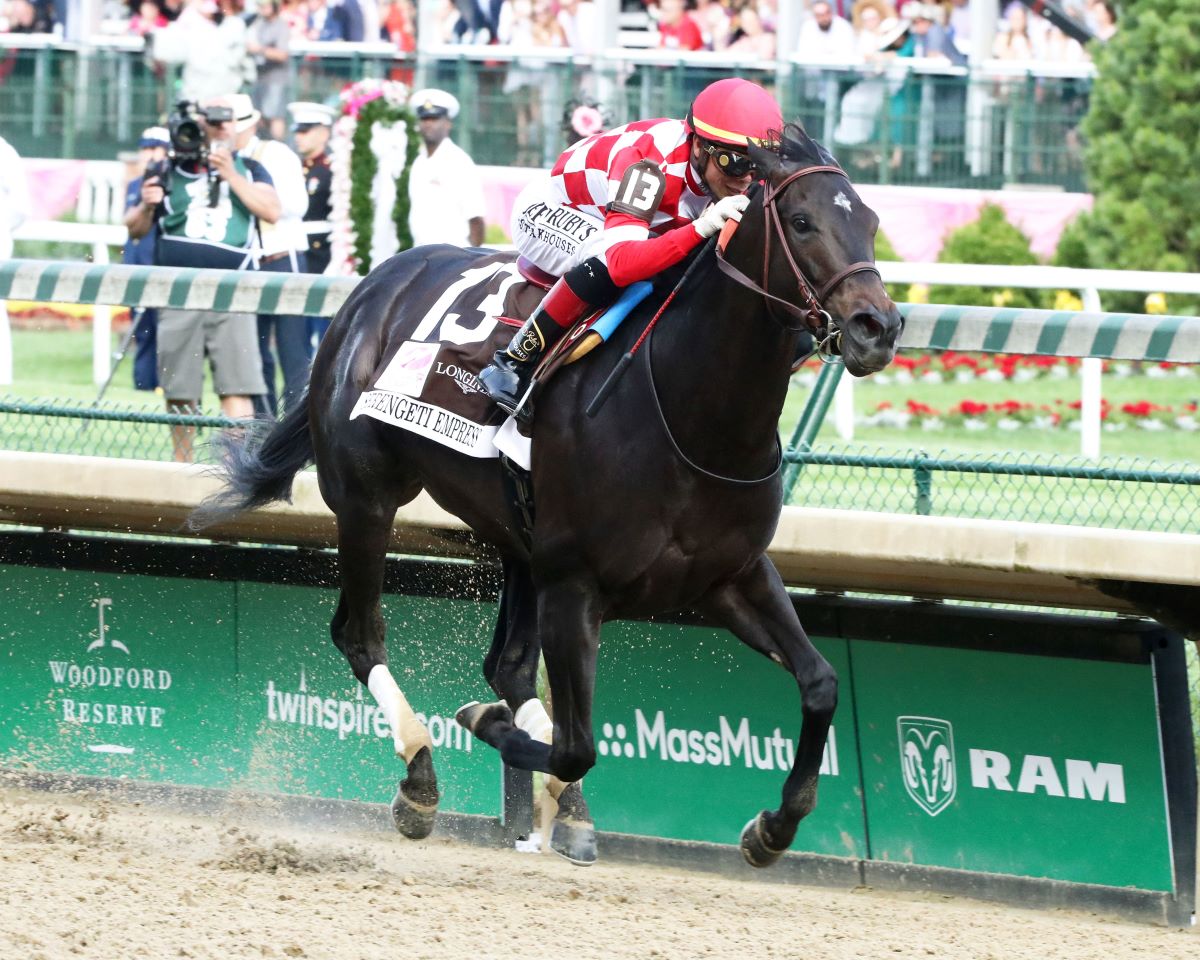 Not that you'd turn down owning Serengeti Empress. There's the Kentucky Oaks victory, America's premier race for 3-year-old fillies. There's the blistering speed she displays at will, which led Serengeti Empress to two stakes victories by a combined 33 lengths as a 2-year-old. There's the gate-to-wire win at the Azeri Stakes last month. It's all there for a 4-year-old who has as much natural ability as any older horse in the country.
This is what else is there for Serengeti Empress. A bleeding incident that caused her to be vanned off the track. A past sporting four consecutive losses following her career-defining victory — losses that snatched away the Eclipse Award for Best 3-Year-Old Filly and dropped it into rival Covfefe's saddle. And a past featuring races where her speed caused more problems than it solved.
With all that, Serengeti Empress' roller coaster brings her to Oaklawn Park for Saturday's $600,000 Grade 1 Apple Blossom Handicap. The 1 1/16-mile race for 4-year-old and up fillies and mares is an unusual race in that it kept its original date on Oaklawn's calendar – something not to take for granted in the coronavirus era.
One of the Best Distaffs of the Year
It also kept its status as one of the best filly-and-mare races of the spring, even more so this year. Ironically, COVID-19 created a shinier Apple Blossom field than anyone imagined. Because Oaklawn is one of the few North American tracks currently racing, horses who would normally be elsewhere at this time now lie in wait for Serengeti Empress. She finds herself one of five, Grade 1 winners in the 14-horse field. Ten of those horses own at least one graded-stakes victory.
On her best days, Serengeti Empress should beat them all. She is 6-3-1 in her 14 races, with four of those wins coming in graded stakes. She registered six, triple-digit Equibase Speed Figures, all in graded-stakes races, and three of those in her last three races. These include the 106 she reeled off en route to a six-length victory in the Azeri in her last start.
The Azeri was Serengeti Empress' first victory since she went gate-to-wire in the Kentucky Oaks last May. Going off at 13/1 in the Oaks, Serengeti Empress reeled off blistering fractions of 23.25 seconds for the first quarter-mile and 46.65 for the first half-mile. Too quick for others, not for her. She won by nearly two lengths.
Bloodied, Not Broken in Previous Races
What was more remarkable was what happened six weeks earlier in New Orleans. Serengeti Empress was pulled up midway through the Fair Grounds Oaks and vanned off the track, bleeding profusely With his prize charge suddenly questionable for the biggest distaff race for 3-year-olds, trainer Tom Amoss saw enough to carefully work her through the exercise-induced pulmonary hemorrhage (EIPH).
Serengeti Empress got through that, won the Oaks, and then lost her next four races. The first came in the Acorn Stakes at Belmont Park where her speed got her in trouble. A too-quick 43.99-second half-mile rendered her to a runner-up finish. She lost to Covfefe by a half-length a month later in the Test Stakes at Saratoga, despite a career-best 108 Equibase Speed Figure. A sixth at Parx in Pennsylvania followed.
That took her to the Breeders' Cup Distaff at Santa Anita, where Serengeti Express ran gamely facing older horses for the first time. She took a lead into the top of the stretch before yielding to her elders, Blue Prize and Midnight Bisou.
Missed Opportunity, Lesson Learned?
It wasn't her speed that cooked Serengeti Empress in her next start, the Grade 3 Houston Ladies Classic in January. A 23.40 opening quarter-mile gave the 3/5 favorite the separation she liked, but a tactical decision by Amoss and jockey Joe Talamo to slow her down entering the final turn brought the rest of the field back into the race. The result: Serengeti Empress labored to a runner-up finish a half-length behind fellow Apple Blossom starter, Lady Apple, in a race Amoss told reporters was "a missed opportunity."
They solved that problem in the Azeri. Looking at the Azeri and Serengeti Express' entire career, you understand why she is first-among-equals in the Oaklawn starting gate, and why she may finally exit the roller coaster for good.