This is the field quality you usually see racing in the Breeders' Cup in November, not the Apple Blossom Handicap in April. Deep, talented, accomplished, versatile in terms of running styles – it's all there. And it's there at Oaklawn Park.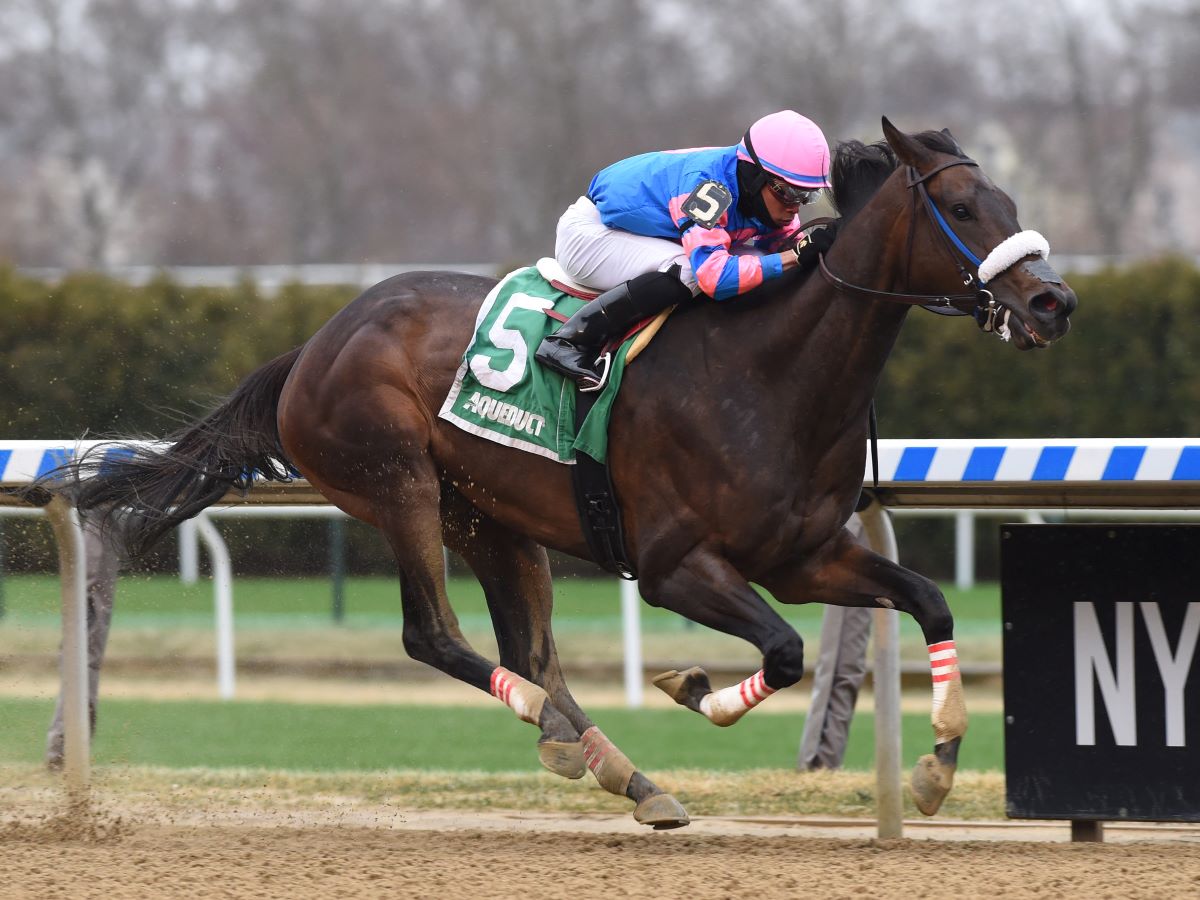 The $600,000, Grade 1 Apple Blossom Handicap is typically one of the best older filly and mare races of the spring. You're talking about a race with Midnight Bisou, Zenyatta (twice), Azeri (three times), Havre de Grace, and Untapable prominent on the winner's roll. The 1 1/16-mile, two-turn race is one of the premier events for 4-year-old and up fillies and mares.
This year, however, the Apple Blossom blooms brighter than perhaps it ever has. Because Oaklawn is one of the few North American tracks currently racing amid the COVID-19 pandemic, the Apple Blossom drew a loaded, 14-horse field that stands out more than usual. The Apple Blossom boasts five Grade 1 winners, and 10 horses with at least one graded-stakes victory.
Contenders From All Corners Meeting in the Middle
Those contenders have come from points east, west, north and south. There's Kentucky Oaks winner Serengeti Empress (4/1) from Louisiana, Ce Ce (7/2) and Ollie's Candy (12/1) from California, Horologist (15/1) from Maryland, Cookie Dough (10/1), Point of Honor (10/1), and Go Google Yourself (12/1) from Florida. And there's your favorite, Come Dancing (3/1), who comes dancing in from New York.
All eight own graded-stakes titles. So do two of the locals awaiting them: Street Band (15/1) and Lady Apple (15/1).
The field is so deep that Serengeti Empress, owner of $1.7 million in earnings and six graded-stakes victories, isn't your favorite. That may change come post time (5:15 pm CDT, Saturday), based on Serengeti Empress' current form and well-chronicled natural speed. Or it may not, based on her outside post (11), her need to own the lead, her top weight of 122 pounds, and other pace-setting horses like Cookie Dough (10/1) and Awe Emma (20/1) keeping her honest.
Come Dancing Comes With Questions
Come Dancing, who won the Grade 1 Ballerina Stakes and the Grade 2 Gallant Bloom Stakes and Ruffian Stakes at Saratoga last summer while going 4-for-5 in New York graded stakes races, comes with her own baggage. This is her first two-turn trip, her first race under new trainer D. Wayne Lukas, and her first race in 4 ½ months.
This opens matters up for three other horses of note: Ce Ce, Lady Apple, and Point of Honor. Ce Ce captured the Beholder Mile at Santa Anita by 3 ½ lengths last month, her second consecutive win after taking eight months off. Her stalking style, and jockey Victor Espinoza's skill, play well in a race promising plenty of early speed. If Serengeti Empress empties the tank early, Ce Ce should be there to pick up the pieces, even with 121 pounds, and even from the 14 post.
"I gave her every excuse out of that race to tell me she did not want to run in the Beholder, and she just kept on getting better and better with every work leading up to that race, so I had no hesitation of running her in that spot," trainer Mike McCarthy told Jennifer Hoyt of Oaklawn's communications department. "She beat a very nice filly in Hard Not to Love. The way she did it, I thought was very impressive. Certainly, second race back off a layoff, to win a Grade 1, kind of tells you a lot about her."
Can Lady Apple Bite Into Home-Course Advantage?
Lady Apple's chances are based on the track itself. She is five-for-six on fast tracks at route distances, and three-for-four at Oaklawn. But her 13 post demands speed she may not have heading into Oaklawn's first turn. Will we see the manic Lady Apple who beat Serengeti Empress in the Grade 3 Houston Ladies Classic with a perfect trip? Or the depressive Lady Apple who finished 20 lengths behind her rival in the Azeri Stakes a month later?
Point of Honor is an intriguing option if she can overcome her second-place tendencies. After winning the Black-Eyed Susan at Pimlico last May, this daughter of former Arkansas Derby champion Curlin finished second in the Alabama Stakes and American Oaks last year. After a seven-month layoff, she finished second again in a seven-furlong handicap tune-up in March at Tampa Bay Downs.
"We wanted to get a race under our belt and there just weren't that many options," trainer George Weaver told Hoyt. "We tried to get a race at Gulfstream and it didn't go. The race at Tampa was basically something to get a race under our belt."
In terms of running styles, there are options. In terms of betting value, with 11 of the 14 horses sporting double-digit odds, there are options. In terms of quality, well — it's April and you're looking into a crystal ball, seeing what usually awaits in November.
Apple Blossom Handicap
Morning Line
Ollie's Candy, 12/1
Coldwater, 50/1
Awe Emma, 20/1
Come Dancing, 3/1
Point of Honor, 10/1
Street Band, 15/1
Queen Nekia, 20/1
Saracosa, 30/1
Horologist, 15/1
Cookie Dough, 10/1
Serengeti Empress, 4/1
Go Google Yourself, 12/1
Lady Apple, 15/1
Ce Ce, 7/2