Jared Cannonier pulled away in the late rounds to earn a unanimous decision victory over Kelvin Gastelum in the main event of UFC on ESPN 29 on Saturday night.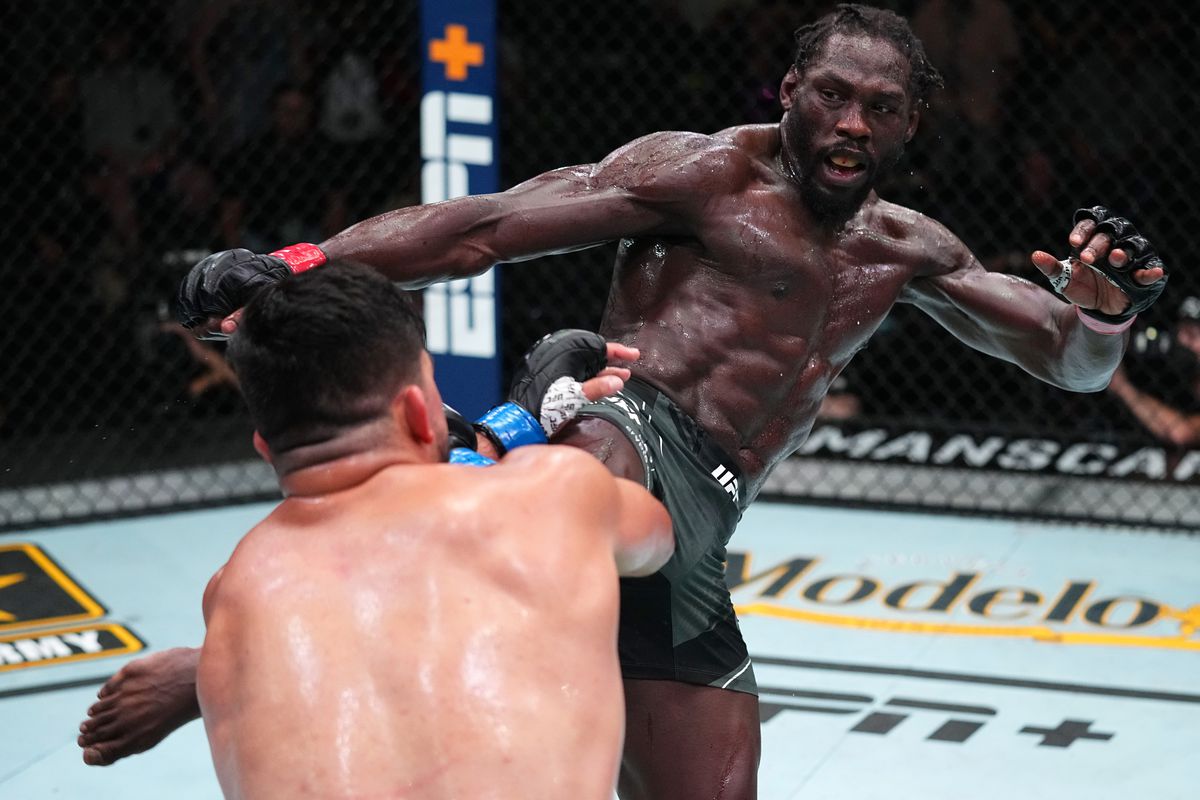 While nearly all observers thought the fight was close, they also saw Cannonier as the winner. The judges agreed, with all three scoring the fight 48-47 for Cannonier.
Cannonier ready to fight for title
While Gastelum split the first two rounds with Cannonier, the 37-year-old veteran took control in the third. That's when Cannonier knocked Gastelum to the ground with a right hook. He dominated the fourth round, then ran out the clock in the fifth. All three judges awarded the final round to Gastelum, but it wasn't enough to change the result.
"It's always glorious to go five rounds with a guy like Kelvin," Cannonier said afterwards. "Winning is even more glorious, if you will. I'm happy."
Cannonier (14-4) could be next in line to challenge middleweight champion Israel Adesanya (21-1), but he says he's also open to other fights.
"After a hard-fought win like that, hell yeah I want the title," Cannonier said on ESPN+. "But it's not up to me. It's up to the matchmakers and the UFC brass."
Gastelum (16-8) has now lost five of his last six fights, though all of those losses have come against elite opponents.
Martinez fights on after coach's death
Highly regarded MMA coach Saul Soliz died on Aug. 17 from complications due to COVID-19. He was 55 years old.
Soliz led the Houston-based Metro Fight Club gym. During his career, he worked with luminaries like Cris Cyborg, Quinton Jackson, and Tito Ortiz, among others.
"He had a long battle," Soliz's wife Toi told ESPN. "He fought really hard."
💔 RIP Saul Soliz. The legacy you left will live on through the lives of all the students, family, and friends you touched along the way. pic.twitter.com/eRO3Js8Hes

— @CrisCyborg.Com (@criscyborg) August 17, 2021
In the wake of Soliz's death, Mana Martinez will make his UFC debut at the UFC on ESPN 30. Soliz coached Martinez, who missed out on a debut at Saturday's UFC on ESPN 29 due to COVID-19 protocols. The 25-year-old Martinez (8-2) told MMA Junkie that he's fighting in honor of his coach, who would have wanted him to go forward with the bout. Martinez will face Guido Cannetti (8-5) in his debut.
Khabib joining Russian soccer team
Former undefeated UFC lightweight champion Khabib Nurmagomedov may have retired from MMA, but that doesn't mean his athletic career is over. The 32-year-old fighter signed a contract with FC Legion Dynamo, a Russian club that plays in the third tier of soccer in the country.
Preparing for my football debut ⚽️
I'm free agent, and ready to accept offers.
Готовлюсь к дебюту на большом футболе, жду предложения, будем рассматривать. https://t.co/V2NlBX5iqD

— khabib nurmagomedov (@TeamKhabib) January 24, 2021
Nurmagomedov first teased his interest in playing soccer back in January when he tweeted that he was "preparing for my football debut."
"I'm [a] free agent, and ready to accept offers," Nurmagomedov tweeted at the time.