Canelo Alvarez could return to the boxing ring sometime this fall, even if there's not an audience for the fight, according to Golden Boy Promotions president Eric Gomez.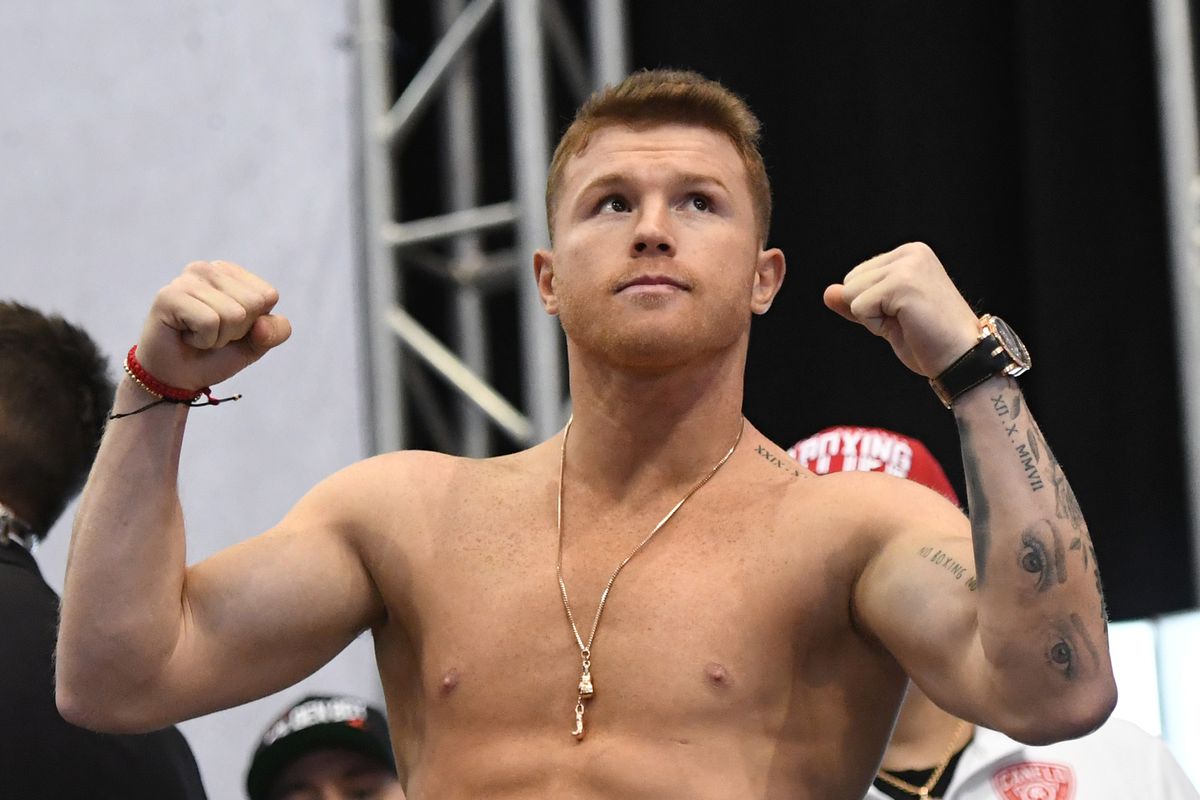 Gomez made his comments Wednesday on the "The 3 Knockdown Rule" podcast, saying that no details had been determined for the middleweight champion's return.
COVID-19 Cancels Alvarez vs. Saunders Bout
Alvarez – who also holds the WBA super middleweight title – was preparing to fight WBO super middleweight champion Billy Joe Saunders (29-0, 14 KOs) on May 2 in Las Vegas. Organizers called off that fight due to the COVID-19 pandemic.
Now, Alvarez (53-1-2, 36 KOs) appears ready to plan his next fight, even if that means fighting in an empty arena.
"Yes, for the time being, Canelo is open to fighting in September with no fans," Gomez said on the podcast. "We're actually discussing all the details now. But he's open to it."
Saunders is based in England, which raises travel concerns. He also caused himself trouble by posting a video to social media in March in which he made a joke about domestic violence. Those factors make Saunders a less than ideal opponent at the moment.
Derevyanchenko, Dirrell Among Possible Opponents
There may be other prominent fighters willing to step into the ring with Alvarez. The Athletic's Mike Coppinger reported that Sergiy Derevyanchenko was in talks with Alvarez for a fight on Sept. 14 at super middleweight (168 pounds). Derevyanchenko (13-2, 10 KOs) is coming off a close unanimous decision loss to Gennadiy "GGG" Golovkin, and his only other loss was a split decision defeat to Daniel Jacobs.
Sources: Canelo Alvarez-Sergiy Derevyanchenko in talks for Sept. 14 at 168. Canelo was set to fight Billy Joe Saunders, DAZN's preferred May 2 foe, before pandemic hit. Other opponents being considered for Canelo, but it won't be GGG. Unlikely to see Canelo-GGG 3 until early 2021

— Mike Coppinger (@MikeCoppinger) June 3, 2020
This fight could have come together last year when the IBF named Derevyanchenko as Alvarez's mandatory challenger for the middleweight title. However, Canelo failed to reach terms with the challenger, and the IBF instead booked the title fight between Golovkin and Derevyanchenko.
Other opponents are also under consideration. BoxingScene.com reported that Golden Boy Promotions is looking at two-time WBC super middleweight champion Anthony Dirrell (33-2-1, 24 KOs) as a candidate for a September fight.
Dirrell could prove attractive in large part due to the economic realities of fighting without fans. Saunders would have earned about $8 million for fighting Alvarez. But with no gate revenue available, promoters may look to find ways to cut costs, which could mean booking fighters with lower price tags or asking star boxers to take less money.
"It's going to be tricky," Gomez said. "There are certain fighters that are going to accept it. They understand it. There are other fighters that are going to reject it."
Alvarez would likely come in as a substantial favorite in any of these potential bouts. FanDuel Sportsbook only lists odds for one Canelo hypothetical: a third fight against Golovkin, in which Alvarez (-350) would be favored over GGG (+250).