Ian Nepomniachtchi blasted Kirill Alekseenko in just 31 moves to take a full-point lead at the Candidates Tournament with just four rounds left to play.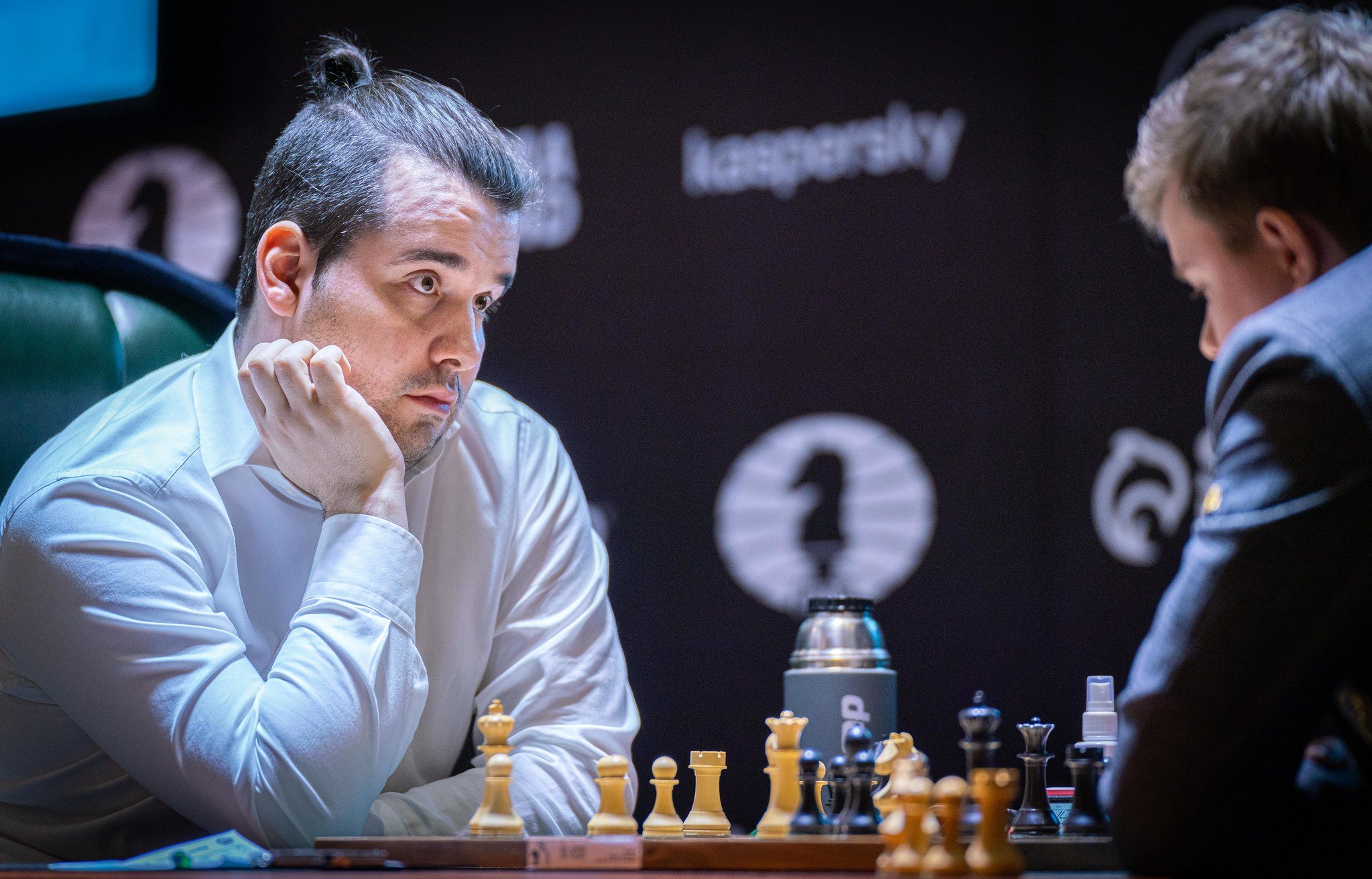 Nepomniachtchi has led, or shared the lead, since the first round. This is the second time he's pushed his lead over the field out to a full point.
Nepomniachtchi now favored to win Candidates Tournament
In an English Opening, Alekseenko struggled to find a good plan with Black. He failed to find activity and started taking significant time as early as the fourth move, showing he was out of his preparation before the game had even really started.
Nepomniachtchi took advantage of the passive play to reach a promising opposite-colored bishop endgame – importantly, with queens also still on the board. That favored White as the attacker, and Alekseenko resigned as it became clear he couldn't hold the position.
The victory leaves the Russian with 6.5 points from 10 rounds. With his closest competitors all drawing games on Wednesday, Nepomniachtchi has put himself in the driver's seat to win the Candidates Tournament and take on Magnus Carlsen for the World Chess Championship. Unibet now lists him as the -200 favorite over the field.
Still, Nepomniachtchi faces a key clash with Fabiano Caruana (+250) on Friday. If Caruana wins, he'll not only catch the leader, but he'll have the head-to-head tiebreaker, giving him the lead. In other words, Nepomniachtchi knows he still has lots of work to do to win the tournament.
"Everyone has seven finals in a row here, that's my take on it," Nepomniachtchi said afterward. "It's better to have plus three than plus one, but it's too early to make any conclusions."
Caruana, Giri, MVL still in the hunt
Wednesday's other key Candidates Tournament game saw Maxime Vachier-Lagrave and Anish Giri face off. Both came into the round a half-point behind Nepomniachtchi, which meant that both were looking to win in order to get some separation from the pack and keep pace with the leader.
Giri turned to his trusted Sveshnikov Sicilian in an effort to blunt the French grandmaster's attack. Vachier-Lagrave managed to eventually win a pawn, but couldn't find a way to make progress, and the two agreed to a draw after just 40 moves.
"It's a bit disappointing because I had a very good position, but at the same time, there is nothing obvious that I missed," Vachier-Lagrave said at the postgame press conference.
"Yeah, and you faced a great defense," Giri replied.
---
Candidates Tournament Odds (via Unibet)
Ian Nepomniachtchi (6.5)
-200
Fabiano Caruana (5.5)
+250
Maxime Vachier-Lagrave (5.5)
+500
Anish Giri (5.5)
+900
Alexander Grischuk (4.5)
+10000
Wang Hao (4.5)
+10000
Ding Liren (4.0)
+25000
Kirill Alekseenko (4.0)
+50000
---
Caruana also had the White pieces with a chance to improve his score on Thursday, but failed to get much going against Ding Liren. While Ding won a pawn, Caruana had compensation in a highly tactical position that eventually petered out into a draw after 40 moves.
The players will enjoy a rest day on Thursday before coming back to play Round 11 of the Candidates Tournament on Friday. Nepomniachtchi still has games with Caruana on Friday, and Vachier-Lagrave in Round 13, giving both of his opponents a chance to catch up in one fell swoop with a win.