Anish Giri scored the only win in Round 9 at the Candidates Tournament on Tuesday, moving himself into a tie for second, just behind leader Ian Nepomniachtchi.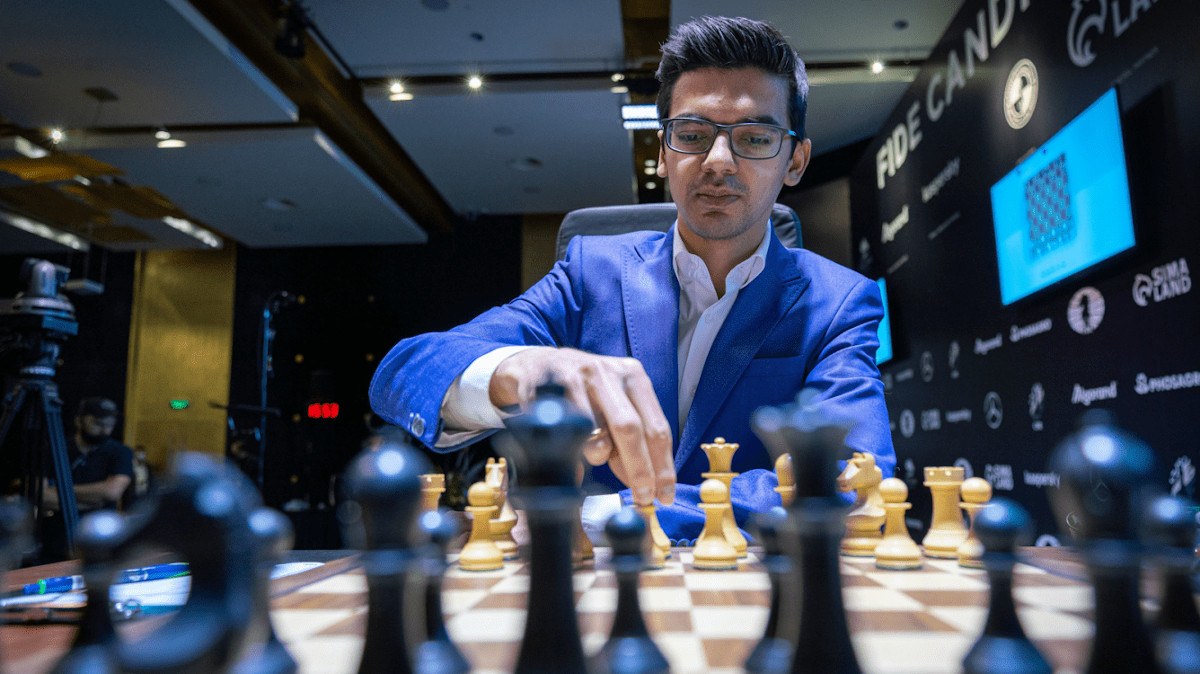 Nepomniachtchi leads the eight-man field with 5.5 points after nine rounds, with Giri, Fabiano Caruana, and Maxime Vachier-Lagrave chasing him on five points.
Giri: Can't win Candidates Tournament with draws
With everyone else on four points or less, the Candidates Tournament appears to be a four-player race. While he's a half-point back, Caruana has emerged as the betting favorite. Unibet lists Caruana as the +125 pick to win the tournament and challenge Magnus Carlsen for the World Chess Championship, just ahead of Nepomniachtchi (+150). Giri and Vachier-Lagrave remain in the mix, with both fetching +500 odds, while all other players stand at +5000 or longer.
---
Candidates Tournament Odds (via Unibet)
Fabiano Caruana: +125
Ian Nepomniachtchi: +150
Anish Giri: +500
Maxime Vachier-Lagrave: +500
Alexander Grischuk: +5000
Wang Hao: +5000
Ding Liren: +5000
Kirill Alekseenko: +10000
---
Giri punished Wang Hao after getting a solid but unremarkable position out of the opening. Wang played somewhat passively and Giri found ways to gradually apply pressure. Struggling to find options, Wang blundered on his 27th move, weakening his kingside with a g6 pawn push that simply gave Giri too much play.
Anish Giri defeats Wang Hao and is now trailing the leader Nepomniachtchi by half a point.

"He [Wang Hao] was deprived of any chance to create a counterplay." – Almira Skripchenko.#FIDECandidates pic.twitter.com/Q6wb4qrcCZ

— International Chess Federation (@FIDE_chess) April 20, 2021
It only took a few moves for Giri to completely crack Wang's position, and the Chinese GM resigned on move 39.
"It was very important for me to win this game to realistically stay in the race at least – otherwise it would have been very hard," Giri said afterward. "I had already the experience once I played the Candidates and I kept the chances until the end, but you have to at some point win some games, I found out."
Giri has developed a reputation as a drawish player. That perception partially stems from his performance at the 2016 Candidates Tournament, where he drew all 14 games in the event. Giri has posted two wins and a loss against Nepomniachtchi so far in Yekaterinburg.
MVL saves lost position to stay in contention
Vachier-Lagrave came into the second half of the Candidates Tournament in a tie for first with Nepomniachtchi. But Caruana beat the Frenchman when the tournament resumed on Monday to pull himself back into the mix, while allowing the Russian grandmaster to take the solo lead.
On Tuesday, Vachier-Lagrave nearly dropped his second game in a row. Ding Liren played an aggressive line against the Grunfeld, and offered a full knight sacrifice on move 15. The French grandmaster gave the piece back in an attempt to calm the position, but Ding achieved a strategically superior position as a result.
It's finally over! MVL escapes with an 88-move draw from a dead lost position that leaves him still just behind Nepo while it's the "last nail in the coffin" (Magnus) for Ding Liren's #FIDECandidates chances: https://t.co/xqkzHEr4aW #c24live pic.twitter.com/7j0MmgvaUA

— chess24.com (@chess24com) April 20, 2021
Ding made a single mistake by prematurely pushing a pawn on his 37th move. That allowed Vachier-Lagrave to defend with Black, and while he still had a struggle on his hands, the two players agreed to a draw after 88 moves.
"Generally I just got into lots of trouble and, at some point, I was sure my position would just collapse in a matter of two moves," Vachier-Lagrave said afterward. "In the end, I managed to save this game, but it's not going to go in my best games collection, for sure."
The key matchup in Wednesday's Round 10 pits Vachier-Lagrave against Giri. If either man wins, they'll vault themselves right into contention to win the Candidates Tournament. Vachier-Lagrave is a +350 pick to win with White, while Giri fetches +550 with Black.
Meanwhile, leader Nepomniachtchi (+100) takes White against Alekseenko (+1100), while Caruana (+235) battles Ding (+1150).