If you didn't watch UFC Fight Night 179 on Saturday, you missed two amazing knockouts, including one that could easily go down as the KO of the year.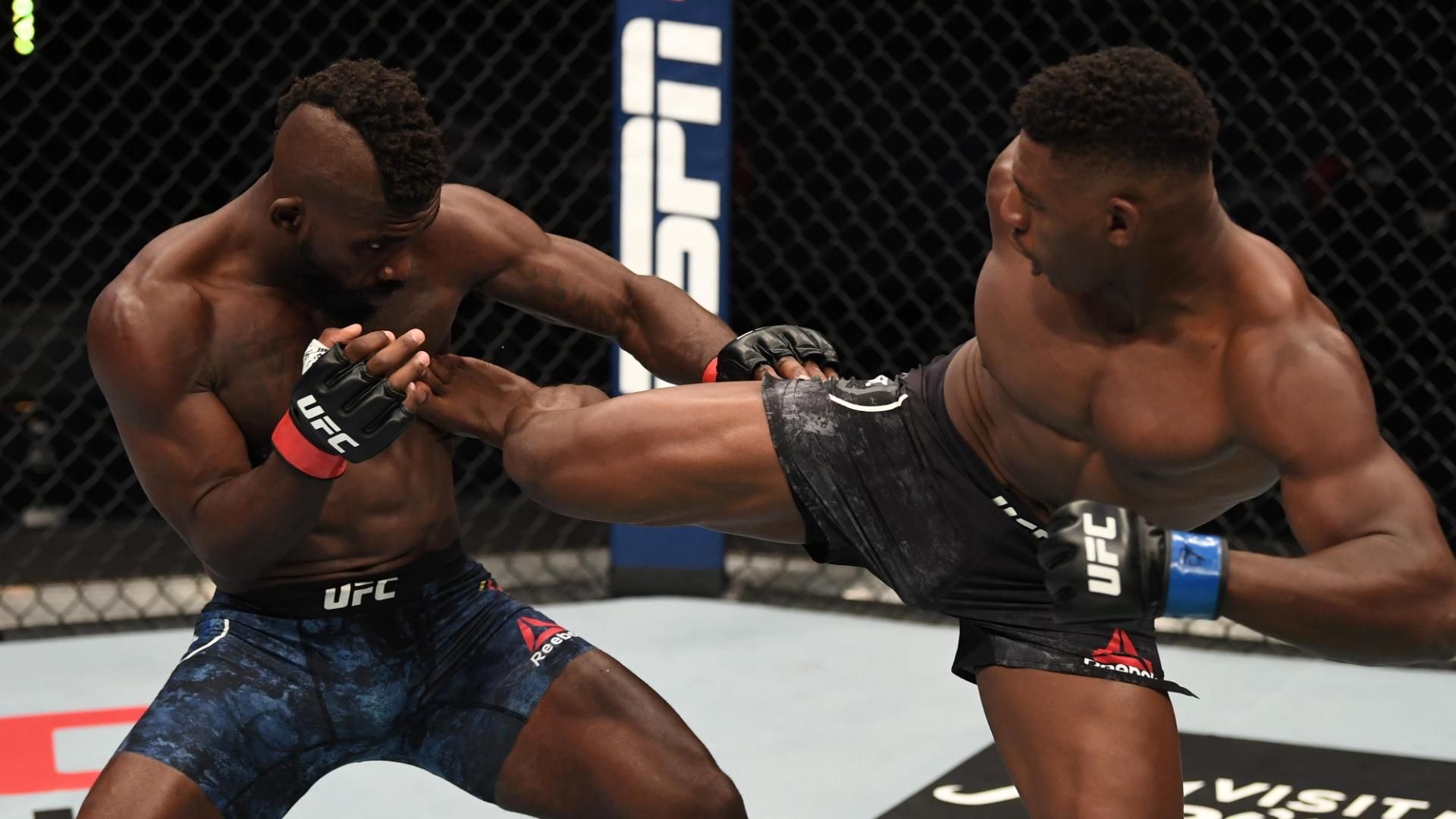 The action started on the preliminary card when Joaquin Buckley took on Impa Kasangany in a middleweight bout.
Buckley Lands Spinning Back Kick
Buckley battered Kasanganay for more than a round, but couldn't find a finish during the first seven minutes of the fight. Then, when Kasanganay grabbed Buckley's left leg following a body kick attempt, the fight finished in spectacular fashion.
Buckley's KO is the fourth knockout in UFC history stemming from a spinning back kick to the head, per @ESPNStatsInfo. He joins Renan Barao, Uriah Hall, and Magomed Mustafaev. pic.twitter.com/8nzxfCMLEm

— Ariel Helwani (@arielhelwani) October 10, 2020
Buckley used a spinning back kick to score the knockout, but even that description fails to convey the level of athleticism necessary to pull off the maneuver.
"We drill to kill, but I never landed that in a fight before," Buckley said in his post-fight interview.
The kick also impressed UFC president Dana White.
"We were just talking about whether we should give him all of the bonuses right now," White told Yahoo Sports after the fight.
Indeed, the kick earned Buckley a Performance of the Night bonus, but it wouldn't be the last spectacular moment of the card.
Spinning Heel Kick Finishes Moraes
The main event saw top-5 bantamweight contenders Cory Sandhagen and Marlon Moraes square off in a potential title eliminator. Both fighters had their moments in a competitive fight, though Sandhagen seemed to be doing more damage thanks to a wide variety of strikes to different parts of the body.
In the second, Sandhagen took control. A spinning heel kick finished the job, sending Moraes tumbling to the ground. After a few ground-and-pound shots, the ref stepped in to stop the fight.
Sandhagen with the spinning wheel kick KO! #UFCFightIsland5 pic.twitter.com/py3PbiQCLQ

— MMA mania (@mmamania) October 11, 2020
Sandhagen earned his own Performance of the Night bonus with that finish. He may have potentially also put himself in position for a title shot sooner rather than later.
"That's putting in that work during the quarantine," Sandhagen said afterward. "When you can't go to the gym and all you can hit is the bob, I had to enhance my game and I'm always working. Hard work pays off."
Moraes credited Sandhagen with the win, though he believes he could have continued.
"Proably a little early stoppage, but whatever," Moraes said after the fight. "I thought I was [OK], but the ref just jumped on me. I didn't have time enough to get up."
According to White, Kasanagay checked out well during his post-fight examination. Meanwhile, Moraes said he's anxious to get back to fighting again.
"I just want to go home and get another fight," Moraes said. "Hopefully I can get another one by December."