Baker Mayfield underwent surgery to repair a torn labrum injury in his non-throwing shoulder and he'll be sidelined for anywhere from four to six months in the offseason. In the meantime, trade rumors involving the Browns and Houston Texans for Deshaun Watson are heating up in northern Ohio, much to Mayfield's dismay.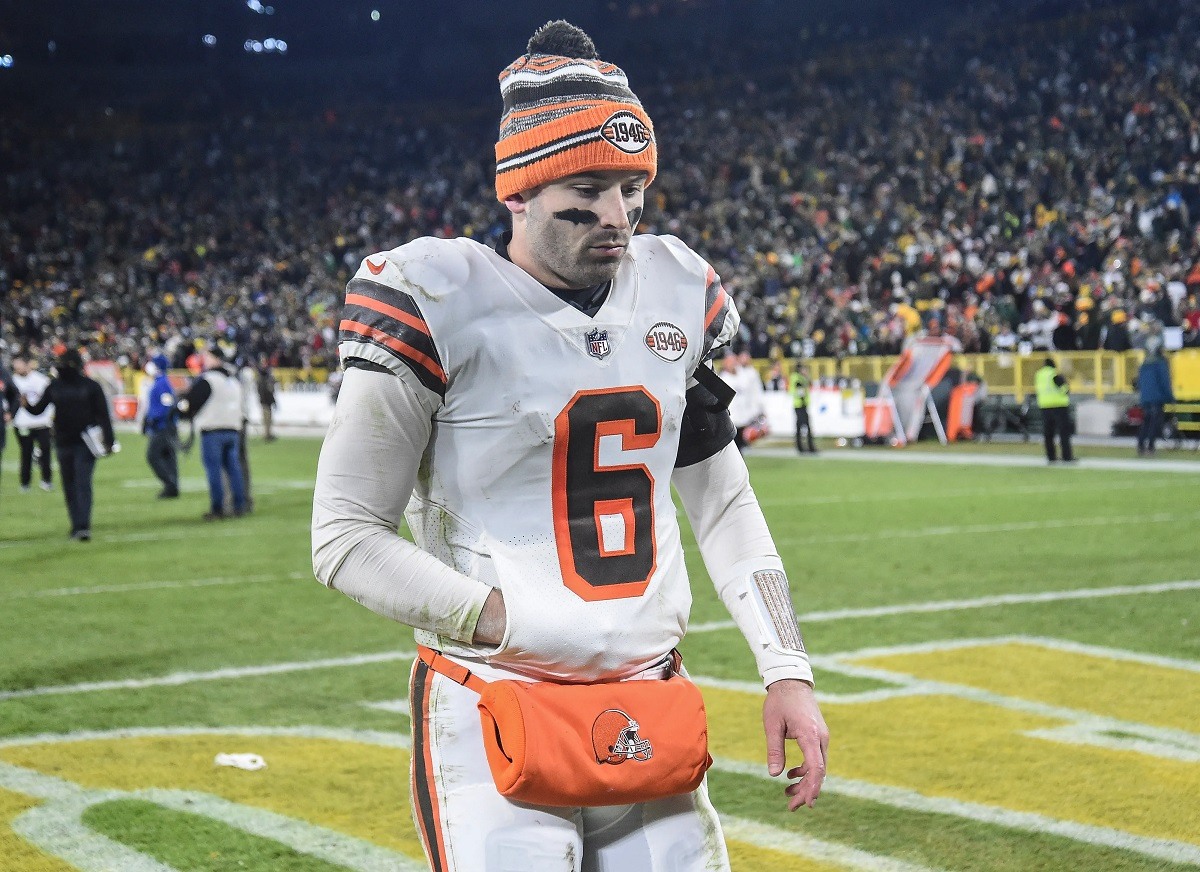 The Browns went 8-9 this season, mostly due to Mayfield's painful shoulder injury, which he gutted through since September. Mayfield played most of the year with a cumbersome shoulder harness to prevent his left shoulder from popping out of the socket.
Head coach Kevin Stefanski says he's sticking with Mayfield in the 2022 season, and general manager Andrew Berry said he expects that Mayfield will be the Browns' starter next season.
"It's easy to forget at this point of the year what we've seen with Baker over the past several years," said Berry. "We've been with Baker for a long period. We know his work ethic, we know his drive, we've seen a talented passer in this league, and we're looking forward to him getting healthy and continue to make improvements."
However, the NFL is a thorny and ruthless business. Mayfield has a fifth-year option on his contract that will pay him a guaranteed $18.8 million next season.
Berry's choice: Mayfield or no Mayfield
If Mayfield struggles post-surgery, the Browns have an easy choice by not re-signing him. However, if he has a full recovery, will the Browns want to spend a hefty investment on him?
Mayfield posted a career-low in the statistics department due to his shoulder injury. He threw for 3,010 yards, 17 touchdowns, and 13 interceptions in 14 games. He completed only 60.5% of his passes and failed to get Odell Beckham Jr. the ball on a consistent basis, which created a huge rift in the locker room. It led to OBJ asking out of Cleveland.
Beckham joined the LA Rams, who won the NFC West and host a home game in the wild card. Beckham has a shot at a Super Bowl this season, while the rest of the Browns are watching him on TV.
There are multiple trains of thought running in the minds of the Browns, and they all come down to the old question of whether the grass is really greener on the other side of the fence. Mayfield isn't in the same class of elite quarterbacks like Patrick Mahomes, Joe Burrow, or Justin Herbert. But can the Browns actually find someone better than Mayfield? Or should they give Case Keenum a shot next season and let Mayfield be the highest-paid backup in the NFL?
Mayfield: mistakes were made
Mayfield made two horrible decisions in Week 2. He threw an interception on a pass he should have reconsidered. Then, out of sheer frustration, he attempted to tackle the defender. That's how he suffered the torn labrum, which set forth the current chain of events. Call it the butterfly effect, because a simple bad pass that led to a blown tackle and dislocated shoulder, disrupting the entire season.
Quarterbacks are supposed to mature with age, but Mayfield made several rookie mistakes late in the season. He tried to do too much and simply couldn't connect on passes, which led to 13 interceptions, including seven in his final three games. In comparison, he tossed just eight picks in 16 games in 2020.
Both Mayfield and Stefanski denied rumors that they had a bad relationship and that Mayfield requested a trade. But, if the Browns are to trade Mayfield, who would want to take a flier on him?
Trade rumors: Watson to Cleveland?
Enter the Houston Texans. They emerged as a potential partner with the Browns in the Deshaun Watson debacle. The Texans and Miami Dolphins were unable to work out a deal for Watson prior to the trade deadline, but word on the street is that the Dolphins are no longer interested in coughing up a huge hoard of picks to acquire the disgruntled QB. The Dolphins had the inside track to landing Watson, but the Browns are now considered to be on the shortlist.
Mayfield grew up in Austin, so it would be fitting that a real Texan would join the Texans. Sometimes your first team isn't an ideal fit, as Mayfield well knows. He didn't like Texas Tech, so he transferred to Oklahoma and the rest is history. He won the Heisman and became the #1 pick in the draft.
Perhaps a return to his home state is exactly what Mayfield needs to rejuvenate his career. On the flip side, the Browns could use a gunslinger like Watson to help get them over the hump in the tough AFC North and help them compete against premier quarterbacks like Lamar Jackson and Burrow.
Oh, and let's not forget about Russell Wilson. The Seahawks are keeping Pete Carroll as their head coach in 2002. Wilson and Carroll had a falling out, and it's unclear as to whether Wilson can — or wants to — endure another season in Seattle. Wilson said he intends to play out his contract with the Seahawks, but is open to exploring his options. That could include a potential trade to somewhere in the AFC like the Cleveland Browns.