Odell Beckham Jr and the Cleveland Browns parted ways earlier in the week, which cleared the path for the Los Angeles Rams to sign the insanely talented, yet mercurial wide receiver also known as OBJ.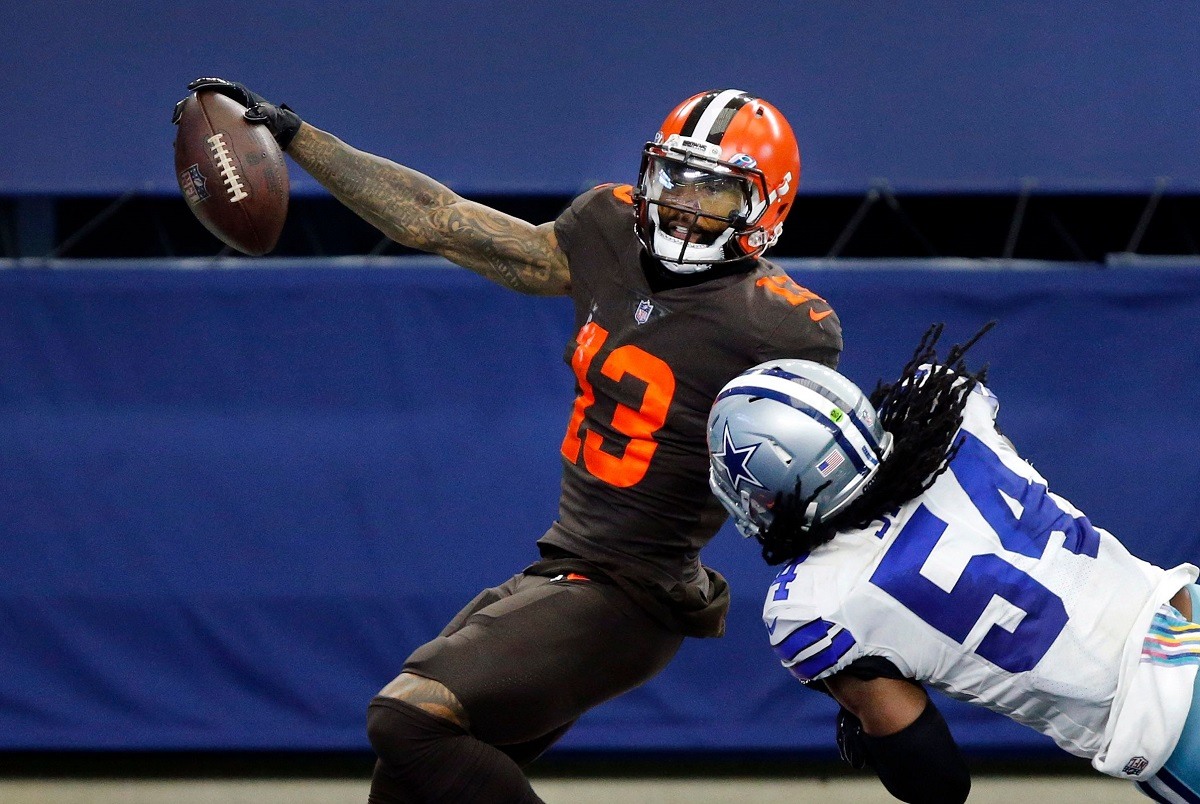 The Rams (7-2) have their eye on winning Super Bowl 56 and made several additions to the team in recent weeks, including Von Miller and Beckham, that indicate they're all-in on trying to win it now. Super Bowl 56 will be played at So-Fi Stadium in Los Angeles, so the Rams have extra incentive to win the NFC Championship and lock up a Super Bowl berth on their home turf.
The Rams signed Beckham for $1.5 million, but he could earn another $3 million in incentives and bonuses.
Breakup in Cleveland
Beckham wore out his welcome with the New York Giants several seasons ago and it happened again with the Cleveland Browns this season. Beckham can be a royal pain in the ass for the coaching staff, especially if he feels the starting quarterback isn't throwing to him.
Then again, the Rams love to pass. Even though there's only one ball to go around, Beckham could see more of it with Matthew Stafford at the helm versus the most-recent situation in Cleveland. Browns QB Baker Mayfield has been playing through a series of injuries, including a left shoulder that pops out of the socket at random moments. But Cleveland's offense is run-heavy with one of the top rushing attacks in the league. Their O-line is so damn good that even a third-stringer can rack up a 100 yards.
Beckham found himself on one of the few run-oriented offenses in the NFL, and with a banged-up quarterback who didn't deliver him the ball as much as he'd like. He caught just 17 passes for 232 yards this season. In his career, Beckham caught 504 passes including 51 touchdowns.
Rams lobby for OBJ
At first look, it doesn't make sense as to why the Rams would risk tainting their chemistry with a high-risk signing like Beckham. However, on paper, it's impossible to deny the tremendous talent that he can bring to an already stocked batch of wide receivers that includes Cooper Kupp, Robert Woods, and Van Jefferson. But it's those wideouts who were an integral part of convincing OBJ to join their ranks instead of heading to another team, including division rivals the Seattle Seahawks or the Green Bay Packers. The Kansas City Chiefs, New Orleans Saints, and New England Patriots were also on Beckham's shortlist.
"Pretty much just receiver to receiver telling him what's it like here in this offense and come and be a part of our team," said Robert Woods, who chatted with Beckham.
"We were really just telling him obviously he's an incredible football player, so just to have the opportunity to take the field with someone like that, to have someone like that around here would be incredible," added Cooper Kupp.
"He's outstanding when the ball is in the air, going up and making catches," explained Stafford. "He's really good after the catch as well when he can stay grounded and catch and run."
We'll find out quickly if Beckham can stay chill and fit in with everyone in the locker room.
The LA Rams are +800 odds to win Super Bowl 56, but the OBJ addition did not affect the betting markets. Only the Tampa Bay Bucs (+550) and Buffalo Bills (+600) are higher than the Rams on the NFL futures board over at DraftKings. The Rams are also +400 odds to win the NFC Championship trailing the Bucs (+275).