A couple of hours before tipoff in Boston, the Celtics announced that starting point guard Marcus Smart –  the 2022 NBA Defensive Player of the Year –  won't play in Game 2 against the Milwaukee Bucks due to a thigh and quad injury.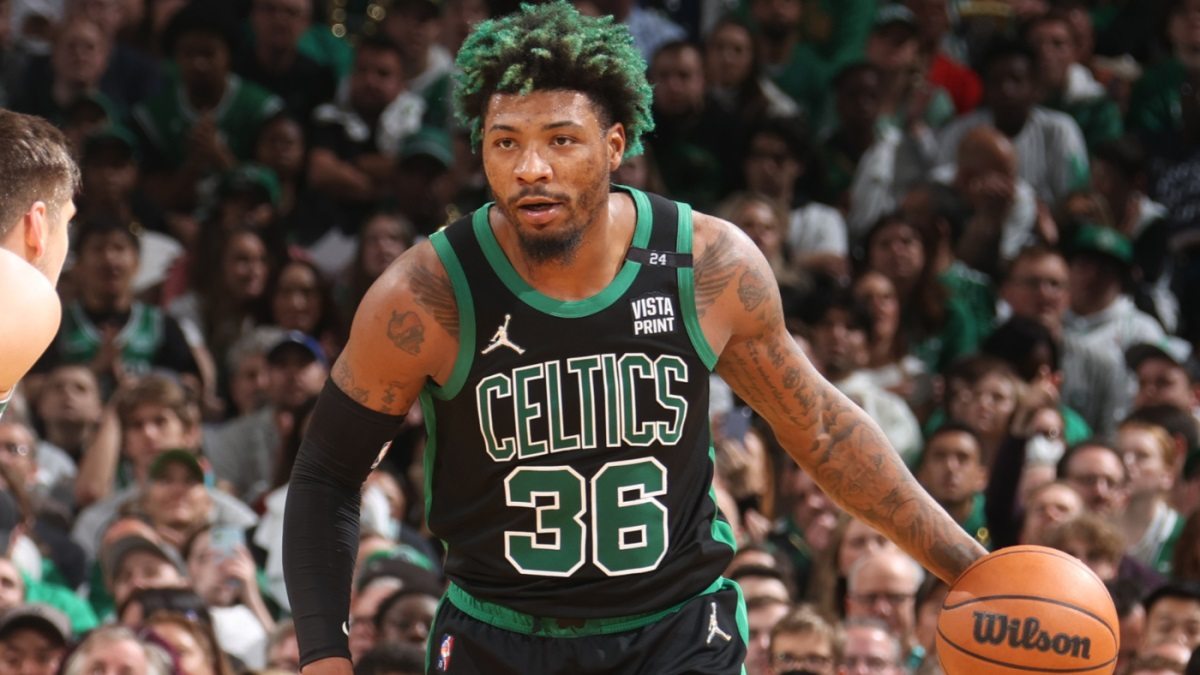 Shams Charania from The Athletic broke the news that Smart is out for Game 2 with a thigh contusion. The Celtics initially listed Smart as questionable with a quad injury heading into Game 2.
"Marcus is a tough guy who's going to try to play through things," said Boston head coach Ume Udoka yesterday.
The Celtics trail the Bucks 1-0 after losing Game 1 on Sunday, 101-89 in Boston, thanks to a triple-double from Giannis "Greek Freak" Antetokounmpo. Smart suffered a stinger injury on his right arm late in the second quarter and exited the game for a bit before returning in the second half. He logged 33 minutes in Game 1 and scored 10 points while dishing six assists in the loss.
The Celtics were -5 favorites in Game 2 this morning, but the line moved a full point to -4 after Charania tweeted about Smart.
The Celtics are +115 odds to win the series, according to DraftKings' series markets. With a 1-0 lead, the Bucks are -135 favorites to win the series after snagging home-court advantage away from the Celtics.
Celtics say Marcus Smart is OUT for Game 2 vs. Bucks due to thigh contusion.

— Shams Charania (@ShamsCharania) May 3, 2022
Smart out, Derrick White next man up
Apparently, Smart didn't respond to treatments for his thigh injury, so he was a last-minute scratch on Tuesday. Back in January, Smart missed six games with a quad injury on the same thigh.
"It's something that's going to be stiff," said Udoka. "He got hit twice there. He had this in the past obviously where he missed games this year. So it's more than just pain tolerance. It's tightness and restriction of movement as well."
Smart was the first guard to win NBA Defensive Player of the Year since Gary Payton won DPOY in 1996. He's the anchor of Boston's top-rated defense that aggressively switches on screens and pick-and-rolls.
During the regular season, Smart averaged 12.1 points, 5.9 assists, and 3.8 rebounds per game. In the first-round sweep of the Brooklyn Nets, Smart averaged 16.5 points, 7.0 assists, 4.0 rebounds, and 1.3 steals per game. He also did a stellar job keeping Kyrie Irving in check.
Derrick White logged 16 minutes off the bench in Game 1 against the Bucks and finished with 10 points on 2-for-3 shooting from 3-point range. Payton Pritchard played 11 minutes in Game 1, but struggled to find his shot. He scored six points on 2-for-8 from 3-point range. Both White and Pritchard will split Smart's minutes.
Check out more of OG's coverage of the 2022 NBA Playoffs.