After a massive win over Ohio State last weekend, the Michigan Wolverines can now clinch a College Football Playoff berth if it captures the Big Ten Championship on Saturday. To do so, they will need to fend off an Iowa team that has dropped out of playoff contention but comes into the conference title matchup on a four-game winning streak.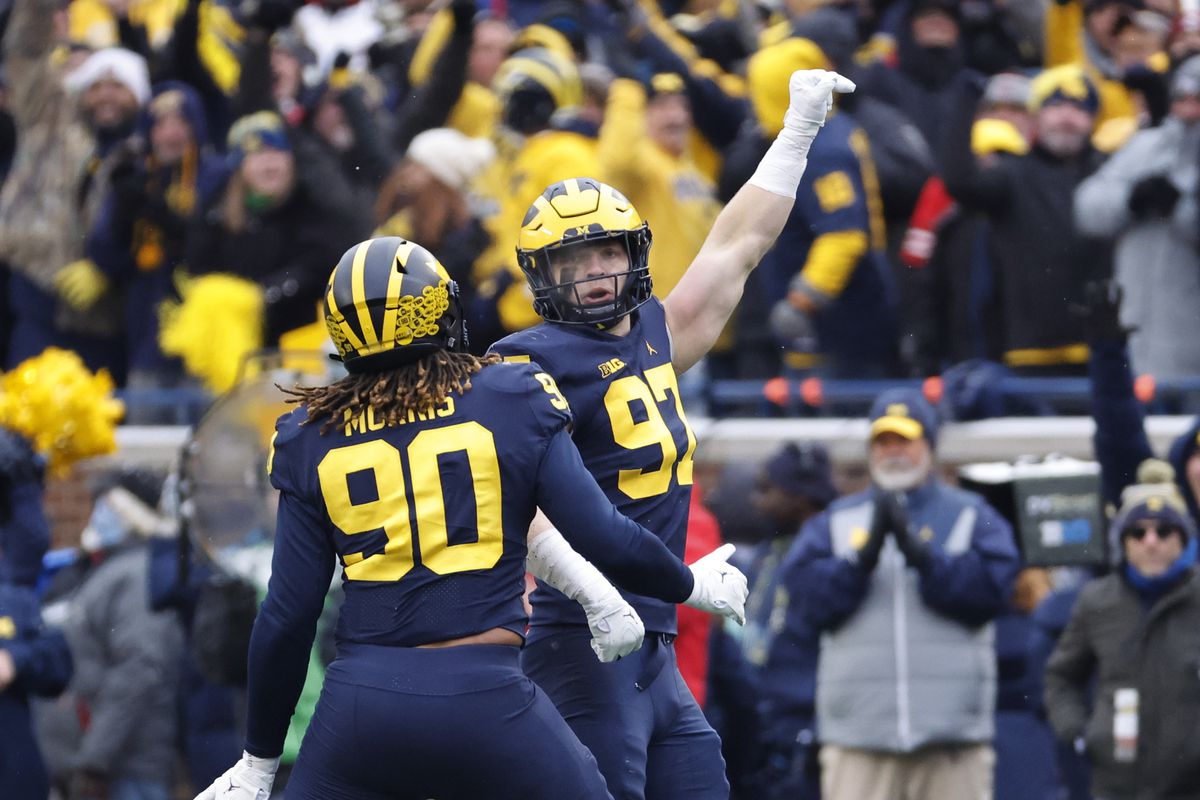 Michigan upended the College Football Playoff rankings last Saturday, scoring a monumental 42-27 victory over then No. 2 Ohio State.
Michigan in high spirits after Ohio State win
With the victory, Michigan took over the No. 2 spot in the CFP rankings, and virtually eliminated the Buckeyes from playoff contention.
It also catapulted the Wolverines into the Big Ten Championship. With a win on Saturday, there is no realistic scenario in which the CFP committee would keep Michigan out of the playoffs. If there was any thought that the Wolverines would suffer a letdown after the Ohio State win, head coach Jim Harbaugh sought to put those thoughts to bed.
"For many of us, that was a tremendous, tremendous weekend and game. Many of the players texted me this was the best ever," Harbaugh told reporters. "And I'm right there with them. And now, the focus has shifted to the task at hand."
Michigan comes into the Big Ten Championship as a significant 11.5-point favorite according to FanDuel Sportsbook. Iowa coach Kirk Ferentz acknowledges that his team faces a tough task on Saturday.
"It's going to be a tough challenge for us. We're excited about it," Ferentz told reporters. "It's an opportunity, certainly, but we've got a lot of work to do in the meantime to get ready. I'm proud of our football team."
Iowa can reach Rose Bowl with Big Ten Championship
Iowa (10-2) current ranks No. 13 in the College Football Playoff rankings after suffering losses to Purdue and Wisconsin in October. But since then, the Hawkeyes have played solid football against their Big Ten opposition, and Harbaugh says he respects the West Division winners.
"I would say Iowa in all regards – run defense, pass defense, the way they tackle," Harbaugh said. "Offensively, their execution, the way they block, the way they run. The tremendous attention to detail on special teams and as hard as they play. Across the board it's all really, really good. This is a sound, tough, fundamentally good football team in every single regard. And that definitely is daunting in itself."
Iowa can't make the College Football Playoff, but still has plenty to play for. With a Big Ten Championship win, the Hawkeyes would earn a trip to the Rose Bowl, where they would play Pac-12 champion Utah.
If Michigan wins, they would go to the CFP semifinals instead. That would likely send Ohio State – currently No. 7 in the CFP rankings – to the Rose Bowl as the Big Ten representative.