The Ohio State Buckeyes moved up to No. 2 in the latest College Football Playoff rankings by dismantling Michigan State last weekend. But they'll need to back up that performance with a win at Michigan on Saturday if they want to play for a national championship this year.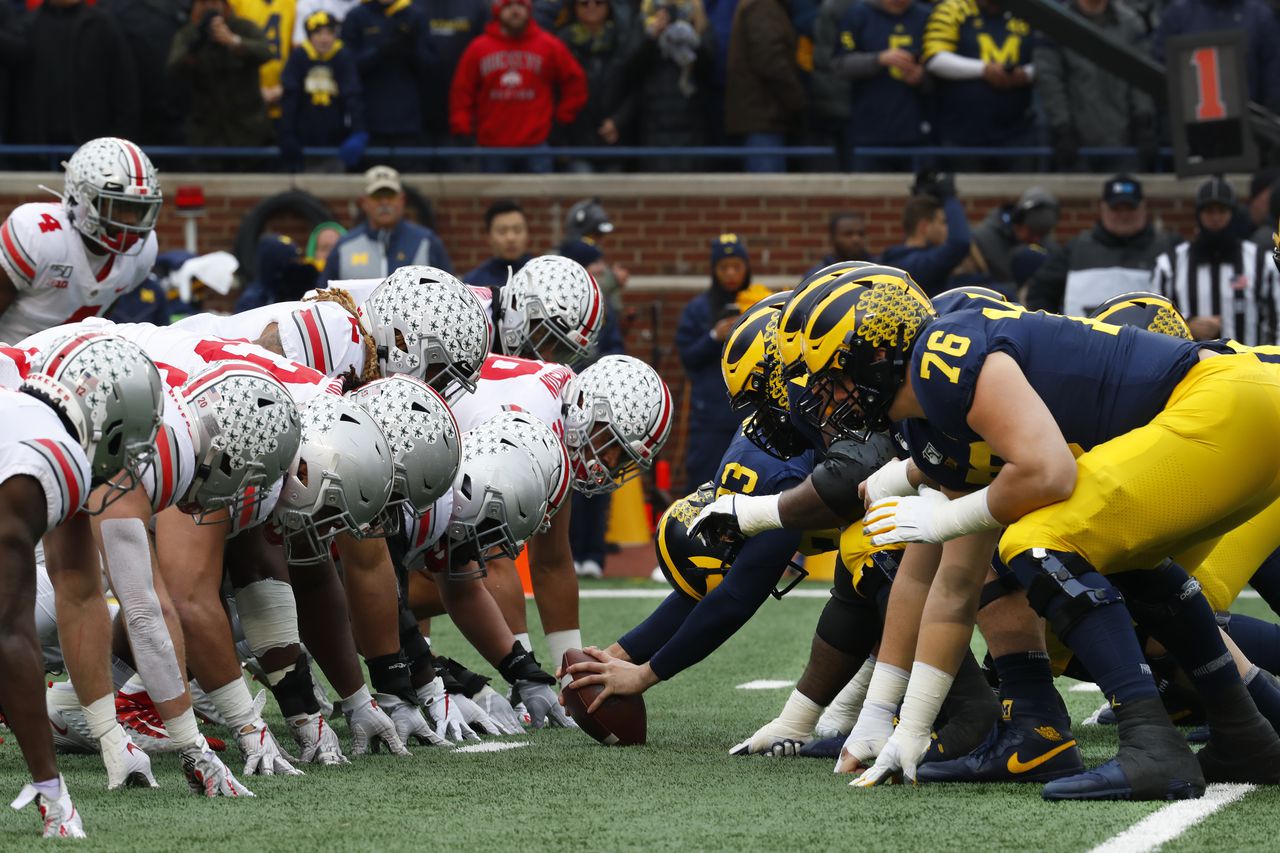 The Wolverines come in at No. 5 in the CFP rankings, and know they can jump into the top four by beating their bitter rivals this weekend.
Ohio State dominant in recent years of rivalry
While Michigan holds a 58-51-6 advantage over the history of "The Game," Ohio State has dominated the rivalry over the past decade. The Buckeyes have won the matchup eight straight times, with Michigan's last victory coming back in 2011. Ohio State has also won 16 of the past 18 meetings between the two teams.
The two teams didn't play in 2020, owing to a COVID-19 outbreak among the Wolverines. That gap has only intensified the rivalry heading into Saturday's matchup in Ann Arbor.
"We just constantly talk about it. And we talk about it in recruiting," Ohio State head coach Ryan Day told reporters. "The No. 1 goal here at Ohio State is to beat the Team Up North, period."
Ohio State comes into the game as a significant favorite. FanDuel Sportsbook rates the Buckeyes as the 7.5-point favorite, and has them at -310 on the moneyline over Michigan (+240). But Day says that the Wolverines represent a difficult challenge to his squad.
"This is a very good defense," Day said of Michigan. "They play with an edge. We've got to practice with an edge. The preparation this week is very, very important."
Harbaugh looks for first win vs. Buckeyes
Jim Harbaugh has never beaten Ohio State as Michigan's head coach, putting up an 0-5 record. He's looking to change that on Saturday, in a game he acknowledges is as big as any he's seen between the two teams.
"Both teams have a lot on the line," Harbaugh told reporters. "It's a true playoff in that sense. In the College Football Playoff world, this is the start of the playoffs. The team that wins will advance. The team that doesn't, won't."
The winner won't automatically earn a spot in the College Football Playoff. They'll still have to beat whoever emerges from a tight Big 10 West race in the conference championship game, though either Ohio State or Michigan will enter that contest as a heavy favorite.
Still, these are two teams that can still see the potential for a national championship on the horizon. Ohio State sits as a +300 second choice to win the title this year, with Michigan at +5000 – odds that will tighten significantly if they upset the Buckeyes.
Harbaugh says his team can pull off that upset, though it will take a special effort.
"We're going to have to play really good as a team, offensively, defensively, special teams," Harbaugh said "You play really good, you've got a chance to win the game. You don't play really good, you have a really good chance not to win the game."