The Ballon d'Or wasn't awarded in 2020 because of the COVID-19 pandemic. But now, the most important individual trophy in world football is set to be awarded again, with Messi dreaming of his seventh Golden Ball, and a flock of youthful superstars dreaming of unseating the overwhelming veteran favorite.
Soon, the Argentinian will need a new room just to house his Ballon d'Or trophies, but that's not a problem that seems to bother him. Messi holds the record for most Ballon d'Or trophies ever won by a single player (six) and is hungry for more. At 33, he's the most prolific goalscorer in the world this year. He is challenged by the likes of Mbappe, Haaland, or De Bruyne. Champions League winner N'Golo Kante (Chelsea) could be a surprise interference in the bookies' predictions, especially if he adds glory to his name at the European Championship this summer.
Established in 1956 by French magazine France Football, the Ballon d'Or is presented yearly, based on a vote from an international jury of journalists. Each of the 176 voting countries has a sole representative in the vote. (For Romania, that's me.) Points are given based on votes submitted by every juror, with each selecting their top five from a shortlist which is put together by France Football. Three selection criteria are considered when voters make their choices: individual and team performances in a calendar year, talent and sportsmanship of the player, and his overall career.
A dismal 2020 for Barcelona meant that Messi had little chance of beating out Bayern's Robert Lewandowski last year when the Polish goal machine was the moral winner of the unawarded Ballon. But in 2021, things are very different. Lewandowski kept pushing for personal records, but his aura faded once Bayern was booted from the Champions League in the quarterfinals this season. Barcelona wasn't there in the final stages either, but Messi kept his numbers at extraterrestrial heights.
The Catalan giants fought back in the league and were in a very good position to win it, before failing lamentably in the final games. Barcelona won the Spanish Cup and started enchanting again – even though only occasionally – with its style of football. None of these feats would have been possible without Messi's strong contribution.


Can any youngster catch Messi?
His numbers speak for themselves; in the five months since Jan. 1, 2021, Messi has scored 29 goals and assisted another nine. Thus, he's been involved in no fewer than 38 goals. Leo's season total stands at 38 goals and 12 assists.
Lewandowski just broke Gerd Muller's 49-year-old record, scoring 41 goals in the Bundesliga alone this campaign. Young superstars Haaland and Mbappe did excellent too. The 22-year-old French sensation finished PSG's campaign with 42 goals and 11 assist over 47 games, whereas Haaland scored 41 times in 41 games and contributed with six assists to his teammates' goals.
Goals and assists aren't everything though. Messi, Lewandowski, Mbappe, or Haaland might well be the gunners that every defense is scared of, but Belgian maestro Kevin de Bruyne, the analytical mind behind Manchester City's fantastic season, and the influential Bruno Fernandes, Manchester United's signing of the decade, have their shots in this as well. Not to mention N'Golo Kante, who is gaining momentum with a string of 'Man of the Match' performances in Chelsea's Champions League heroics.
As things stand, the 2021 race for the Ballon d'Or looks set to become a battle between Messi and the rest of the world. But this time there's a new generation of youngsters threatening to go after the coveted gold ball.
Ronaldo the Brazilian is youngest trophy winner
The Ballon d'Or's history has some wonderful stories to tell. One of the best belongs to two-time winner Ronaldo Nazario da Lima. The Brazilian first won the trophy in 1997 after a tremendous season with Barcelona and a few months at Inter Milan. Nicknamed "Il Fenomeno" for his unbelievable skill, Ronaldo became the youngest player to win the Ballon d'Or at 21, just four years after making his debut at senior level for Cruzeiro in Brazil. Ronaldo went on to snatch the award again in 2002, this time after winning the World Cup with Brazil and scoring eight times at the final tournament. Ronaldo was playing at a fantastic level again after spending almost two years on the sidelines with injury.
Michael Owen is the second-youngest player to win the award at 22 years and four days of age. He took home the trophy in 2001, five years after he first played at the senior level in a Liverpool shirt. Milan's Kaka clinched the much-acclaimed award in 2007 and is the third-youngest winner. He played six years at the senior level before his win. In 2008, when Cristiano Ronaldo won the first of his five Ballon d'Or prizes, he was 23. Archrival Messi was a year younger when he won his first Ballon in 2009. Both world superstars were had played on the big stage for six years before they earned individual acclaim.
Mbappe and Haaland surfing on 'the new wave'
If either Kylian Mbappe (PSG and France) or Erling Haaland (Dortmund and Norway) were to win the Ballon this year, they would go straight onto the top five prodigy list. At 23, but with only five years spent at senior level, Mbappe would be the fourth-fastest to reach "golden" status. Haaland would also see his reputation rise even more. A Ballon d'Or win in December would place him second, after "Fenomeno" on the list of youngest winners.
Haaland, the cold-blooded killer of defenses, has scored at a surreal rate at the club level since 2019. In December 2021, six years after a shy 15-year-old blond kid started to play with grown men in the Norwegian amateur leagues on Byrne's second team, Haaland could become the first-ever Norwegian to take home the Ballon d'Or.
Looking at the older stars on the newcomer's list, Lewandowski, De Bruyne, and Bruno Fernandes definitely stand out. For Lewandowski, a Ballon d'Or this year would reward a highly prolific career. Lewandowski's lowest-scoring season from the past 10 came in 2014-2015, the year when he moved to Bayern from Dortmund. He scored 25 goals that year across all competitions. In the seven seasons that followed, he punched his opponents' nets at least 40 times every campaign. In 2019-2020, when Bayern won everything there was to win at the continental and domestic levels, Lewandowski totaled 55 goals in 47 games.
De Bruyne, who extended his stay at Man City based on a study which showed the club how important he is to them, assisted 15 goals and scored nine. But again, his game has been way more than numbers this season.
Despite not being an attacker, Bruno Fernandes put 26 goals in the net as part of United's bid to bring back the glory days at Old Trafford. Apart from those, he assisted another 15, being undoubtedly the engine of Man United's offensive game this season.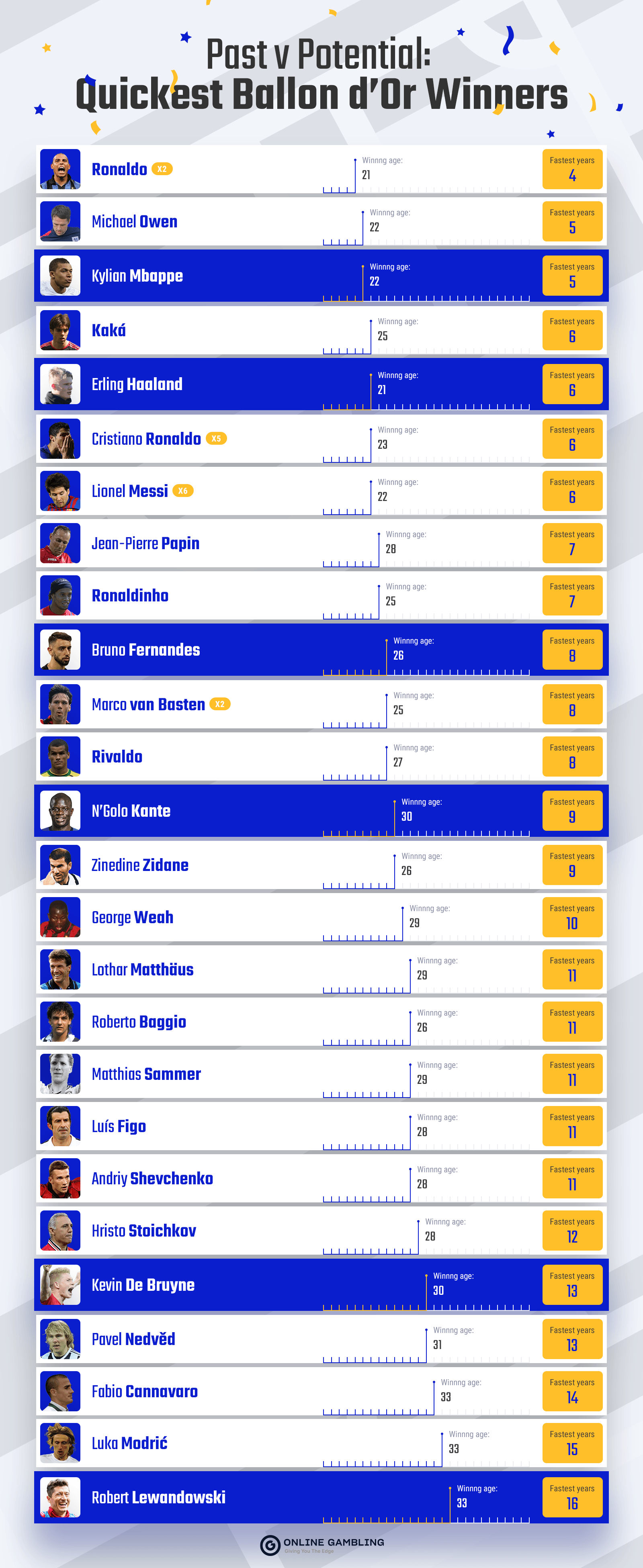 What will decide how the Ballon d'Or is awarded?
Apart from their club lives, players need to give their all for their respective national teams if they are to win the Ballon, which will be awarded in December, in Paris. The European Tournament this summer will paint a clearer picture for voters in the autumn. Messi will also be involved at the international level with Argentina at Copa America, the South American version of the Euros.
Nonetheless, the way they start next season will play a role in the vote. The margins could be tighter than ever in the 2021 vote, as none of the greats seems to be in the position to sprint by himself and leave the others behind.
What do the bookies say?
After his heroics against Barcelona and Bayern in the Champions League, PSG's diamond forward Kylian Mbappe looked to running at full speed toward his first Ballon d'Or award. But Messi's excellent run of form and De Bruyne's commanding performances at City have restarted the race.
Is Kante going to be a shock contender or is Messi going to 'kick' a seventh consecutive Ballon? Multiple questions still need to be answered. How will the Champions League season influence the voters? Is that enough for Kante? And what if he wins the Euros too? How about if Messi lifts the Copa America title? When those questions are answered, the choice for the Ballon d'Or will be much easier to make in the eyes of the many.
Another key fact: for the first time in years, even if he's mentioned in the bookies' agendas, 36-year-old Cristiano Ronaldo isn't considered to be among the favorites.
At +220, Mbappe is ahead of Lewandowski, who's valued at +450, and Kante at +500. Messi is curently fourth, at +700, with Ronaldo and De Bruyne tied at +1000. Man. United's Fernandes is at +1400 and Haaland at +2000.
---
OG News's soccer correspondent Emanuel Rosu has been a Ballon d'Or voter representing Romania since for 10 years. Follow him on Twitter @emishor.