Kevin De Bruyne is extending his stay at Manchester City to (at least) 2025 after signing a new contract at the Etihad on April 7.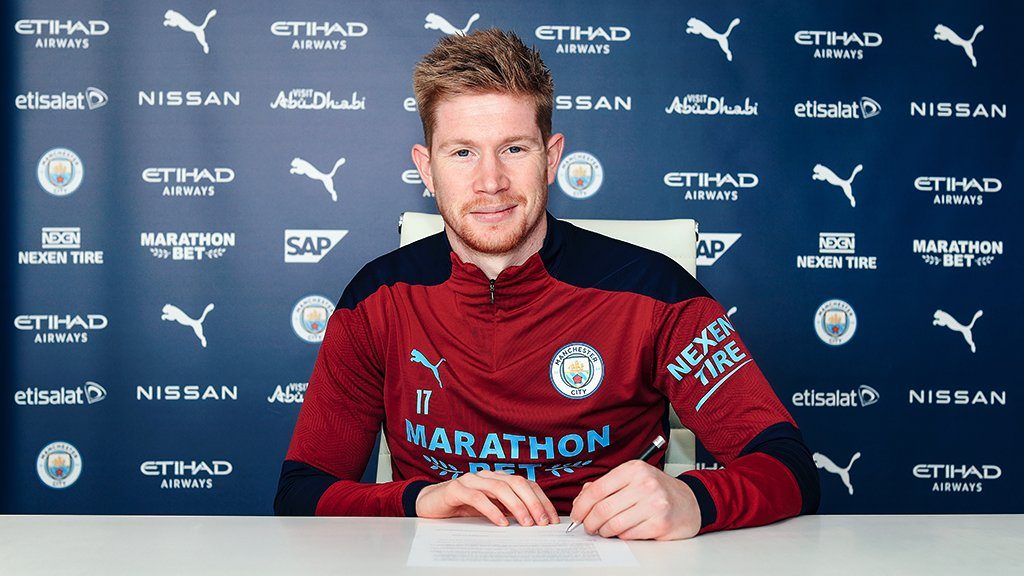 April has been a good month for Pep Guardiola's Manchester City so far. The Premier League leaders kept their momentum and are still in the chase for an historic "Quadruple." City winning all the three trophies available at the national level (league, Cup and League Cup), plus the UEFA Champions League, Europe's most valued prize at the club level, would set a new record for an English team. Before plotting the best possible end to the season, Guardiola also enjoyed some good news from the club's offices.
Captain Kevin De Bruyne penned a new contract that will keep him at City until 2025. Talks between KdB and the club were ongoing since the start of the current campaign, but were only finalized at the beginning of the month. The talks appeared to be running smoothly from the start, with no threats, tension, or bad energy from any of those involved. The real story, although not contradictory to the public image painted by De Bruyne and City, has an unknown touch of brilliance attached to it.
Oh happy day! 😍

🔷 #ManCity | https://t.co/axa0klD5re pic.twitter.com/9V44plhNJ6

— Manchester City (@ManCity) April 7, 2021
De Bruyne had no agent, stayed based on a personalized data study
At no point during the talks with City did De Bruyne threaten to move elsewhere if the club didn't meet his terms. The 29-year-old likes Manchester and wants to continue living there, which he made clear to City right from the start of the negotiations.
The Belgian international has been living in Manchester for almost six years now. In 2015, City paid $90 million to sign him from Wolfsburg in Germany. Unhappy with the handling of the transfer by his former agent, De Bruyne worked with his family and a team of lawyers in his home country before signing his new contract just over a week ago. Over the next four years in Manchester, De Bruyne will earn a total of $115 million. He is currently the best-paid player in the English Premier League.
When the formal approach was made by City last year, De Bruyne was unsatisfied with the contract he'd been offered. As a result, he hired a team of data analysts to help both City and himself. First, De Bruyne would let the club know what his contribution to the team really is based on — cold, straight numbers. Second, the study would show De Bruyne if he's actually in the right place, or if he should move on. From the way things turned out, it seems the investment KdB made in paying the analysts was worth every cent.
De Bruyne also wanted to know if any other club in Europe might suit his needs better than City. According to The Athletic, the Belgian tried to make sure that City makes the utmost for Champions League success in the years to come. The long chats he had with the hierarchy offered him a steady ground on which to build his dreams. They also got him the pay-rise he was hoping for.
De Bruyne says City trusts him
After delighting fans with the comments he made about his three children being half-English, De Bruyne referred to the club as well. The midfielder used humor to highlight the importance of the new deal he signed.
"To get the extension now, at my age, is a very proud moment. It means they [the club] trust me until I get really old," De Bruyne joked.
City's director of football, Txiki Begiristain, returned the compliments, saying "De Bruyne is one of the best players in world football. His performance level has been remarkably consistent since coming to City, and over the last few years, he has developed into one of the game's elite players."
In light of the new deal, De Bruyne is getting ready to put his all into City's development.
"I want the team to progress. Even the youth, I want to help them, the women's team too," he told City's official podcast. "This club needs to promote everything. I am in a position to help everybody at this club, and this is my part to play now."
Guardiola couldn't be happier with the announcement of De Bruyne's new commitment to the club. "The club helps us and I'm glad important players like Kevin can have all the world in their hands. All clubs would be delighted to have him, so it's a big compliment for Manchester City."
[My family being settled] is obviously really important. I don't have to just think about myself – I have my wife and three kids. 💙

We've been really happy here and my kids were born here, so they're basically half Manc! 😃

🔷 #ManCity | https://t.co/axa0klD5re pic.twitter.com/aWSd4uAcA0

— Manchester City (@ManCity) April 7, 2021
De Bruyne by the numbers
Since making his debut at City in a 1-0 win over Crystal Palace in 2015, the Belgian midfield maestro created the highest number of chances and assisted the most goals in the Premier League. De Bruyne offered 76 assists, 25 more than Christian Eriksen and 33 more than David Silva. Both of those players have now left the Premier League, with Eriksen at Inter Milano in Serie A and Silva at Real Sociedad in La Liga.
De Bruyne created a total of 535 chances compared to Eriksen's 413 in his Tottenham Hotspur playing days. For the past five-and-a-half years, only Messi has provided more assists (79) than De Bruyne's 76 from all the players in the top European Leagues. In 256 games for City in all competitions since his arrival in 2015, De Bruyne assisted 101 goals and scored 65 times.
KdB won seven major trophies as a Man City player, including two Premier League titles, one FA Cup, and four League Cups. In 2020, despite City not winning the Premier League, he was awarded the PFA Player of the Year for his outstanding performances.