Kylian Mbappe was the man of the match in a hard-fought PSG win over Bayern Munich in the first leg of the Champions League quarterfinals.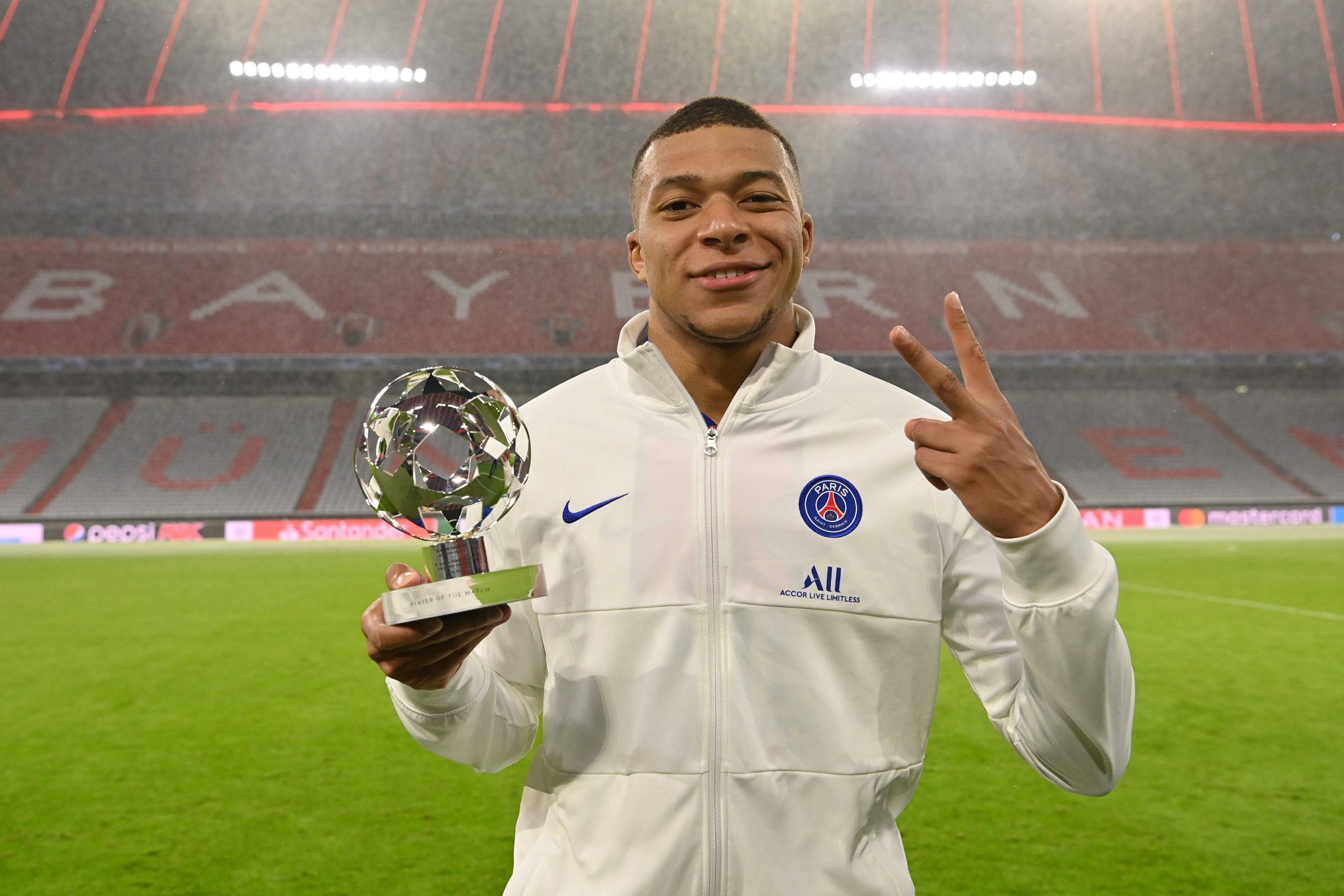 After his hat-trick against Barcelona at the iconic Camp Nou in the previous round, in a smashing 4-1 PSG win, Mbappe put up another superb performance in Munich. This time, PSG won 3-2 against Bayern and took home a big advantage ahead of the return leg in Paris. In a glamorous repeat of last season's final (which Bayern won 1-0 in Lisbon) and under a furious snowfall, Bayern and PSG showed why the Champions League is the dream club competition for every player on the planet.
Mbappe and Neymar, PSG's deadly weapons
PSG scored just three minutes into the game thanks to a Mbappe shot and a shaky intervention from Bayern keeper Manuel Neuer. The French champions then went 2-0 up with a goal from captain Marquinhos (28), who got away unnoticed in Bayern's box and scored past Neuer with ease. The assists for both PSG goals came from Neymar, who orchestrated PSG's attacks with brilliance.
Bayern came back fast. Headers from Choupo-Moting (37) and Thomas Muller (60) made it 2-2. With Bayern in "tsunami" attacking mode, the game looked destined to finish with the hosts winning. But, an electric counter-attack from PSG in the 68th minute, this time with Di Maria holding the wand for the perfect assist, offered PSG their third goal. Mbappe had a lot to do in the Bayern box, but used his killer instinct to perfection and hit at the perfect moment, to the surprise of the German defense and Neuers.
Double trouble! 💪

2⃣ assists for @neymarjr 🅰️🅰️
2⃣ goals for @KMbappe ⚽️⚽️#𝗙𝗖𝗕𝗣𝗦𝗚 🏆 #UCL pic.twitter.com/O3yTZ15yxP

— Paris Saint-Germain (@PSG_English) April 7, 2021
Offensive dominance? Bayern missed Lewandowski and Gnabry, PSG had a Navas wall
Polish Superstar Robert Lewandowski got injured while on duty with his national team at the end of March. Although the first prognosis had him out for a whole month with a knee injury, Lewy is making efforts to come back faster. It won't be in time for the return leg in Paris next Tuesday, as Bayern's fans were desperately hoping.
"Next week is too early. I'm doing everything to get back, but I'll do it when I feel good and safe. It's not a nice feeling to sit at home [when these kids of games are played]," Lewandowski told Sky Sport in Germany.
Choupo-Moting did his best to cover up front, but missed a few great chances, which Lewandowski would have probably transformed into gold. Gnabry, another potential "villain" for the PSG game-plan was also unavailable.
Bayern had 31 attempts, compared to PSG's only six. Out of the total, 12 Bayern shots were on goal, so PSG goalkeeper Keylor Navas needed to be at his best throughout the 90 minutes of the clash. In comparison, PSG shot just four times on goal, scoring three times. Bayern also had 15 corners, opposed to just one from PSG. The Bavarian powerhouse dominated possession (61%), completing almost twice as many passes as PSG did (504 to 266).
Muller: '5-3 or 6-3 … nobody could complain'
PSG traveled to Munich without some high-profile players too. Verratti, Icardi, Florenzi, and Paredes couldn't play. At least two of them will be on the squad for the return leg at Parc des Princes next week. PSG also lost Marquinhos right after the Brazilian scored the goal that put his team two goals ahead, due to injury. The good news is that he is also going to be back at full strength in a few days.
"Our opponents scored three from very few chances, but the way my players performed was just so impressive," Bayern manager Hansi Flick said after the game.
Thomas Muller stressed that "had the score been 5-3 or 6-3, I think nobody could have had any complaints. Somehow we shot ourselves in the foot. Now we have to come from behind."
PSG boss Mauricio Pochettino couldn't be prouder of his team's effort. He had one man in particular to praise.
"Keylor is one of the best goalkeepers in the world and we're very happy that he's playing for us," Pochettino said. "I'm happy with the result and the attitude of the team, who found themselves in difficult situations against the best side in Europe. We need to congratulate the players for their sacrifice."
Bayern is the favorite to win the return leg at +230. A draw is at +380, with a PSG win at +280. Bayern qualifying is at +350, while PSG went down at -350 following their away win. Bayern to score 3 or more goals is at +800, while a Bayern win by two goals is at +700.
Where next for Mbappe and Neymar?
Mbappe and Neymar proved vital for PSG once more. The pair have been the biggest subject of debate in Paris for the past two weeks after contract extension talks failed to materialize. Both Mbappe and Neymar are out of contract at the end of next season. The biggest clubs in Europe are trying to get them on a cheap this summer. Asked about the situation, PSG sports director Leonardo told Sky Italia: "I think we'll have some news that will make us all happy soon." Neymar is a big target for Real Madrid and Liverpool, while Neymar dreams of partnering up with Messi at Barcelona.
The bookies don't believe Mbappe is staying either. A move for Mbappe at Real Madrid is at +600. Liverpool signing him is at +750, with City a long shot at +2100. Barcelona and Man United are outside options in this potential deal at +2600.