Medina Spirit is considered one of the "kids" in the Grade 1 Awesome Again Stakes, a change in status from what his consideration would have been, had he run in last week's Pennsylvania Derby.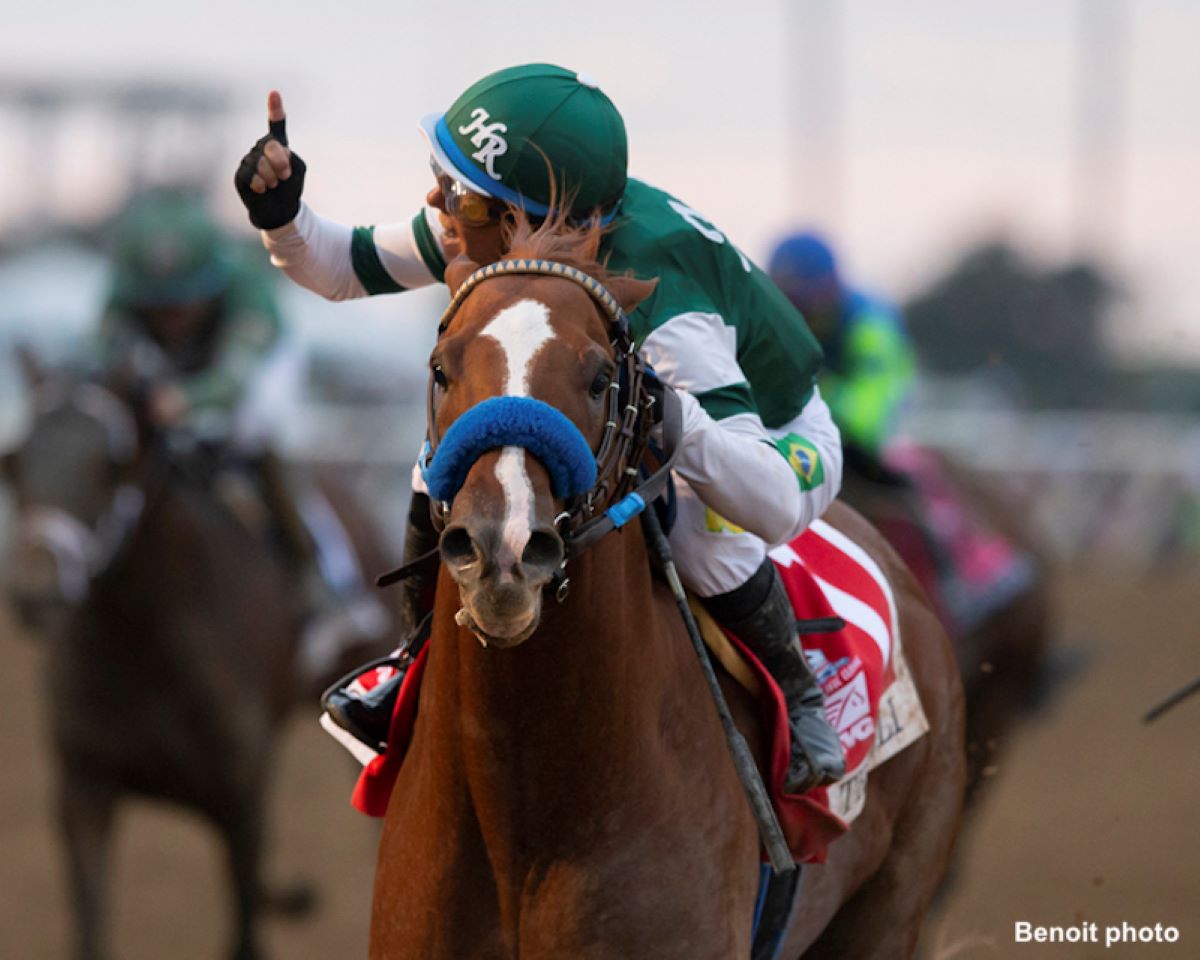 From one of the fellow 3-year-olds in that race, to one of the kids in Saturday's Awesome Again, one of two Grade 1s on Santa Anita's packed Saturday stakes schedule. The 1 1/8-mile Awesome Again (5:43 p.m. PT post) comes with a ticket to the Breeders' Cup Classic for its winner, along with that Grade 1 entry to the resume.
Adding the Awesome Again to the resume puts one of the eight contenders in company of such standouts as Accelerate, California Chrome, Shared Belief, back-to-back winner Game On Dude, Lava Man, Tiznow, Silver Charm and Ferdinand.
Medina Spirit already has one of those Grade 1s, courtesy of his Kentucky Derby victory (for now). He was on track to add another in the Pennsylvania Derby, until trainer Bob Baffert scratched him out of it after the post draws. On the surface, it looked like Medina Spirit's post 9 was ideal for his front-running style, considering Hot Rod Charlie and Midnight Bourbon – Medina Spirit's chief rivals – were to his inside.
Baffert going for Awesome Again No. 7
But Baffert kept the son of Protonico home instead, letting Hot Rod Charlie win his first Grade 1. In so doing, trading Medina Spirit's fellow 3-year-olds for older horses in the Awesome Again. And giving Baffert a shot at his seventh Awesome Again title and second consecutive. He won his sixth with Improbable last year.
The question here is can Medina Spirit conquer his elders as the 5/2 favorite? And does Baffert know something about Medina Spirit's form that precluded him from shipping him to Pennsylvania? He did clock a 59.80-second five-furlong workout last week at Santa Anita that was fourth of the 89 at that distance.
Medina Spirit never takes a race off. He's 3-3-1 in seven races this year, with that third in the Preakness his only finish outside the exacta. But should you decide there's too many variables to make his fourth victory this year work, there are other choices.
Tripoli turns into a dirt devil
Starting with Tripoli (3/1), who discovered this year that he likes dirt better than grass. Two turf victories in 11 career starts led trainer John Sadler the dirt is indeed greener pastures for the son of Kitten's Joy. All that created was two victories and a second in three starts, capped by Tripoli's Aug. 21 victory in the Grade 1 Pacific Classic.
"He's a horse that just loves the dirt right now," Sadler told Santa Anita's Ed Golden. "He's honest and consistently runs well. He was unlucky a few times on the turf, but he should run well. It looks like a good spot."
This looks like a good spot for one of the West Coast's older-horse mainstays: Express Train (4/1). It should be a much better spot than the Pacific Classic was. There, Express Train finished a miserable sixth as the 2/1 favorite. That uncharacteristic finish marked Express Train's first off-the-board outing in eight races, dating to his eighth in the Twilight Derby last October.
Express Train has two bullet workouts in his last five works. That doesn't count his recent outing, a 1:00.20 five-furlong work last Sunday that was fourth of 89 at that distance.
Grade 1 Awesome Again Stakes/Santa Anita Park
Morning Line (Jockey/Trainer)
Tizamagician, 4/1 (Flavien Prat/Richard Mandella)
Midcourt, 12/1 (Edwin Maldonado/John Shirreffs)
Express Train, 4/1 (Juan Hernandez/John Shirreffs)
Stiletto Boy, 20/1 (Kent Desormeaux/Ed Moger Jr.)
Medina Spirit, 5/2 (John Velazquez/Bob Baffert)
Azul Coast, 12/1 (Abel Cedillo/Bob Baffert)
Tripoli, 3/1 (Tiago Pereira/John Sadler)
Idol, 5/1 (Joe Bravo/Richard Baltas)
Two others merit a look: would-be pacesetter Tizamagician (4/1), who has three wins and four seconds at Santa Anita, and Idol (5/1), who returns after winning the Santa Anita Handicap seven months ago. Tizamagician starts on the rail, leaving jockey Flavien Prat with the decision on running with Medina Spirit and hoping he can keep up.
Idol, meanwhile, starts from the outside, leaving him in good stead for his closing flourish.
The pick: Tripoli. Hopefully, he comes with a price around his 3/1 morning-line number. Regardless, he likely won't drop below vulnerable favorite Medina Spirit, who will take plenty of money — along with plenty of questions. Tripoli is a dangerous, multi-faceted runner at the top of his game right now. Keep eyes on Express Train and Idol; the former for his rebound opportunity and the latter coming out of his long layoff.