The last time we saw Idol, he was literally catching a Train – Express Train – who Idol ran down and passed just before crossing the wire of the Grade 1 Santa Anita Handicap.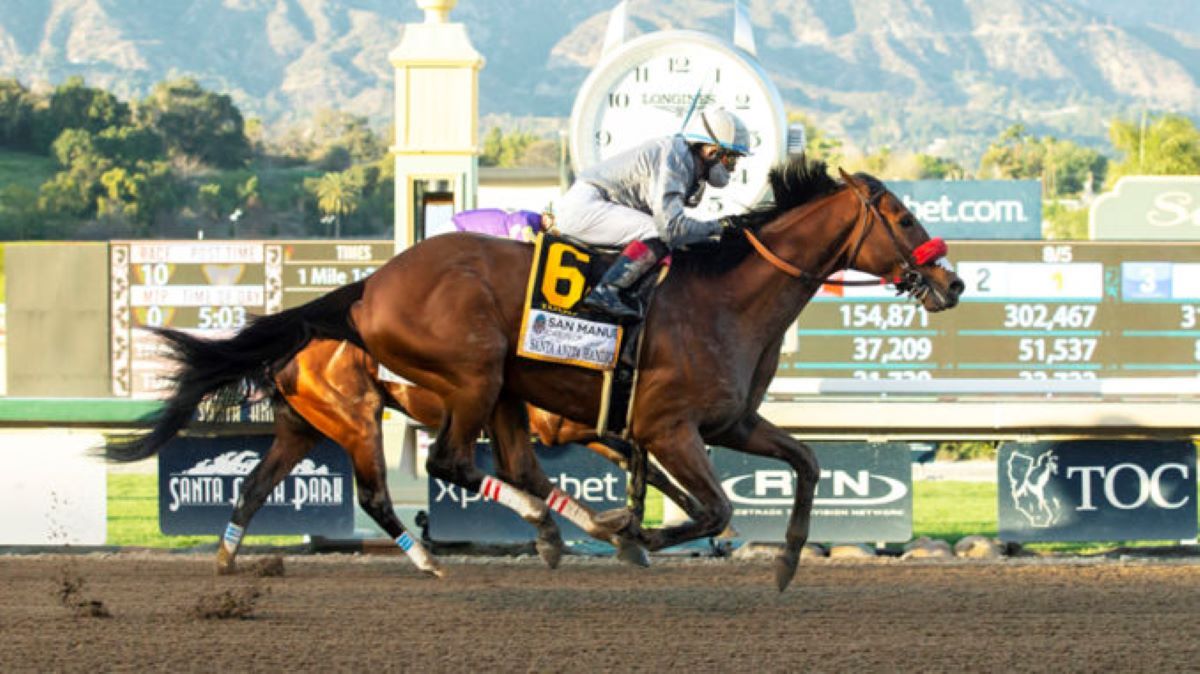 That half-length victory in one of the California track's flagship events came on March 6, nearly seven months ago. Now, the 4-year-old son of Curlin returns for one of the flagship events of Santa Anita's Autumn Meet, Saturday's Grade 1 Awesome Again Stakes.
Won last year by eventual Older Horse of the Year, Improbable, the 1 1/8-mile Awesome Again is one of three Grade 1s on Santa Anita's 14-stakes opening weekend card. It brings a berth in the Breeders' Cup Classic to its winner, which seems to be the unspoken goal of trainer Richard Baltas.
"He's not cranked up. If he wins, he wins, but this is not our goal," Baltas told Santa Anita's Ed Golden. "We're getting ready for a big autumn, hopefully, have a few horses in the Breeders' Cup and end the year going in the right direction."
Idol ready to run for keeps
Translation: Baltas views the Awesome Again as a means, not an end. And Idol certainly looked cranked up during a six-furlong bullet workout last Sunday. He covered the distance in 1:12, the fastest of 11 at that distance that day.
This seemed right in line with where Idol left off in March when he rallied from seventh at the three-quarter mile mark to fifth in the stretch, to winning the "Big 'Cap." That, after Joel Rosario took Idol five wide coming into the far turn of the 1 ¼-mile race. The move took Idol past four horses, including Express Train, Maxfield, Independence Hall, and Tizamagician.
He literally snatched and grabbed the race out from Express Train just before the wire, paying $12.80 for his 5.40/1 odds. Even-money favorite Maxfield, who runs at Belmont Park in Saturday's Grade 1 Woodward Stakes, finished third. It remains one of Maxfield's two losses. The second came to Knicks Go in the Whitney.
Nothing taking most of the summer off can't cure
Coming out of the Big 'Cap, Baltas watched his charge during an April 4 workout at Santa Anita. After Idol went four furlongs in 48.60 seconds, Baltas sensed something was amiss.
"After he won the Big 'Cap, he came out of a work a little funny," Baltas said. "We did all the diagnostics, couldn't find anything wrong, so we gave him 60 days off."
That took Idol out of the Hollywood Gold Cup and the Pacific Classic, the West Coast's two big summer races for older horses. Baltas didn't send Idol back to the track until Aug. 14 at the San Luis Rey Training Center in San Diego County. Since then, Baltas slowly brought Idol back, putting him through seven workouts of increasing distance, up to his current six-furlong works.
Now, Idol resumes his rivalry with Express Train, Tizamagician, and Midcourt, all of whom were in that Big 'Cap. And Idol, who hasn't finished out of the trifecta in six career races (3-2-1), gets acquainted with Pacific Classic champion Tripoli and Kentucky Derby champion Medina Spirit, one of two 3-year-olds in the Awesome Again field.
And they, with him.