Between them, Maximum Security and Improbable are 5-for-6 in 2020, which makes a race called the Awesome Again Stakes the perfect meeting place for two of the top older horses in the nation, if not the world.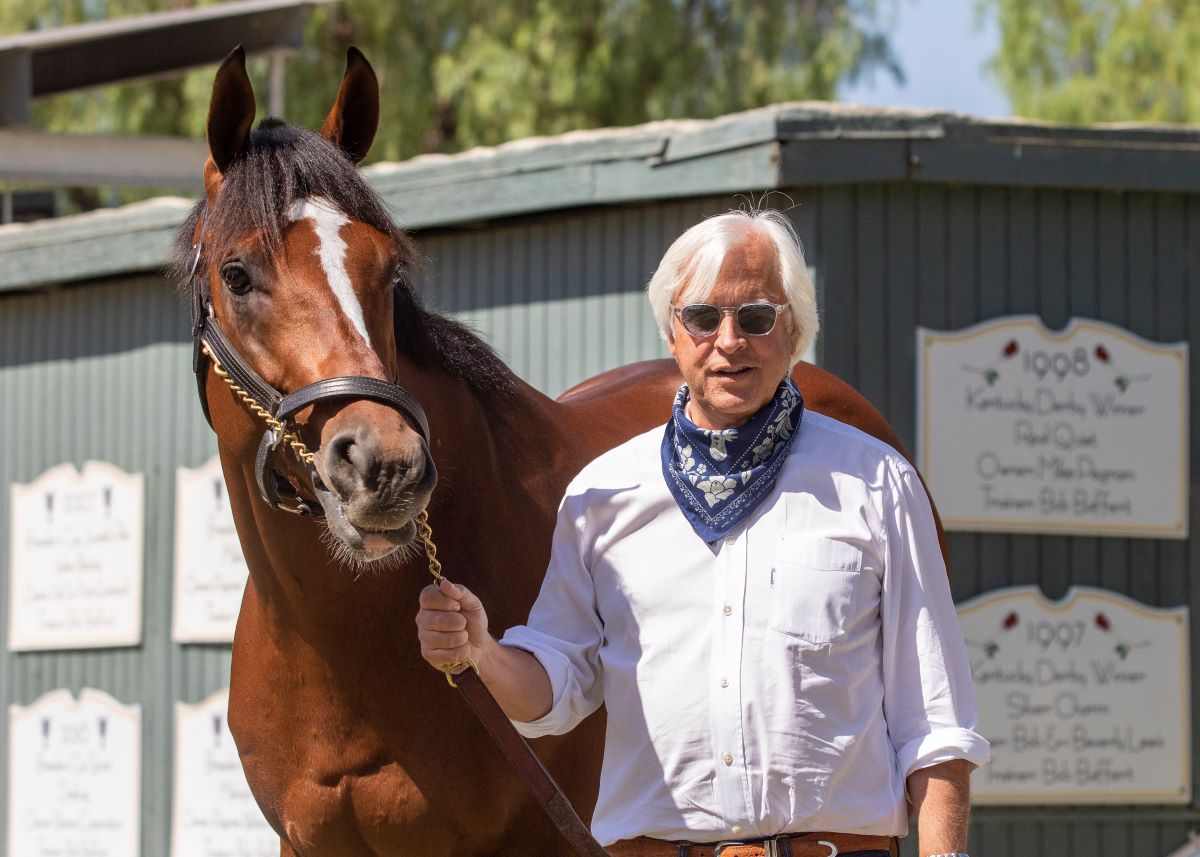 The two Bob Baffert charges take each other on for the first time since the 2019 Kentucky Derby in Saturday's Grade 1 Awesome Again Stakes. The 1 ¼-mile journey around Santa Anita Park's main course is one of five Breeders' Cup "Win and You're In" events on Saturday's seven-stakes card. In this case, the winner gets a fees-paid spot in the Breeders' Cup's marquee race – the $6 million Classic.
Not that either needs it, since both earned their spot in the Keeneland gate already. Maximum Security seized his with his third victory of the season, that coming at last month's Grade 1 Pacific Classic at Del Mar. Improbable grabbed his with his upset win in August's Grade 1 Whitney Stakes at Saratoga. That followed his impressive victory in June's Grade 1 Hollywood Gold Cup at Santa Anita.
Those are two reasons why "Awesome Again" describes both 3/5 morning line favorite Maximum Security and 8/5 Improbable's seasons, and why they're the prohibitive betting choices in the five-horse field. The pair combined for not only those five victories in six outings, but four Grade 1 wins.
Awesome Again Describes Maximum Security's Season
Maximum Security won the $20 million Saudi Cup in February, took the Grade 2 San Diego Handicap after moving to Baffert's barn, then captured the Pacific Classic in fairly easy fashion.
The latter two came with Abel Cedillo pinch-hitting for regular rider Luis Saez, who was at Saratoga. Cedillo nearly cost Maximum Security the San Diego Handicap when he pulled him back too soon and needed a late rally to nip Midcourt. The lesson learned, Cedillo let Maximum Security be the best dirt router in North America at the Pacific Classic. He set an easy pace and used Maximum Security's on-demand tactical speed en route to a three-length win.
Nevertheless, Cedillo is out and Saez is in. As for Improbable, Drayden Van Dyke gets the assignment of beating his stablemate across a finish line – something only one horse in 12 races managed. Baffert trusts both riders enough to let them decide in-race tactics.
"Saez knows the horse really well and Drayden knows Improbable really well, so they'll just figure it out themselves. They know what to do," he told Santa Anita's Ed Golden. "Even in a small field, the break is very important, but both horses are doing exceptionally well. Hopefully, they'll use this race as a steppingstone to the Big Show."
These Two are Horses for Any Course
While Baffert's referring to the Breeders' Cup Classic, this could apply to wherever these two run. Maximum Security brings a six-race winning streak into his first Santa Anita outing on Saturday. His 10 career victories came on six different tracks — everywhere from Del Mar to King Abdulaziz Race Course in Saudi Arabia.
As for Improbable, who ran a 59.4-second five-furlong bullet at Santa Anita on Monday, his 13 races came at eight different tracks. They produced six wins and three seconds, along with more than $1.52 million in earnings.
Enjoy this, horseracing fans. It's very rare to see two, top-shelf Baffert stars tangle outside of a Triple Crown race or the Breeders' Cup. Normally, the Hall of Fame trainer likes to keep his stars on different paths until colliding them in a marquee event.
Derby Doings Hang Over this Rematch
Speaking of "colliding," when these two tangled at the 2019 Derby, Maximum Security crossed the finish line first before being disqualified for interference. Improbable finished fifth, elevated to fourth after Maximum Security's DQ.
"I hate to really run them against each other, but it gives Improbable an extra two weeks to get ready for the Breeders' Cup," Baffert said. "He runs better when he's a bit fresher, so that's why we're running them together."
---
Awesome Again Stakes
Morning Line (Jockey)
Take the One O One, 20/1 (Jose Valdivia Jr.)
Improbable, 8/5 (Drayden Van Dyke)
Sleepy Eyes Todd, 12/1 (Umberto Rispoli)
Midcourt 6/1 (Victor Espinoza)
Maximum Security, 3/5 (Luis Saez)
---
Midcourt, Sleepy Eyes Todd, and Take the One O One take on supporting roles here. All three are pace-setters/pace-pressers like Maximum Security and Improbable. This means plenty of early fireworks.
It also means a likely seventh consecutive win for Maximum Security. After all, he's better at that than they are.
The pick: Maximum Security. He can seize the lead, he can let others engage in a kamikaze speed duel and stalk, or he can gallop along, press from the outside, and pounce. All the tools are there and all his tools are better than his rivals' tools. Yes, even Improbable.