The Atlanta Hawks need to shake things up after an ugly season, and there are rumors that they're considering trading power forward John Collins to the San Antonio Spurs, Dallas Mavericks, Chicago Bulls, or Philadelphia 76ers.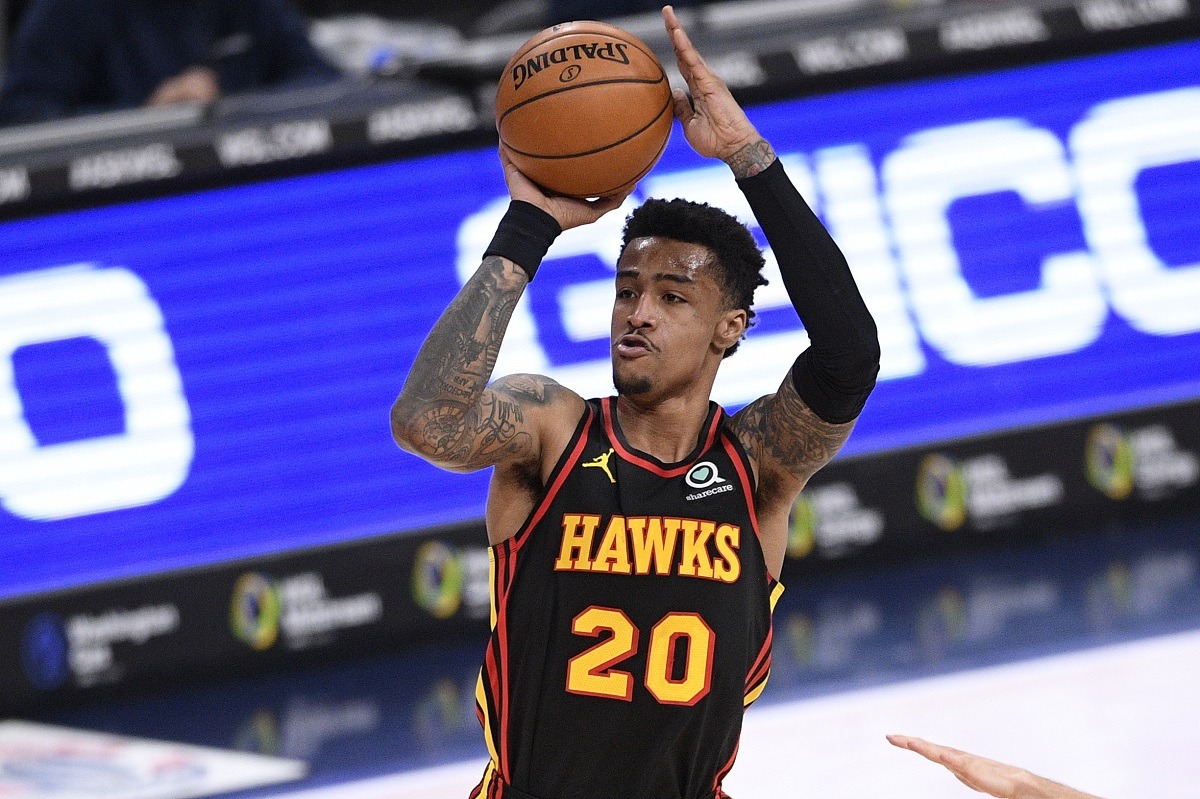 Collins has grown frustrated with his role within the offense, specifically standing around and waiting to see what Trae Young is going to do. To compound matters, the coaching staff doesn't call his number on offensive plays or sets.
Collins averages 17.2 points and 8.0 rebounds per game while knocking down nearly 43% of his 3-point shots. His PER rating of 19.91 is ranked #35 in the NBA. Two seasons ago, he averaged a career-high 21.6 ppg and hauled down 10.1 rebounds per game.
Trae the ball hog
The offense flows through Young and almost only through Young. That's where Collins has a huge problem because he wants to be a part of the offensive game plan. Head coach Nate McMillian doesn't call specific plays for Collins, who must figure out his own way to get points. As a result, his scoring is off. Collins is the Hawks' second-best scorer and he has to fend for himself.
"Sometimes, you just want to understand where you can make an impact instead of having to create it for myself," said Collins. "That's where I'm at a lot of times. Just having to create out of nothing, and it's hard as hell."
The Hawks have too many scorers on their roster and just one ball, which is almost always in the hands of Young. Sure, he can jack up 50-plus points on a good night, but the price of that scoring ability is the simple fact that it rubs his teammates the wrong way when he's hogging the ball on nights his shot isn't falling.
Several members of the Hawks wish Young could be more of a playmaker and help set the table for his teammates like Collins. Usually, when Young finally coughs up the rock, it's late in the shot clock and it doesn't give his teammates many options other than to hoist up a bad shot to avoid a 24-second violation.
Bad Hawks, no D
The Atlanta Hawks (19-25) are one of the most disappointing teams in the NBA this season. They occupy the #12 seed in the Eastern Conference and are on the verge of missing the postseason after getting hot in last year's playoffs.
Young and the Hawks held the #5 seed last year and picked off the #4 New York Knicks in the first round in just five games before upsetting the banged-up #1 Philadelphia 76ers in the Eastern Conference Semifinals in seven games. The inevitable NBA champion Milwaukee Bucks ended the Hawks' run in the Eastern Conference Finals.
"Sometimes having success makes things difficult going forward," said Collins. "That's sort of what we're dealing with now is understanding the pressure of teams coming harder at us than before after seeing us play deep into the playoffs."
Since their high-water mark, the Hawks have been utterly atrocious. Opposing teams always knew they had to keep an eye on Young, but the Hawks were no longer flying under the radar. Winning makes people overlook the cracks while losing exposes every little flaw.
Defense is the main problem. The Hawks can't outgun their opponents every night. They average 111.2 points as the eighth-best scoring team in the NBA. However, their porous defense allows 112.3 ppg, which is sixth-worst in the league.
Collins trade rumors: 76ers, Spurs, Mavs
The Hawks and 76ers were trying to figure out a trade that centered around Collins and Cam Reddish for Ben Simmons. The 76ers wanted to package Tobias Harris in any trade with Collins/Simmons, which is why the Hawks backed off. Instead, the Hawks traded Reddish to the New York Knicks.
"I couldn't care less about the conversations themselves," said Collins about trade rumors. "But, I know as a fan, it's fun to speculate about different players and think about who might come here if I'm going to Philly."
The latest rumors involve Collins and backup forward Danilo Gallinari. Gregg Popovich from the San Antonio Spurs has a hankering for European players, so a trade to the Spurs makes sense. The Spurs recently sent Bryn Forbes to the Denver Nuggets in a three-team trade, but they could package Thaddeus Young, Lonnie Walker, and Derrick White together for Collins and Gallinari.
The Chicago Bulls could be in the market for a power forward, but a trade with the Hawks seems far-fetched. If they scored Collins in a trade, they'd have a sick starting five that includes DeMar DeRozan, Zach LaVine, Nikola Vucevic, Lonzo Ball, and Collins.
The Dallas Mavericks are chatting with the Indiana Pacers and the Hawks at the trade deadline. They could acquire Collins in exchange for a future first-round draft pick and someone like Dorian Finney-Smith, Dwight Powell, or Maxi Kleber. There's also Kristaps Porzingis, but his max-contract makes the perpetually injured and overrated Unicorn tough to trade.
Check out more NBA trade rumors.