UFC fighter Aspen Ladd fell just short in an effort to get her TKO loss to Germaine de Randamie overturned, as the California State Athletic Commission (CSAC) voted 3-2 to uphold the result.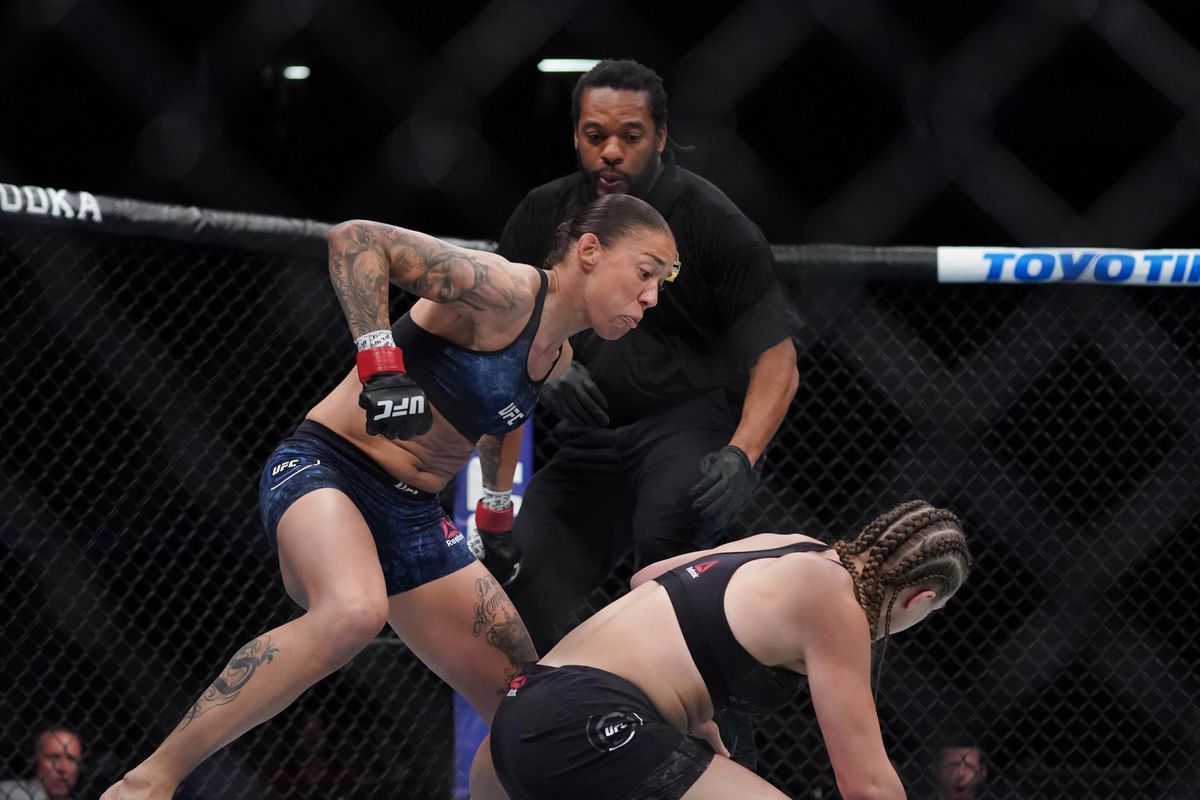 Ladd and her team argued that the fight had been stopped early due to subconscious gender bias, and that the fight would have continued longer had it been contested between male fighters instead.
Manager Argues Men's Fight Would Have Continued
The bout in question took place as the main event of a UFC Fight Night card in Sacramento on July 13. De Randamie (9-3) landed an early punch that knocked Ladd to the mat, then looked to follow up. But de Randamie only managed to hit Ladd once more before the bout was stopped by referee Herb Dean after just 16 seconds.
Ladd (8-1) had hoped to get the result changed to a no decision, which would have preserved her undefeated record.
In the CSAC hearing, Ladd's manager Dave Hirschbein framed the debate as one over equality in MMA.
"This is about, are women being treated equally in the sport of mixed martial arts?" Hirschbein argued. "This is what we feel this is about."
Dean testified during the hearing, saying that he stopped the fight because he felt that Ladd was no longer defending herself. The first blow had left Ladd on her hands and knees with her back facing de Randamie, leaving her vulnerable and unable to mount a defense, in Dean's opinion.
"At that point, I don't believe that she is aware of where her opponent is," Dean told the commission. "At that point, I don't see her doing any of the things that I would call 'intelligent defense.'"
Women on CSAC Side With Ladd
Not everyone on the commission agreed with that assessment, however, and the tight vote was split straight down gender lines. Luis Ayala, John Carvelli, and Vernon Williams all voted against Ladd, while Mary Lehman and Martha Shen-Urquidez voted in her favor.
Shen-Urquidez supported her belief with slides demonstrating times when Dean allowed bouts between male fighters to continue even after one competitor had severally hurt their opponent. That, she said, meant that Dean's stoppage in the Ladd vs. de Randamie fight might violate California's anti-discrimination laws.
"That is not OK, even if it's not intentional," Shen-Urquidez said during the hearing. "She might have lost anyway, but you give her the chance to lose on her own. That's why she's a fighter."
Broadly speaking, public opinion was largely in line with Shen-Urquidez's argument at the time the fight happened. While many believed the stoppage was at least slightly premature, but that Ladd was likely to lose unambiguously soon thereafter, perhaps in a matter of seconds.
The result of the fight was significant, as it gave de Randamie a shot at the UFC women's bantamweight championship against Amanda Nunes (18-4) this December. If she won, Ladd may well have gotten that opportunity. Instead, Ladd will take on No. 7 ranked Yana Kunitskaya (12-4) on Dec. 7.