After Juan Archuleta captured the Bellator bantamweight title in September, he was left with a bevy of potential challengers hungry for that championship. He'll make his first title defense on Friday when he battles Sergio Pettis in the main event of Bellator 258 at Mohegan Sun in Connecticut.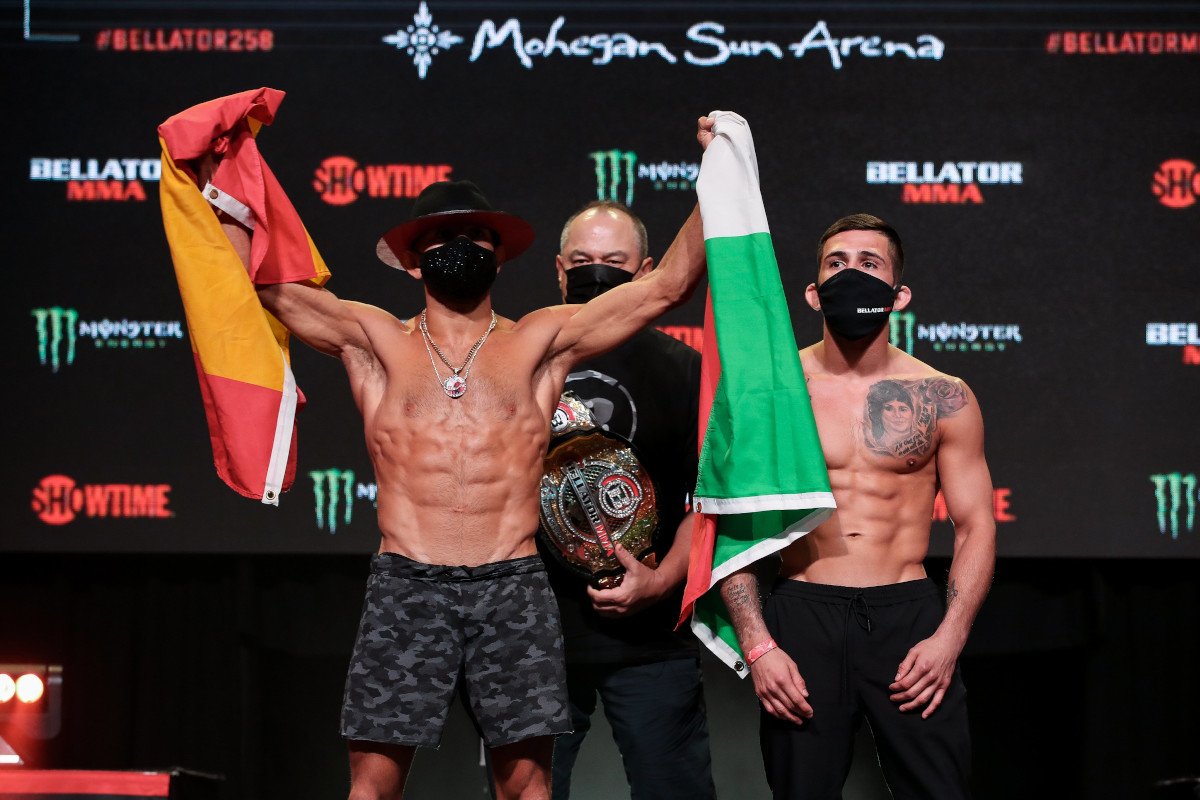 Archuleta (25-2) acknowledges that he could have chosen from several qualified opponents for his first defense.
Archuleta: Pettis deserves title shot
But the 33-year-old says that Pettis (20-5) deserves the shot, even if he hasn't spent much time in Bellator just yet.
"People are like, 'Oh, he has two [Bellator] fights,'" Archuleta told MMA Junkie. "It's like 'Dude, he's fought since he was 18 years old.' The guy is experienced. He's put his time in … that's what I'm here for now. I'm the champ. I get to choose the big fights that I'm deserving of."
Pettis has a long history of high-level MMA fighting. At just 27, he's already spent a long stint in the UFC. From 2013 through 2019, Pettis went 9-5 in the UFC, establishing himself as a top bantamweight and flyweight contender, but never quite getting a title shot. Now 2-0 in Bellator, Pettis has the chance to earn his first major title.
"I had goals and aspirations in the UFC. I was there for a while, making my way up to the top," Pettis told MMA Junkie. "I feel everything that led up to this point in my career – I'm happy, man. I'm very happy with Bellator. They've been amazing to me."
🔥 It's all on the line tomorrow night!@jarchmma defends the bantamweight title against @sergiopettis.

Subscribe to @Showtime, you DON'T want to miss #Bellator258 🔗 https://t.co/TbKTQ7lKsu pic.twitter.com/dto2cWUwXk

— BellatorMMA (@BellatorMMA) May 6, 2021
Pettis believes that beating Archuleta will be as big a win as he could get in any MMA promotion.
"I feel like I was proving myself over there in the UFC as well, I believe," Pettis said. "I believe I will be one of the best bantamweights in the world if I do beat Juan Archuleta."
Horiguchi waiting in the wings
Archuleta comes into Bellator 258 as a -185 favorite over Pettis (+145), according to PointsBet. Both men have experience fighting some of the biggest names at 135 pounds, and this will be a huge resume builder for the winner. More than that, Archuleta says the bout will show off the all-around skills of both fighters.
"What you're going to see with this fight with Sergio is the future of MMA," Archuleta told reporters. "We both have the style where we can put it together. With this fight, you're going to see the highest hybrid of martial arts that you can see."
---
Archuleta vs. Pettis Odds (via PointsBet)
Juan Archuleta: -185
Sergio Pettis: +145
Method of Victory
Archuleta by KO/TKO: +650
Pettis by KO/TKO: +950
Archuleta by Submission: +850
Pettis by Submission: +1050
Archuleta by Decision: +110
Pettis by Decision: +260
Draw: +6600
---
While Archuleta speaks highly of this fight, he's also looking to his future. He's long been aiming for a fight against former Bellator and current RIZIN champion Kyoji Horiguchi. The two first planned to fight on New Year's, but Bellator delayed the bout, and then the fight never materialized.
"Hopefully, that's our next fight," Archuleta told reporters. "We're still pushing for the fight, granted I do my job Friday night."