Calvin Kattar proved to be too much for Dan Ige in the main event of Wednesday's UFC on ESPN event on Yas Island, winning a unanimous decision in the featherweight clash.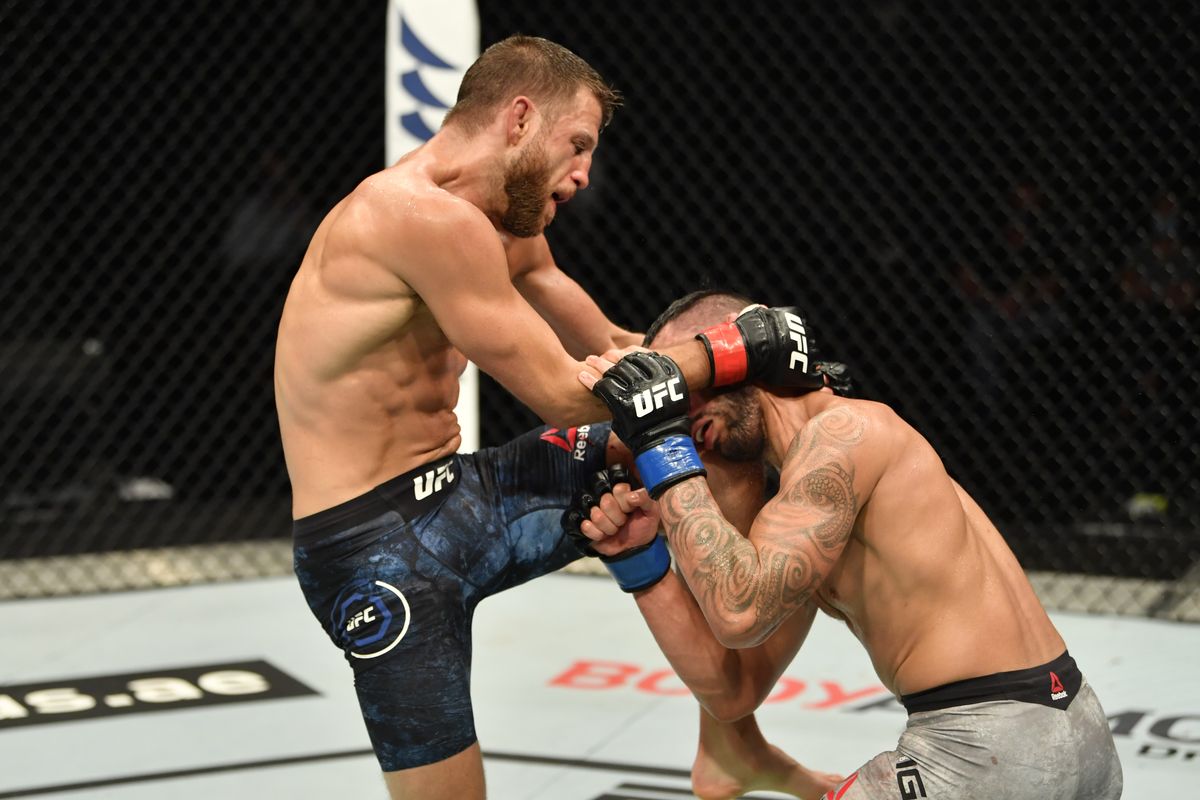 Kattar won 49-46, 49-46, 48-47 on the judges' cards, pulling away in the championship rounds as Ige appeared to fatigue late.
Kattar Uses Power to Wear Ige Down
While both men had their moments in the early going, Kattar landed the most powerful shots. Those blows appeared to wear on Ige, who slowed noticeably in the final 10 minutes. With the fight no longer in doubt, Kattar dominated the final moments of the fifth round, getting Ige down to the canvas after throwing a knee, then reigning down punches from above until the final bell sounded.
"I was happy to go out with my team and finally give ourselves a main event win, and what better spot than out here in Abu Dhabi on Fight Island," Kattar said afterward. "Anywhere, anytime, that's my mindset. We just follow where the opportunities are at. We had a great one here in Abu Dhabi, like I said, I'm just happy to go and capitalize."
Kattar came into the fight ranked sixth in the UFC featherweight division. Even if the win doesn't impact his ranking much, Kattar believes he has now firmly established himself among the contenders for Alexander Volkanovski's title.
"If the champ says he wants some contenders, he's got one in me," Kattar said.
Masvidal Calls for Immediate Rematch for Welterweight Title
Kamaru Usman thoroughly dominated Jorge Masvidal in the main event of UFC 251, winning an overwhelming unanimous decision. But that hasn't stopped Masvidal from saying he wants to run it back as soon as possible against the welterweight champion.
"I know I'm better than Usman, and I want to prove it," Masvidal told ESPN's Ariel Helwani on Tuesday. "I want to fight again. I'm not going to take nothing from him, he won the first one. Let's do it again."
Usman's team has singled out Gilbert Burns as his next challenger. Burns planned to take on Usman at UFC 251 before a positive COVID-19 test knocked him out of the fight, prompting Masvidal to step in. Masvidal would also potentially have to turn down a highly lucrative fight against Conor McGregor in order to get an immediate rematch.
Bellator Returning on July 24
The Mohegan Sun resort in Connecticut will host a Bellator card on July 24, the first show for the promotion since Feb. 22. Bellator canceled a planned event at Mohegan Sun on March 13, hours before the first match was set to begin and the entire sports world shut down for the COVID-19 pandemic.
The main event of Bellator 242 will feature a bantamweight clash between Sergio Pettis (19-5) and Ricky Bandejas (13-3). Pettis spent six years in the UFC, going 9-5 with the promotion. Bandejas has compiled a 3-2 record so far in Bellator.