Friday features the Apple Cup, which is the annual rivalry between Washington State (6-5) and Washington (6-5) that began in 1900. UW comes into this year's Apple Cup as a -7 favorite against Wazzu.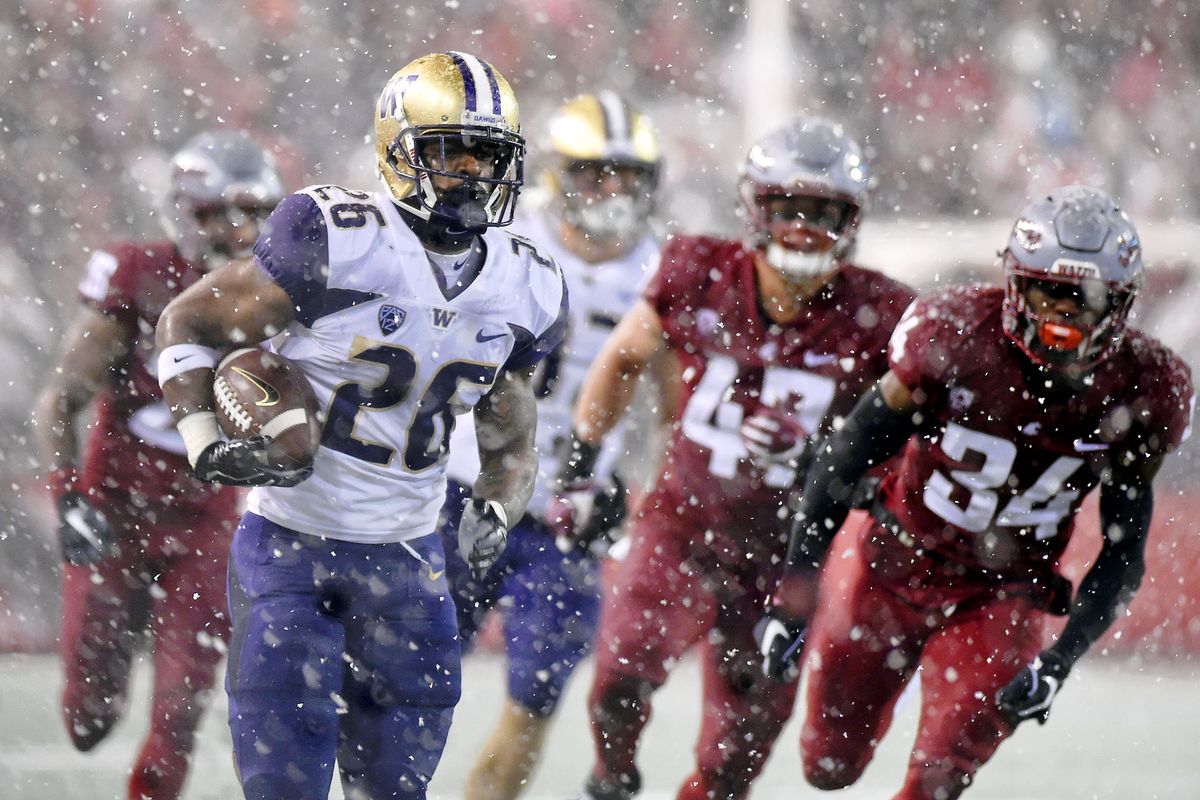 The Pac-12 has already been decided, but the Washington State and Washington game will be the biggest game on the Pac-12 schedule this weekend. The two schools have a rivalry dating back to 1900. This will be the 112th running of the Apple Cup. Washington leads the overall series 73–32–6.
Mike Leach's Air Raid offense generates 41.5 points per game for Washington State. Wazzu's QB, Anthony Gordon, leads the nation in passing and he's closing in on 5,000 yards and has a shot at 50 touchdowns.
Meanwhile, Washington will counter with their standout running back, Salvon Ahmed, who is closing in on the 1,000-yard mark.
Washington State Cougars (6-5) at Washington Huskies (6-5)
Kick-off: 1:00pm PT
Location: Husky Stadium, Seattle, WA
Point Spread: UW -7
Over/Under: 63.5
Money Line: UW -300 / Wazzu +250
Both teams come into the Apple Cup with identical 6-5 records including a 3-5 Pac-12 conference record.
UW's losses include Cal, Stanford, #12 Oregon, #9 Utah, and Colorado. Wazzu's losses include UCLA, #19 Utah, #18 Arizona State, #11 Oregon, and Cal. Neither team defeated a ranked team and both UW and Wazzu posted losses against Utah (10-1) and Oregon (9-2).
Apple Cup History: UW and Wazzu
This annual football game between Washington and Washington State is played on the Friday after Thanksgiving. The venue switches depending on the year. UW hosts the Apple Cup in Seattle during odd years and its played in Pullman at Washington State in even years. The location often determines the weather: rain or snow. Rain is always on the radar when the game is hosted in Seattle. It snowed during last year's game in Pullman, which is located in Eastern Washington near the Idaho border.
The 2019 Apple Cup will take place at Husky where UW plays their home games. UW in a seven-point favorite over Wazzu.
UW won the Apple Cup six years in a row. It's up to Washington State to thwart UW from winning a seventh consecutive Apple Cup. Washington won the cup nine times over the last ten years.
UW defeated Wazzu last year 28-15 to win the 2018 Apple Cup. Prior to last year's contest, UW blew out Wazzu in the previous four Apple Cup meetings.
Wazzu Scouting Report: Glorious Gordo
Washington State comes into this year's Apple Cup on a two-game winning streak punctuated by a thrilling 54-53 overtime victory over Oregon State last week. Wazzu also held their own against Oregon in late October with a two-point loss in Eugene.
Washington State is 1-4 on the road. The over is 7-4 in Wazzu games this season. The over hit in four straight games.
Anthony Gordon backed up Gardner Minshew II last season. The senior got his chance to start this season and he's excelled in the Air Raid. Gordon threw 45 touchdowns and 14 interceptions. He completed 71.3 percent of his passes for 4,920 yards.
Gordon has a remarkable highlight reel this season. He threw nine touchdowns against UCLA in a 67-63 loss that's a candidate for Game of the Year.
Gordon threw 11 touchdowns over his last two games. With 45 TDs, he's well within reach of the 50 TD mark. Easop Winston Jr., senior WR, caught 77 passes and 11 touchdowns. Winston is Gordon's favorite target and he caught 27 passes over his last three games.
UW Scouting Report: Ahmed Express
Salvon Ahmed, a junior RB from the Seattle suburbs, rushed for 915 yards and nine touchdowns. He averages 5.5 yard per carry. Colorado shut Ahmed down last week and the Buffs held him to only 29 rushing yards on 13 attempts. The week before, Ahmed destroyed Oregon State for 153 yards and two touchdowns. He's posted 100-plus yards four times this season.
Jacob Eason, junior QB, tossed 21 touchdowns and eight interceptions. He completed 63.5 percent of his passes for 2,678 yards. In back-to-back losses to Oregon and Utah, Eason threw a combined seven touchdowns and two interceptions. He connected on four touchdowns in a 33-28 loss to Utah.
UW's pass defense is ranked #2 in the Pac-12. They'll be tested on every play by Anthony Gordon's willingness to fling to anywhere on the field.
UW lost three out of their last four games. UW is 2-4 ATS in their last six games.