Everyone knew that Antonio Brown marched to the beat of a different drummer, but no one expected that the Tampa Bay Bucs wide receiver would have a shirtless meltdown on the sidelines against the New York Jets at MetLife Stadium.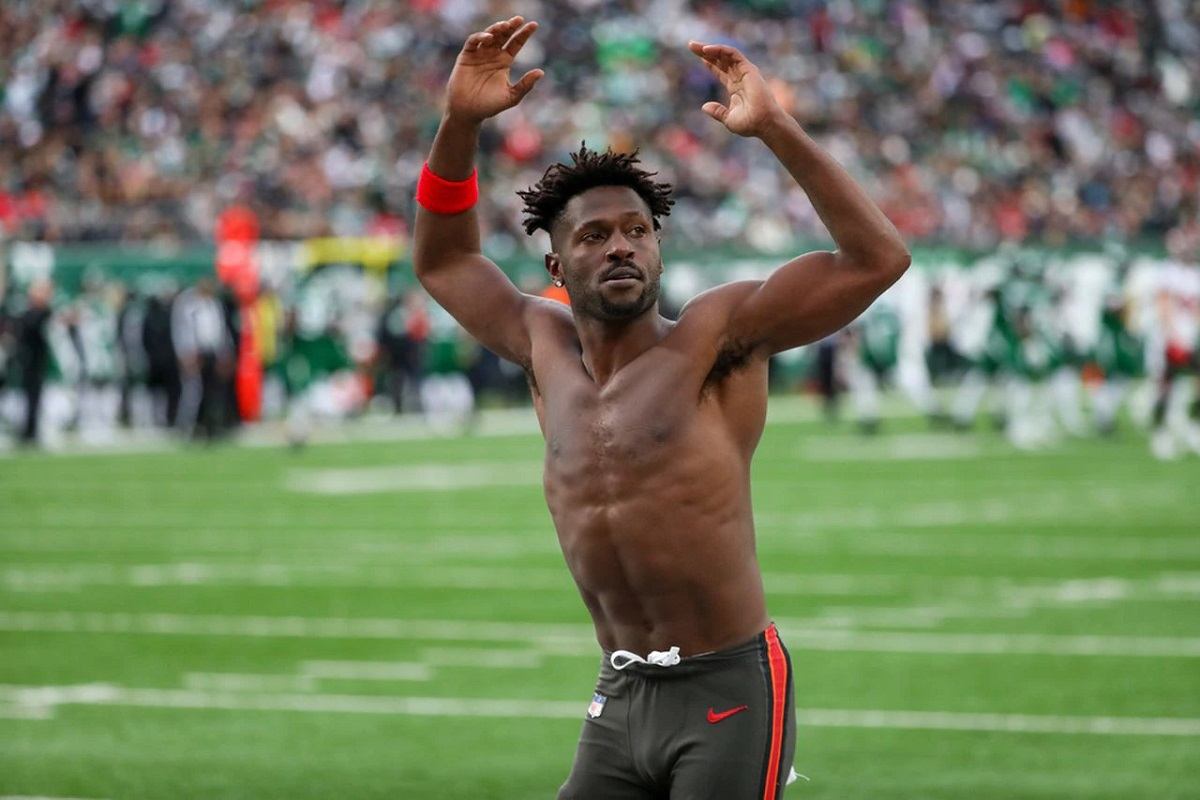 During the bizarre incident, Brown had a spat with the coaching staff when he was informed he was not returning to the game in the third quarter. The Bucs were down 24-10 when Brown's meltdown occurred.
Brown took off his helmet and shoulder pads while teammates tried to calm him down. He then ran down the sidelines and took off his undershirt, which he tossed into the crowd at MetLife Stadium. During a live play, a shirtless Brown scampered into the endzone and raised his arms, before running into the tunnel back to the locker room.
Antonio Brown ran off the field shirtless after showing some frustration on the sidelines.@JenHale504 pic.twitter.com/Jet6ofnNm2

— FOX Sports: NFL (@NFLonFOX) January 2, 2022
The Bucs defeated the New York Jets 28-24 in a come-from-behind victory spearheaded by Tom Brady, but Brown was already on his way to New York City in an Uber.
Apparently, Brown asked multiple NJ state troopers at MetLife Stadium for a quick ride to the airport, but the troopers declined. Brown didn't fly back to Tampa on the team's charter plane.
More video of the AB situation. #GoBucs #FPC @FPC_Buccaneers pic.twitter.com/QAzrXYCASb

— Full Press NFL (@FullPressNFL) January 2, 2022
Brown dunzo with Bucs
Brown recently returned from a three-game suspension after he used a fake vaccination card earlier in the season.
Head coach Bruce Arians didn't mince words in the post-game press conference.
"Brown is no longer a Buc," said Arians. "That's the end of the story. Let's talk about the guys that went out there and won the game."
Arians, who's been a football coach for six decades, thought he'd seen it all. "Never seen anything like that in all my years," added Arians.
Teammates seemed concerned, but understood that Brown's actions weren't up to snuff for a team trying to win back-to-back Super Bowls. "We all love him," said Brady. "We care about him deeply. We want to see him be at his best. Unfortunately, it won't be with our team."
"I found out when we got into the locker room at the end of the game," said Bucs running back Le'veon Bell, who was teammates with Brown in Pittsburgh. "I instantly sent him a text to try to catch up with him real quick. Obviously, I understand (that) things happen, but he's one of my closest friends, a close teammate, overall a good person. Some bad decision-making at times, but he's human and not perfect. We'll continue to move on without him and keep moving forward."
The defending-champion Bucs improved to 12-4 on the season with their comeback win against the Jets. The Bucs currently occupy the #3 seed in the NFC Conference playoffs with one week remaining in the regular season.
AB's Hollywood meltdown
Brown's bizarre incident at MetLife Stadium was something out of a Hollywood sports movie. It instantly reminded me of the strip-tease scene at the end of "Slap Shot," when Ned Braden (Michael Ontkean) refused to resort to thuggish "old-time hockey tactics," taking off his uniform and skivvies instead.
The Brown meltdown was also reminiscent of "The Royal Tenenbaums," when pro tennis star Richie "The Baumer" Tenenbaum (Luke Wilson) had an on-court implosion at the US Nationals. Tenenbaum took off his clothes in the middle of the match because he was heartbroken when his adopted sister, Margot, got engaged to an older man.