On Sunday, the Los Angeles Angels found themselves down to their final out against the Boston Red Sox, and on the verge of losing their fifth straight game. But the two leading AL MVP candidates – Mike Trout and Shohei Ohtani – came through to give the Angels a dramatic 6-5 win.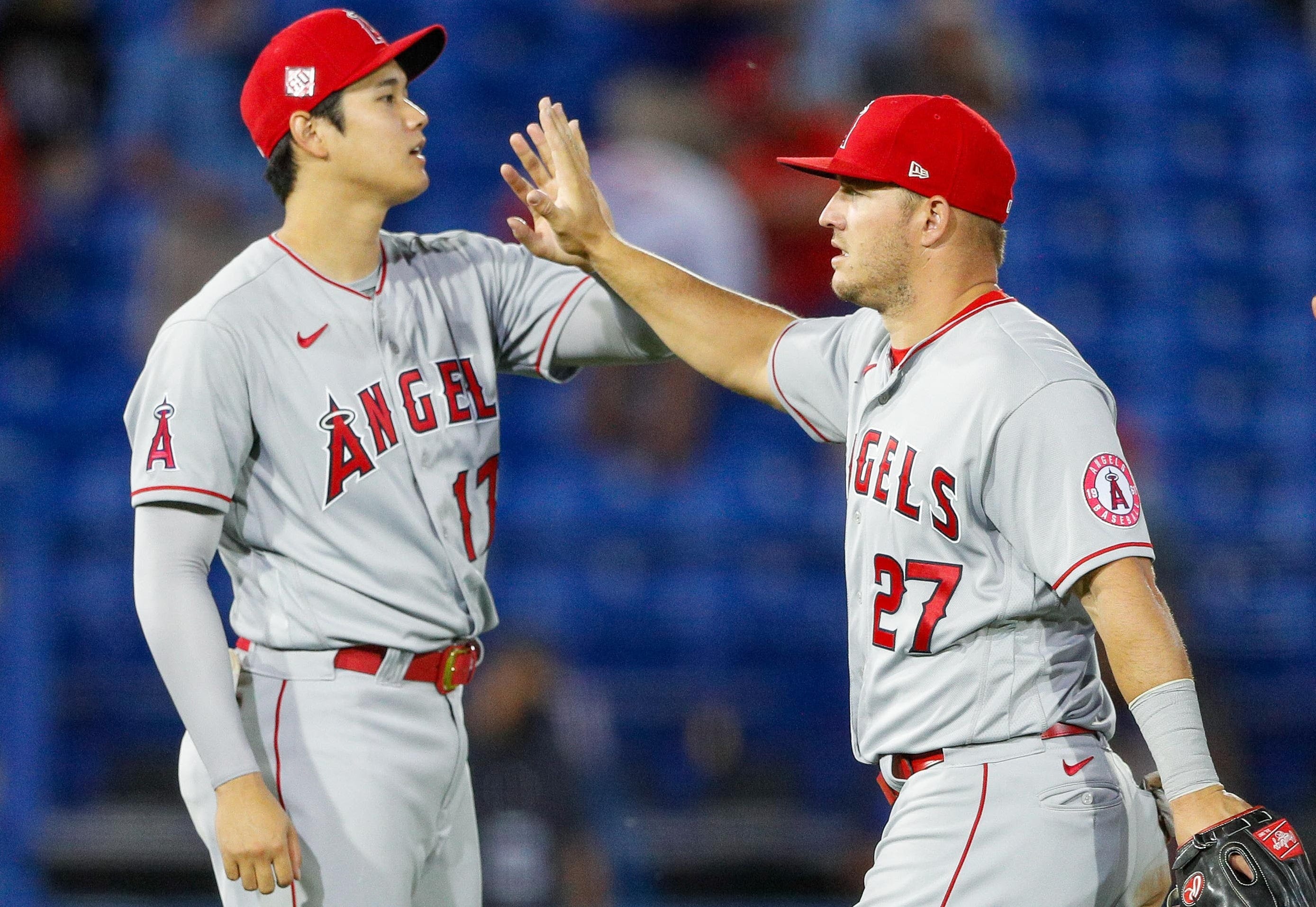 Trout hit a bloop single to keep the game alive against Red Sox closer Matt Barnes. Ohtani then hit a two-run homer to give the Angels a lead they would hold for good.
Aggressive Trout off to best start of career
The single ended an 0-for-18 slide for Trout. But even after that mini-slump, Trout remains the favorite to win his fourth AL MVP Award.
Yesterday, Shohei Ohtani hit the team's first go-ahead home run, when down to the last out, since Hank Conger's HR on Aug. 31, 2013 in Milwaukee.#CarryTheFreight pic.twitter.com/3WKCYZeYEA

— Los Angeles Angels (@Angels) May 17, 2021
FanDuel Sportsbook lists Trout as the +185 pick to win the trophy, with Ohtani (+420) firmly holding the second position on its board.
Trout may have had a poor week, but his overall numbers remain phenomenal. So far in 2021, Trout is hitting .333 while leading the league in on-base percentage (.462), slugging (.624), and OPS (1.086). He has hit eight homers and driven in 18 runs in his first 35 games.
In fact, Trout could be headed for the best season of his career. He has become noticeably more aggressive at the plate early on, punishing pitchers who make mistakes or simply try to get a ball over the plate to start with a strike.
"I look back the last couple of years and the first pitch is the best pitch I'll get the whole at-bat," Trout told ESPN. "I've just been aggressive. I've been sticking with it, and it's been working."
Who could possibly challenge the best player in baseball for the AL MVP award when he's enjoying his best season ever? Likely a teammate who excels both at the plate and on the mound.
Two-way Ohtani challenging for AL MVP honors
The 26-year-old Ohtani has finally started to put together the kind of performance the Angels dreamed of when they signed the Japanese superstar before the 2018 season. Ohtani shares the league lead for home runs with 12 while hitting .262 and stealing six bases. While he hasn't been quite the offensive force that Trout has, his .901 OPS is his highest since his rookie season.
Meanwhile, Ohtani has also thrown 25.2 innings on the mound, going 1-0 with a 2.10 ERA while striking out 40 batters. Potentially an All-Star level player as both a hitter and a pitcher, Ohtani is performing in a way few thought was possible in modern baseball.
"I personally think he's the most physically gifted baseball player that we've ever seen," Barnes said after giving up the home run to Ohtani on Sunday. "I don't know that you're ever going to see somebody who can throw 101 and hit the ball 600 feet. So, I mean, he's a special player."
While Trout and Ohtani have separated themselves from the pack, it's too early to rule out other leading AL MVP contenders. Vladimir Guerrero Jr. (+1100) is crushing the ball in Toronto, and Byron Buxton (+1500) is enjoying a breakout season in Minnesota. But if the two Angels stars continue to play this way for the rest of the season, it's likely that the trophy will end up in Los Angeles.